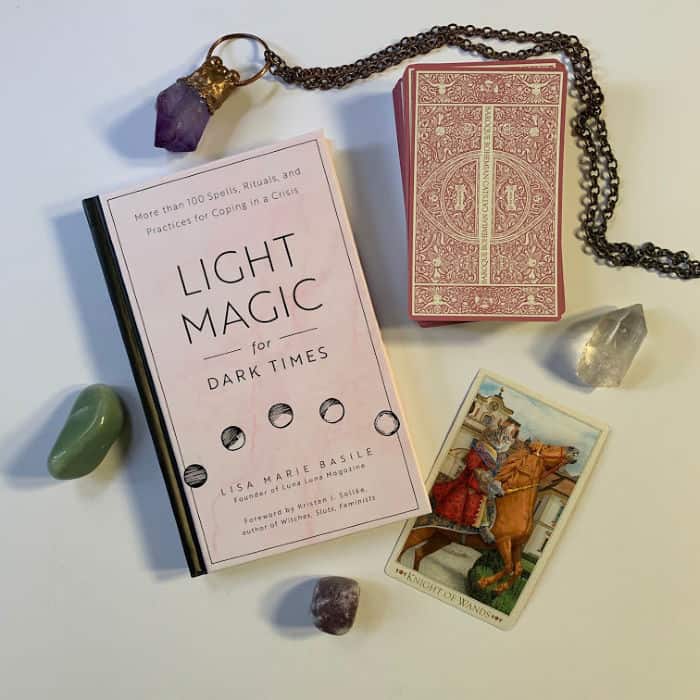 There is something about tarot that is calming. The act of shuffling the cards, concentrating on your question or concerns, and cutting is a ritual that brings you right back to the center. At least that is the way it is for me.
I've been working with tarot over forty years as of this writing. It has never failed me, ever. It's always been the balm for my soul, no matter how turbulent my life – or the world – seems to be.
I pick cards every morning. I've done this for-evah. This is a practice that helps me to get prepped for my day.
Recently, I started adding a question to my daily draw. The question comes from Lisa Marie Basile's book, Light Magic For Dark Times, a magical spell book that contains many inspiring and healing rituals for any tough situation you may be facing. 
In the book, she has A Morning Tarot Ritual to Make Your Commute More Productive. This involves pulling a tarot card and asking a thoughtful question before you head out for your commute to work. I don't commute as my office is in the home but she states in the book that you can do this before you tackle the to-do list if that's your situation.
Anyhow, the questions you can ask are:
How can I be my best self today?
How can I ensure confidence at work?
I've been choosing the first question. It may seem simple as can be but the answers I have been getting have been helping me to show up at work grounded, wiser, and ready to deal. 
Lisa Marie also says that you can "place the card to your workspace for the day as a gentle reminder." I love this. It creates a touchstone as I go about my day.
Using today as an example, I pulled The Knight of Wands from my personal deck, The Baroque Bohemian Cats' Tarot for my morning tarot ritual. (ADORABLE! This deck makes me feel good.)
I have a full day of classes, writing, meetings and more. Knights are action-oriented and that Knight of Wands is ready to charge in. This tells me to go forth and let my passion lead the way. I love how the horse is bucking in this card but the cat looks so calm and in control. A sign that no matter how crazy this day may seem "I've got this." I just need to keep a grip on the reins and commit to the work ahead. (Ps the cat on the card looks just like my TaoZen but less grumpy!)
Good advice!
Work can be stressful but with a bit of morning guidance, we can approach our work day with mindfulness. And while that cannot guarantee a perfect day, it can help to set the tone for a better one, no matter what you may be facing.
I invite you to try to this simple tarot exercise every day. Better yet, check out Light Magic for Dark Times for other helpful rituals. It's been one of my faves – and the perfect companion book for Tarot for Troubled Times, my upcoming book with the magical Shaheen Miro. Happy shuffling!
Blessings,
Theresa
PS other books you might like:
Everyday Crystal Rituals by Naha Armády
The Power of Tarot by Liz Worth
The Witch's Book of Self-Care by Arin Murphy-Hiscock
Becoming Dangerous: Witchy Femmes, Queer Conjurers, and Magical Rebels by Katie West, Jasmine Elliot, and Kristen J. Sollée
Making Magic by Briana Saussy
Tarot Elements by Melissa Cynova
Inner Witch by Gabriela Herstik
Image from my personal collection
@ Theresa Reed | The Tarot Lady 2019