The Cards You're Dealt
How to Deal When Life Gets Real
by 

Theresa Reed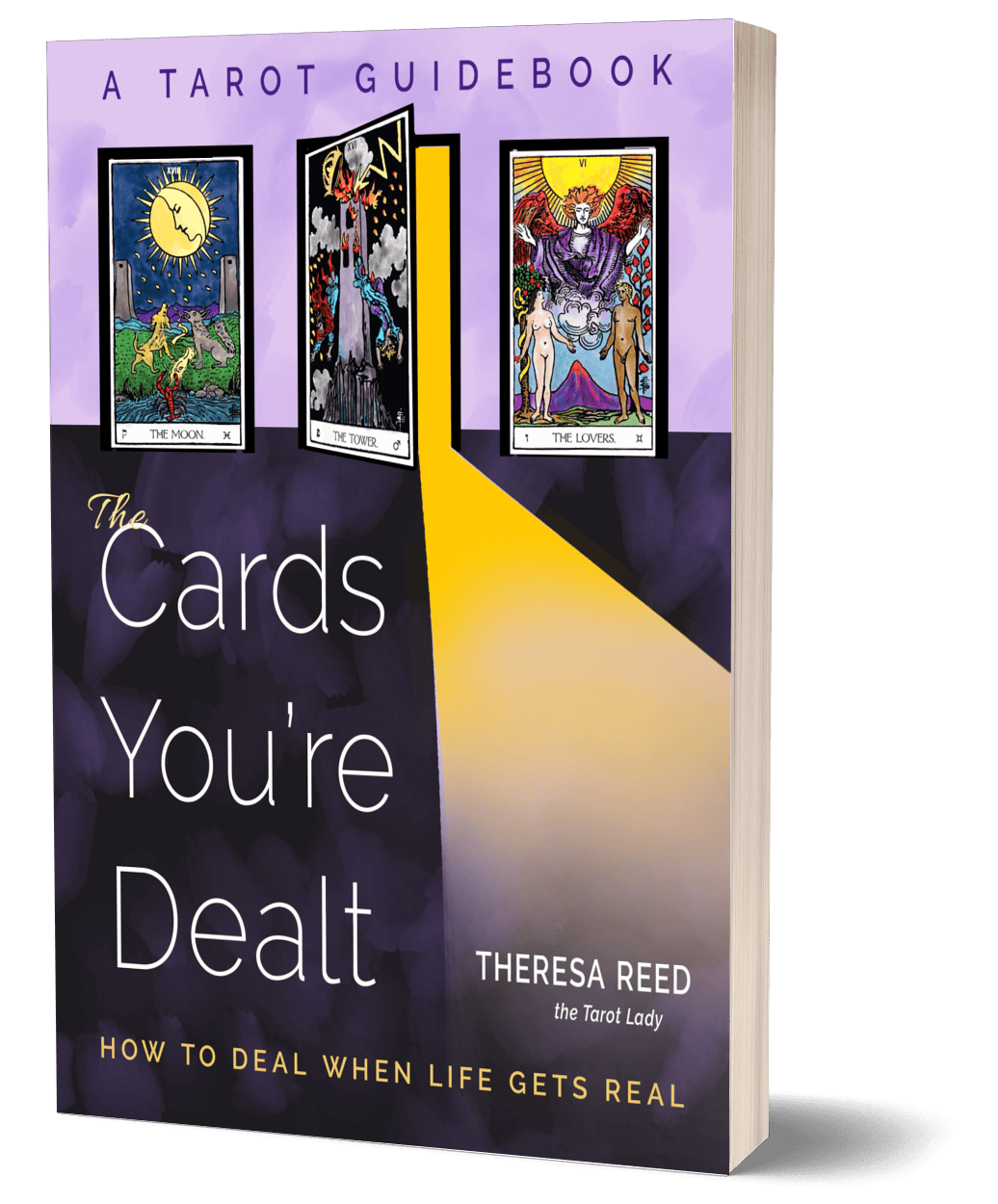 Available wherever books are sold, online and off.
Being Human Is Hard. Tarot Can Help.
Everyone faces difficulties in life. Whether it's a scary diagnosis, the challenges of caregiving, the end of a relationship or job, or adjusting to an empty nest, every human being goes through times of loss and grief.
Your trusty Tarot deck can provide comfort and wise counsel during tough times.
The Cards You're Dealt is the new book from bestselling author Theresa Reed. One of the world's leading voices on Tarot—with a 30+ year career reading Tarot for thousands of clients—Theresa masterfully explains how to use Tarot to navigate life's trickiest situations.
Whether you're a Tarot newbie holding your very first deck—or a Tarot professional looking for new spreads to try out with clients—you'll love this book.
Ultimately, this is a book about living well. Theresa urges readers to celebrate each precious moment of life, make the most of your time, and make the best of the cards you've been dealt.
Get the Book 
Find The Cards You're Dealt wherever books are sold—including Bookshop, Indiebound, Barnes and Noble, Amazon, or your local metaphysical shop or independent bookshop.
Take a Look Inside
Inside The Cards You're Dealt, you will find:
 Learn the fundamentals of Tarot. Theresa explains Tarot Card Meanings, the Major Arcana, and the Minor Arcana. A great intro for newbies. Or a refresher course if you're already a pro.
Tarot, Breathwork, and Meditation
How to use intentional breathing, meditation, and other mindfulness practices to do a powerful Tarot reading for yourself or somebody else.
Theresa shares Daily Pulls (quick one-card readings) you can do to check in with your intuition and ask, "What do I need to know about this day?"
Tarot for Illness and Healing
Can you predict illness with Tarot? Yes…and no. Learn how to do an effective and ethical reading on illness for yourself, for a friend, or client. And, what to say (and not say) to someone who's dealing with an illness.
Caregiving can provide meaning and purpose—and it can take a toll on your mental and physical health, too. Theresa teaches her favorite Tarot spreads to explore how to provide the best care for someone else while also caring for yourself.
Theresa discusses the different ways we all grieve, how to support someone who is grieving, and what to say (and not say) to someone in the throes of grief.
Learn spreads for healthy grief and finding closure, including Words Left Unsaid and The Mediumship Spread to communicate with someone who has crossed over.
Learn how to use Tarot as a tool for self-reflection and closure when it's your time to go. And, how to perform a skillful Tarot reading for someone who is at the end of their life.
Tarot for Stormy Passages
Learn Theresa's recommended Tarot spreads for life's most difficult transitions—including the end of a relationship, pregnancy loss, losing a job, becoming an empty nester, and more.
We never know how much time we have left. That's why we must seize each day to the fullest and live well. Theresa shares her perspectives on how to be present with every moment, whether that moment is filled with joy, sorrow, or multiple emotions all at once. 
A Must-Have Book for Anyone Who Loves Tarot
Tarot lovers, and those who love metaphysical teachings, meditation, mindfulness, breathwork, daily rituals, and personal growth will treasure this book.
Therapists, counselors, coaches, birth doulas, death doulas, and healthcare professionals can use this book, too, to find creative ways to support clients through challenging transitions.
Add this book to your bookshelf—or purchase it for someone you love.
"The Cards You're Dealt is not a 'love and light' book that glosses over the shadows of death and grief. It's a compassionate, practical, step-by-step guide to how we can truly learn to heal and help others heal. The stories that Theresa shares are vulnerable and real, sprinkled with her Scorpio Moon humor. This book is for both tarot beginners and seasoned practitioners. You will want to come back to this book over and over again—it is filled with so much wisdom and magic."
— Pamela Chen, author of Enchanted Crystal Magic and Tarot of The Owls
"Theresa Reed has never been a tarot reader that shies away from the hard questions. It is a completely admirable trait and one that I have always wondered how to cultivate it in my tarot practice. In this book, The Cards You're Dealt, Theresa shows us exactly how to do that: look at the hard topics and be willing to read tarot on them with an unflinching but compassionate gaze . . . and always in service to the sitter. Through practice exercises, pro tips, and tarot spreads on job loss, global tragedies, and grief in all its forms, Theresa has indeed written a book that is not typical in its treatment of the taboo subjects that most tarot readers would rather avoid. Confront them we must, if we are to be well-rounded readers, and to serve our sitters in times they need us most. This book is a necessity for any professional tarot reader."
—Hilary Parry Haggerty, author of How to Read Tarot
"When life hands you lemons, pick up The Cards You're Dealt: How to Deal when Life Gets Real by Theresa Reed. With unabashed humor, truth, and compassion, Theresa tackles tough questions that tarot readers often face, such as how to handle health readings or help those experiencing grief. She provides guidance on what to say to those who may be suffering, scared, or overwhelmed. As any tarot reader worth their salt knows, the way you deliver a reading and the connection you build with the person are just as important as the accuracy of your tarot card interpretations. Theresa Reed's expertise makes her the perfect guide for your tarot journey, offering deep healing insights from a place of authenticity and truth. Drawing from her years of experience as a professional reader, Theresa generously shares her own life stories, making this book not just about reading tarot cards but also about fostering empathy for both yourself and others. It's an invaluable resource for learning how to read your tarot deck when you are most apt to draw cards the most: at crossroads moments that eventually come for all of us."
—Jenna Matlin, author of Will You Give Me a Reading?
"Theresa Reed has written the exact book I need exactly when I needed it. The Cards You're Dealt: How to Deal when Life Gets Real is a deep (and deeply personal) dive into the confusing and often isolating world of loss and grief. Far from the 'love and light' gloss of pop spirituality, Reed takes us through the blood and guts of mourning so we can lead ourselves and our tarot clients to the glory of acceptance and healing. Her guidance on how to communicate with grieving people is beautifully stated and universally useful. The dictionary of card meanings and collection of spreads are accompanied by examples, exercises, and tips that make this book accessible to novices and experts alike. Theresa Reed is an incredibly kind and wise soul, and this book reflects that perfectly."
—Melinda Lee Holm, author of Your Tarot Guide
"Not everything in life is easy and often when people seek out a tarot reading it's because they are experiencing something difficult. This is one (of many) reasons why Theresa Reed's book, The Cards You're Dealt is essential reading—both for those who read tarot professionally and for those who wish to seek out a reading in order to address a tough situation. Theresa pulls no punches in this work as she guides the reader in a gentle and supportive way into unlocking the meanings and medicines that the tarot can provide when we experience hard stuff. Reed is not only an amazing reader herself, she is also someone, as she shares in the book, who personally navigated tough situations throughout most of her life, making her a truly exceptional guide."
—Briana Saussy, author of Making Magic
"Theresa Reed is such a blessing. She has given readers a gift with this book by providing practical, real-world advice that's as encouraging and engaging as it is informative. It's a must-read for tarot beginners and enthusiasts alike."
— Mecca Woods, astrologer and author of Astrology For Happiness and Success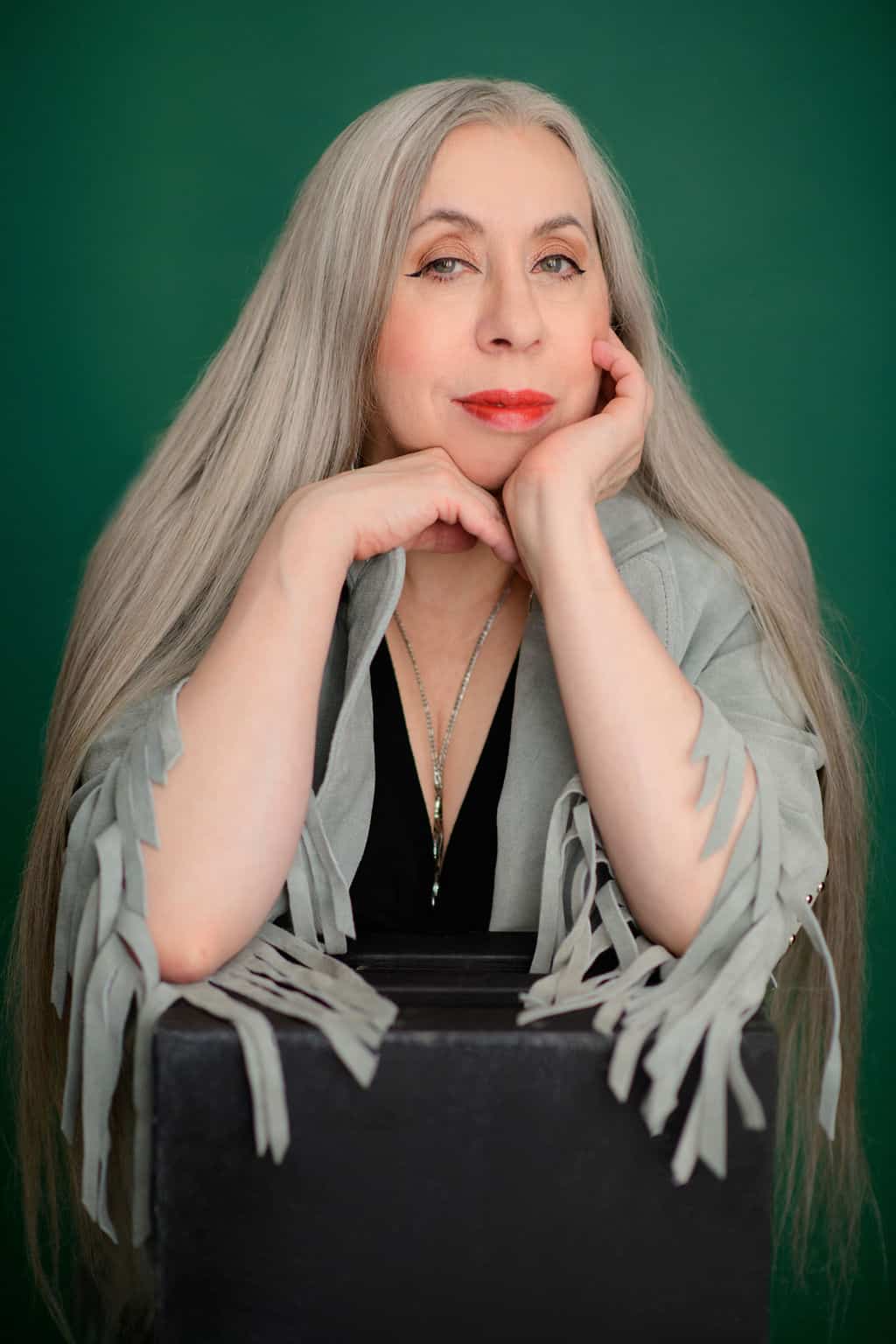 Theresa Reed (aka "The Tarot Lady") worked as a full-time Tarot card reader and astrologer for nearly 40 years.
She has written eight bestselling books including Tarot: No Questions Asked – Mastering the Art of Intuitive Reading, Astrology For Real Life (A No B.S. Guide for the Astro-Curious), and The Tarot Coloring Book, an illustrated tour through the world of Tarot with coloring sheets for every card in the deck. She's also the co-author of Tarot for Troubled Times with Shaheen Miro.
Theresa has partnered with visual artists to create two Tarot decks: Tarot for Kids and The Uncommon Tarot. You've seen her featured in places like Nylon, InStyle, Refinery 29, The Huffington Post, Vogue, and more.
In addition to writing, teaching, and hosting podcasts on all things mystical, Theresa runs a popular website—TheTarotLady.com—where she dishes out advice, inspiration, and tips for Tarot lovers of all experience levels.