Hello!
Thank you for your interest.
I have been deeply called to write and educate. This is how I can be of service and reach as many people as possible in this beautiful world of tarot and astrology – because these things matter to me.
This also means I'm no longer available for one-on-one work. But – good news! There are still many ways to access my work
If you're not already on my newsletter, you can get on that here. This will keep you in the know on my books, appearances, and any specialty services I may offer in the future. (If I'm ever offering tarot readings for the general public again, I'll announce it in the newsletter, Patreon, AstroBiz Digest, or my new SMS service.)
You can buy my books. I write lots of things about tarot and astrology.
You can join my community over on Patreon.  I'm serving up extended card of the day interpretations, astrological tidbits, community tarot practice, political astrology, early sneak peeks to horoscopes….and more. Higher tiers get access to live classes, replays of previous classes, mentoring, and more. Check it out. Come and go as you want. It's all good.
If you're an aspiring or fellow author, I also have a special newsletter just for you: The Metaphysical Author's Confidential. Essays and lessons on writing, publishing, and marketing your magical book.
I've also got a fab new service for you: get SMS (text messages) directly to your phone. Astrological forecasts, real-time transits + aspects, a daily CREAM tarot spread, and more! Sign up at Hey Daily and use the code TAROTLADY50 to save 50% off your first month!
If you're an entrepreneur, I've got The AstroBiz Digest, a subscription service with weekly and monthly horoscopes designed for business owners.
Got questions? Send me a line at: hello@thetarotlady.com. 
Xo
Theresa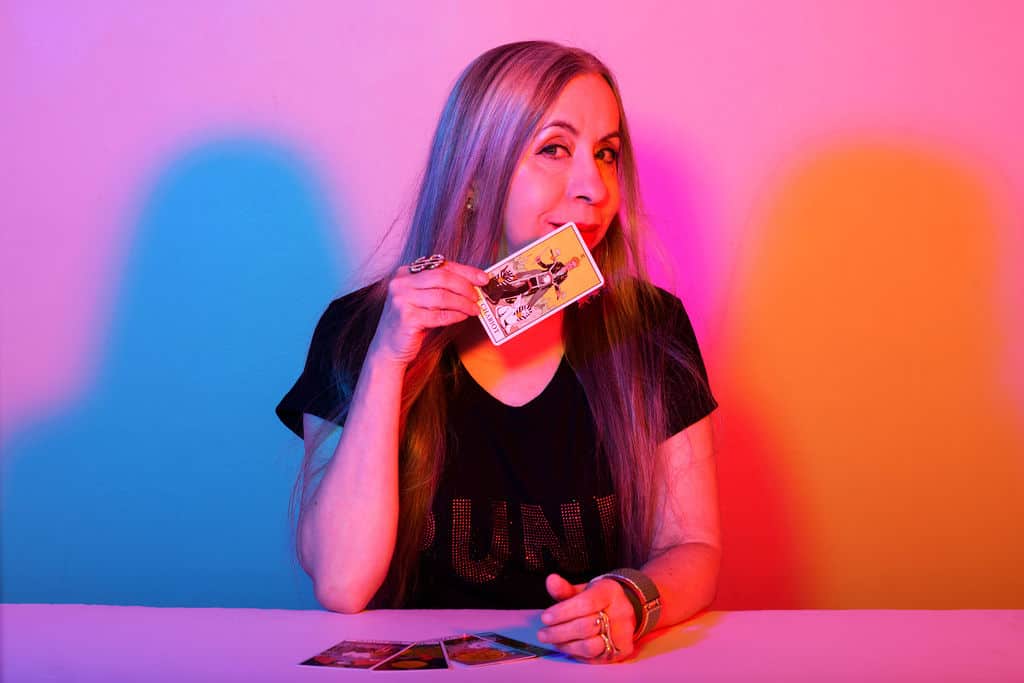 My name is Theresa Reed (aka The Tarot Lady) and I've been a sought-after intuitive reader for over 30 years + I'm also the author of The Tarot Coloring Book
. I've worked with thousands of clients, and I'd love to show you how to harness the power of Tarot to lead a calmer, stronger and more satisfying life.
Whether you're seeking tarot or astrology education, cool events, an astrology + tarot inspired business weekly digest for entrepreneurs or a fun interactive community, I've got an offering for everyone!
Here's to the magic of choosing your future.