FOR THE MEDIA
Hey there! I'm Theresa Reed (aka "The Tarot Lady"), a professional Tarot reader, educator, and author of The Tarot Coloring Book.
I'm a Gemini, the communicator of the Zodiac—so you can bet your sweet bippy that I LOVE to talk!
If you'd like to book me for an interview, media appearance, or speaking engagement, this page is for you.
You'll find my bio, credentials, popular topics, headshots, and more.
Want to get in touch? Email me at hello@thetarotlady.com. 
Thanks for visiting. Looking forward to connecting!
PAST APPEARANCES
I've appeared on the main stage at The Reader's Studio—the largest Tarot conference in the world—and I taught an "Intro to Tarot" class for curious newbies at The World Domination Summit, a popular conference for bloggers and creative entrepreneurs. (They liked my class so much, they invited me back for the following year!) I've also taught side-by-side with Tarot legends Rachel Pollack and Mary K Greer at The Omega Institute as part of the Masters of Tarot conference.
I've also appeared on podcasts, radio shows, webTV shows, and popular blogs like: Real Talk Radio, Beyond Worlds, Magic Monday Podcast, Spirituality and Health, Rebelle Society, Gaian Soul, Cosmic Chat, Mind Body Green, Violet, Betty Means Business, Profit Power Pursuit, The Numinous, Refinery29, Emme Style, Mashable, Yoga Journal, and many other places.
My books are best sellers and have made the "best of lists" for sites such as Bustle, Cosmpolitan, Mind Body Green, Reader's Digest, and OprahDaily.
I run my own website and blog—TheTarotLady.com—where I share Tarot tips and advice, free forecasts and horoscopes, free classes, and a monthly podcast. Since 2009, my site has been visited over 500,000 times annually and has become a beloved gathering place for Tarot lovers of all experience levels.
OFFICIAL BIO (LONG)
Theresa Reed (aka "The Tarot Lady") is a world-renowned Tarot expert who has been reading Tarot—and teaching Tarot to curious students—for close to 30 years. 
Theresa picked up her first deck at age 15, started doing readings for herself and her sister (primary topic: cute boys!) and has been Tarot-obsessed ever since.
She is the author of Tarot: No Questions Asked – Mastering the Art of Intuitive Reading, The Tarot Coloring Book and the creator of several classes for Tarot newbies. Students call her lessons "brilliant" and "practical" and Mary Greer, one of the world's foremost Tarot scholars, calls her "modern, no-nonsense, street-savvy with a generous and soulful heart." Theresa is also the author of Astrology For Real Life (A No B.S. Guide for the Astro-Curious) and the co-author of Tarot for Troubled Times with Shaheen Miro. Her latest project is Tarot for Kids, a kid-friendly tarot deck with artist Kailey Whitman.
Her educational podcasts, Tarot Bytes and Astrology Bytes have been downloaded by millions of people around the world. 
In addition to writing, teaching, and speaking at Tarot conferences and workshops, Theresa also runs a popular website and blog—TheTarotLady.com—where she dishes out advice, inspiration and tips for Tarot lovers of all experience levels. For Theresa, Tarot is a tool for self-empowerment, reminding you that you are always in charge of your decision-making and your destiny. The cards tell a story—but you write the ending.
You can find Theresa online at TheTarotLady.com and on Facebook, Twitter, and Instagram. She would love to help you to begin—or continue—your Tarot education, and hopefully spark a lifelong Tarot obsession!
CREDENTIALS
: Longevity. I have close to 30 years of experience reading Tarot, studying Tarot, writing and talking about Tarot, and teaching Tarot to students of all experience levels.
: Experience. As a Tarot reader, I've done well over 50,000 private readings for clients of all ages and backgrounds: stay at home parents, police officers, small business owners, CEOs, and yes, a celebrity" or two!
: Unique voice. I'm known for my unorthodox approach to reading and teaching Tarot. There's nothing "boring" or "stuffy" about my style. I often drop hip-hop and rap lyrics into my classes. You'll see me using pop stars and celebs (like Lil' Wayne, Kanye West and Kim Kardashian) to bring Tarot concepts to life. My goal: to make the ancient art of Tarot feel fun, fresh, and relatable for today's audiences.
POPULAR INTERVIEW TOPICS
I'm often invited to discuss…
: How to start doing Tarot readings for yourself, and your friends and family, even if you're a total beginner.
: How to use your Tarot deck for creative problem solving at work.
: How to use your Tarot deck for meditation, self-reflection, and stress relief.
: How to hone your "intuition" so that you can make wiser decisions for your career, relationships, finances, and all aspects of life.
: How to run a "spiritual business" (like Tarot, Astrology, Yoga, Reiki, etc.) without going broke, burning yourself out, or selling your soul.
CONTACT
Got something in mind?
Want to interview me for your blog, magazine, podcast or radio program?
Interested in booking me to speak at your next event?
Holla here: hello@thetarotlady.com.
I'm happy to talk about pretty much anything under the sun, but of course, I especially love talking about business, intuition, spirituality, personal growth, and yep, Tarot!
PHOTOS
Need a photo for that blog post or magazine spread?
Feel free to right-click and download whichever photo(s) you'd like to use.
Photographer credit: Jessica Kaminski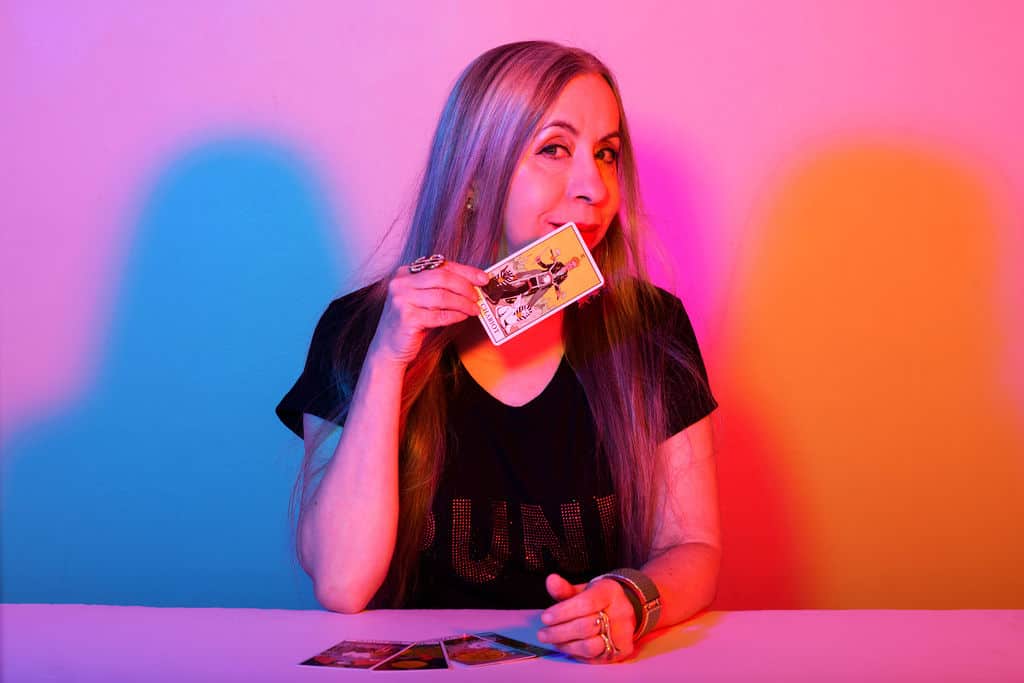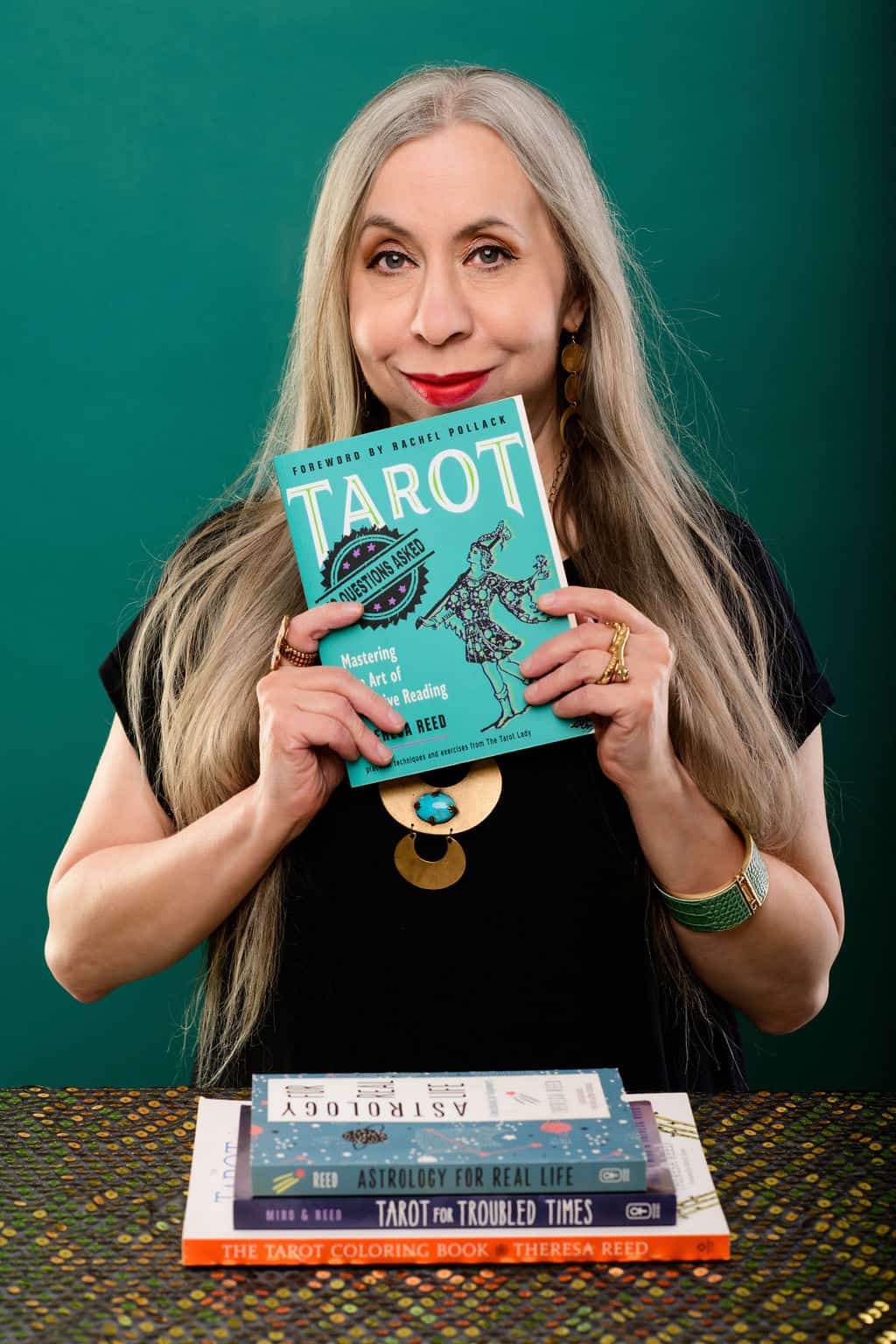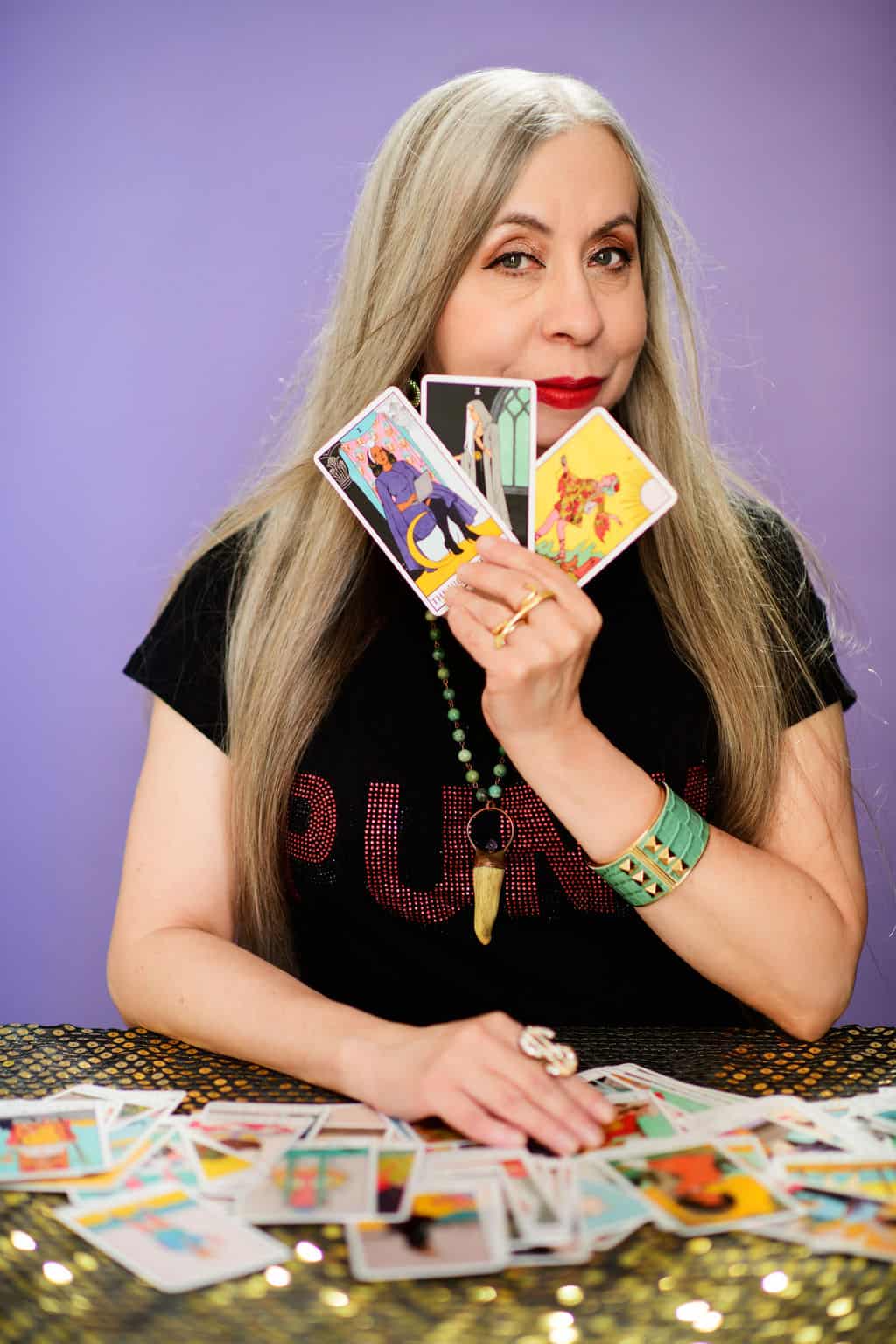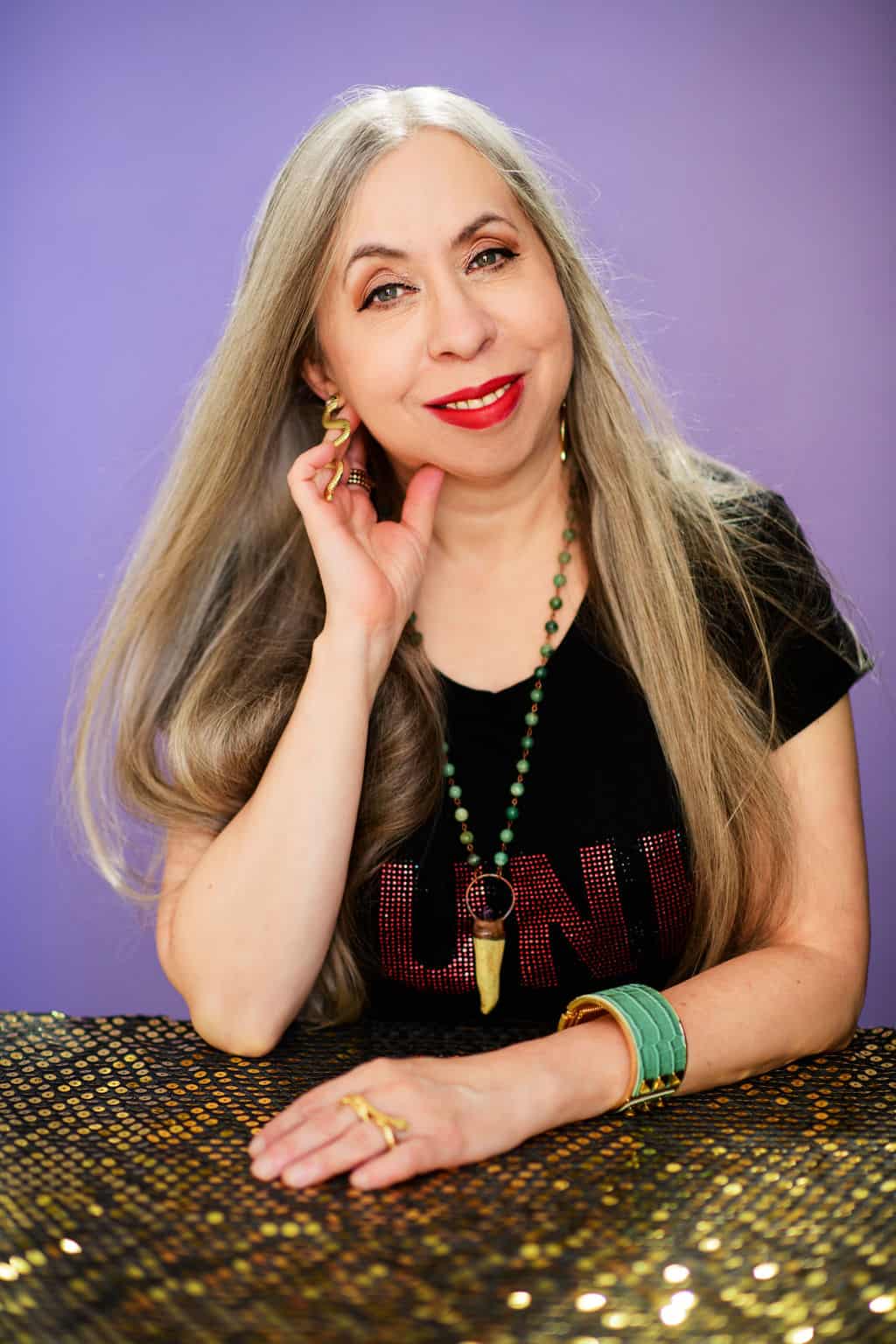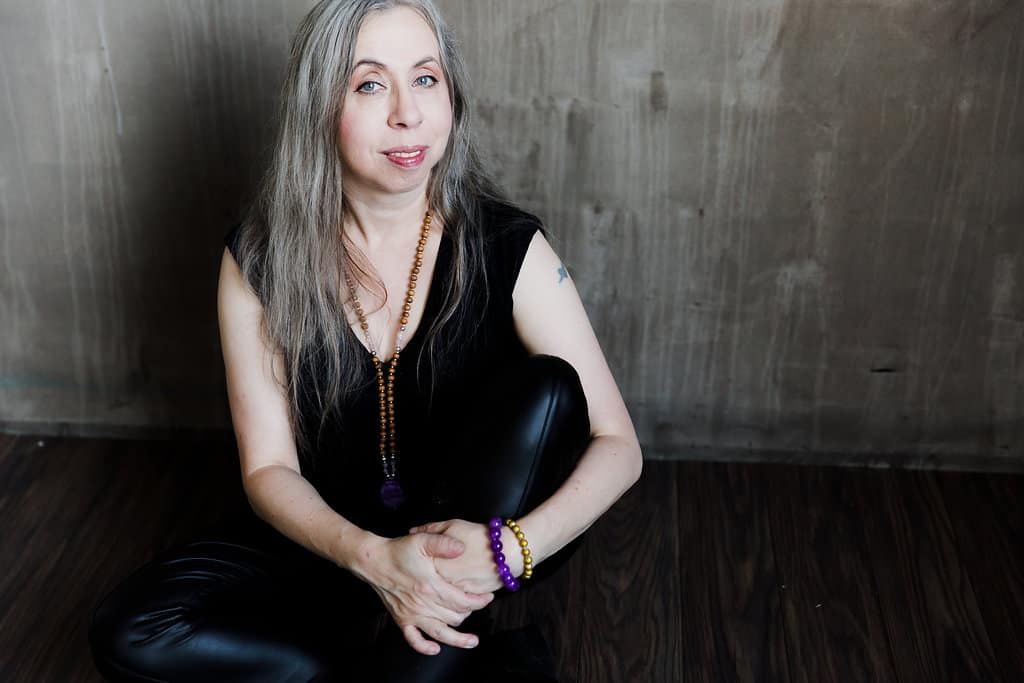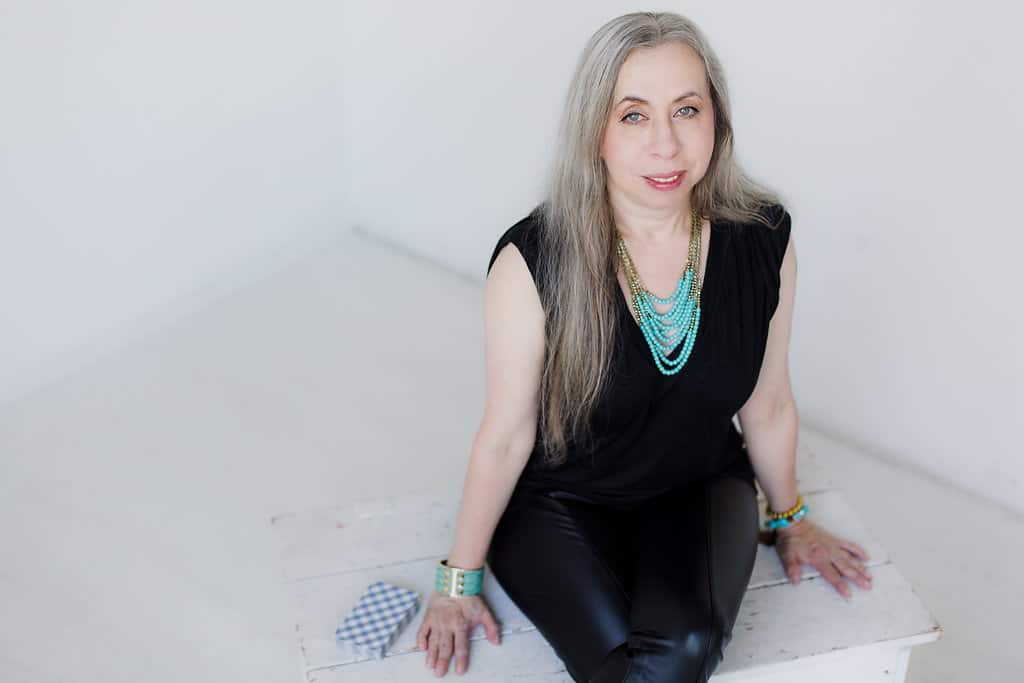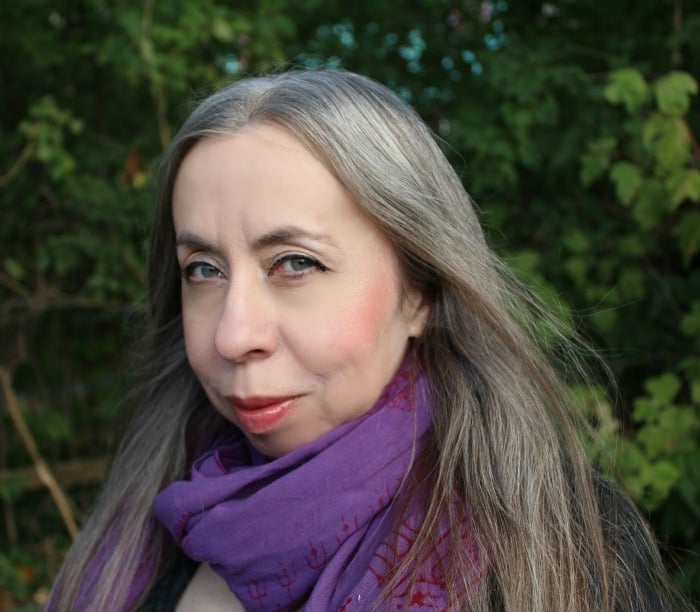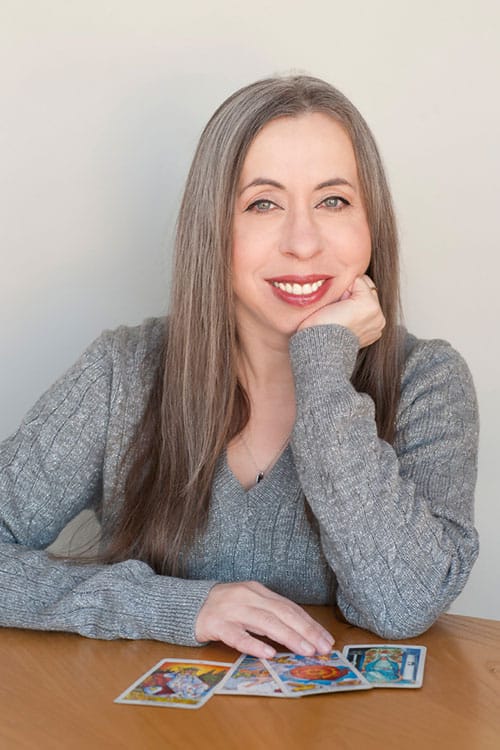 BUZZ:
"Theresa is a dynamic and knowledgable teacher. Her Readers Studio class was informative and fun, and had everyone cheering at the end!"  ~ Ruth Ann Amberstone http://tarotschool.com http://readersstudio.com
"Theresa Reed is by far one of the most straight forward, tell it like it is people I've ever interviewed. So refreshing! I just loved her style. Professional and classy with an edge. You can feel it in your gut when you listen to our interview in the Soul*full Summit. She speaks the truth. I not only recommend her for her Tarot Readings ( She is in my back pocket before I make any business decisions ), but if you are looking for straight up, no BS approach to business and life, Theresa is where it's at!" –Catherine Just
"Theresa Reed was a featured guest on my weekly Livestream webcast "Christiana's Psychic Café" on May 26, 2013.  Theresa was prompt, articulate, funny and professional. Her years in her industry combine with her unique perspective to make her a guest like no other! If your target audience includes spiritual people, entrepreneurs or those who enjoy psychic phenomenon they will not be able to get enough of Theresa Reed, The Tarot Lady."  ~ Christiana Gaudet, host of Christiana's Psychic Café
"Theresa rocked it!  Wisdom mixed with humor, solid curriculum punctuated with anecdotal stories of real life reading experiences,  interactive non-threatening exercises that helped students set aside their hesitancies and stretch their abilities.  It was a magical afternoon of cooperative learning!" – Cheryl Ryder, Albuquerque Tarot Tribe Meetup Group Organizer
"Theresa is smart, sassy, and compassionate — a combination not easily found in speakers and teachers. I always sit up and pay attention when I hear she's speaking on a topic or teaching a new class. She's not afraid to tackle difficult topics or dicey situations, and yet she meets them with sensitivity and warmth. I learn something new every time I hear Theresa speak." ~ Joanna Powell Colbert, Gaian Tarot
"Theresa Reed is one of the most trusted names in the tarot industry. She's a powerhouse of passion who is built to inspire professional readers to reach beyond their wildest dreams and successfully create a sustainable metaphysical business. When Theresa speaks, the world listens. Clear, coherent, grounded, and wise, Theresa's voice is respected and sought worldwide.
Working with Theresa has been one of the most exciting and creative experiences in my career. I continue to learn every time she teaches, and her ideas roll out nonstop. Practical, ethical, and understandable, Theresa guides by example and with real life experiences to back her up. Theresa shows metaphysical practitioners that we CAN be independent and live the life we dream….just like she has done for the last two decades.
When Theresa teaches, her audience receives clear, powerful content and quality information they can grip and use in the real world. Theresa wants to see you succeed and will do what it takes to get you there." ~ Donnaleigh dela Rose, Beyond Worlds
PRAISE FOR The Tarot Coloring Book:
"I love the content, the way the book is organized, and the fact that while this book is aimed at those new to the Tarot, making best use of the material is also beneficial for all levels of Tarot students/readers. And … it is fun to play with!" ~ Bonnie Cehovet, The World of Tarot
"This book has proven to be effective for me on multiple levels. Even after years of working with the Rider Waite Smith deck, I'm re-imagining the imagery. During a period of turmoil in the outer world, I'm finding a more solid connection with my inner world. The Tarot Coloring Book lives in that sweet space between serious self-discovery and serious fun – and that's a space I really enjoy visiting." ~ Carrie Mallon
"If you are new to this game, or are getting increasingly overwhelmed by the sheer volume of information out there – stay with Theresa; she will have you understanding and reading tarot in record time. This book is a great introduction to learning about tarot cards and I thoroughly recommend it." ~ Catherine Chapman, Tarot Elements