"I move the stars for no one," David Bowie
My Story
As a Catholic schoolgirl with a superstitious mother and a grandma who felt omens like other folks feel arthritis, it's not too surprising that Tarot, astrology & other intuitive arts would become my driving fascination — and my life's work.
I picked up my first Tarot deck at age 15, and kick-started my career by performing readings on my little sister (most of her questions were about the cute boys in class. Some things never change.) Thirty years later, I've done readings on thousands of clients — from police officers to recovering addicts to new mothers to angst-ridden teens. I'm fascinated by the complexity of individual cause-and-effect, and I'm devoted to helping people make better decisions — and lead happier lives.
I believe that nothing is fated, that everything is fluid — and that the cards have the power to inspire courageous, life-affirming action. But only if you honor your emotional & intuitive reactions for what they really are — a quiet, guiding intelligence.
My 1-on-1 tarot readings are designed to swiftly illuminate your current circumstances, explore possible choices & outcomes, and unfurl the ideal roadmap to the future you want to create. My style is frank, forthright, and practical — no astro-babble or arcane lingo. And I love sharing my gifts with newbie clients & experienced Tarot cadets alike. (Psst…I'm taking a hiatus from reading tarot for the general public to concentrate on my writing and teaching career. Join my Patreon community for classes 'n more.)
While many Tarot readers struggle to transform their labor-of-love into a viable revenue stream, I've been a full-time Tarot professional for my entire adult life — and I love to share my business-building strategies & social media savvy with aspiring Tarot readers.
I'm also the author of The Tarot Coloring Book
, Tarot For Troubled Times, Astrology For Real Life, Twist Your Fate – Manifest Success with Astrology and Tarot, Tarot: No Questions Asked – Mastering the Art of Intuitive Tarot Reading, Tarot For Kids, and The Cards You're Dealt – How To Deal When Life Gets Real.
What's that you say? You want hard facts & geographic coordinates? And an impressive list of credentials? You got it.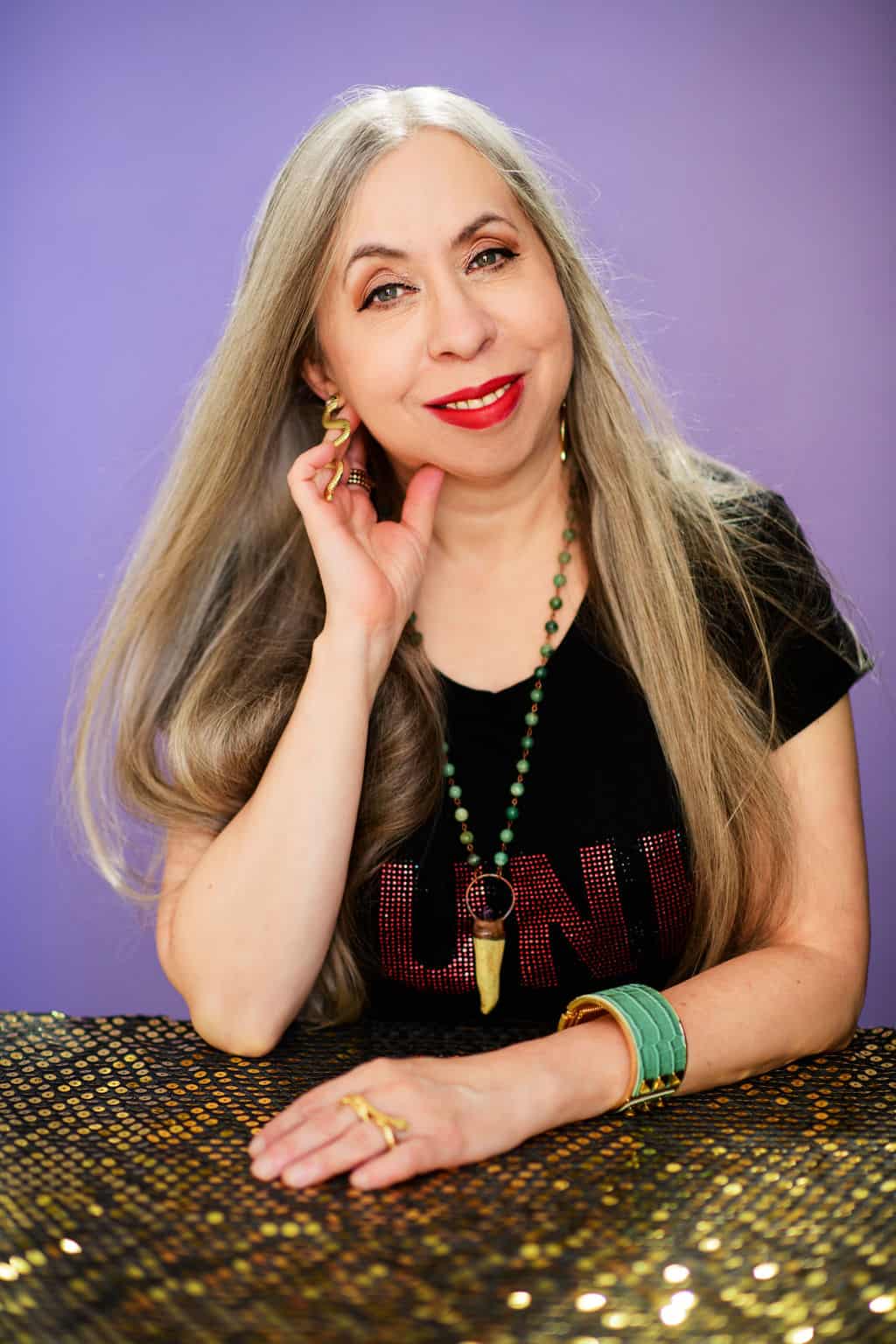 Bullshit Meter

100%

100%

Sentences with Cuss Words

70%

70%

Perfectionism

99%

99%

How Much I Care What Others Think

0%

0%
My street cred
My 'hood
I'm based in Milwaukee, Wisconsin. I LOVE my city SO HARD.
Featured
I've been featured on many blogs, websites, podcasts and magazines. The highlights?  Gaian Soul, Milagro Roots' Many Branches , EmmeStyle, Pace Smith's Spiritual Entrepreneur Podcast, Real Talk Radio, Profit Power Pursuit, Ellen Fondiler's UNLOCKED series, Creative Juices Arts, The Numinous, Anne Samoilov, Refinery29, and The Huffington Post.  I'm hosted a popular podcast, Talking Shop, with my fabulous co-host, Bri Saussy, where we are giving solid business advice for metaphysical entrepreneurs. I also hosted Tarot Bytes, a podcast with short, bite-sized tarot lessons for people who want to learn…but don't have all day, and Astrology Bytes, an astrology podcast for total newbies.
I've also been a speaker at industry events such as Reader's Studio (mainstage presenter in 2015) and SF BATS as well as at other events for female entrepreneurs.  I've taught two Academies at World Domination Summit Academy called Hack Your World With Tarot in July 2015 and August 2016. And I've taught side-by-side with Tarot legends Rachel Pollack and Mary K. Greer at the Omega Institute.
I've got lots of books out in the wild including The Tarot Coloring Book, Tarot For Troubled Times, Astrology For Real Life, Twist Your Fate, and Tarot: No Questions Asked – Mastering the Art of Intuitive Tarot Reading.
My side gig
I'm a certified yoga instructor, and I taught three classes per week at Inner Divinity Yoga in Milwaukee. My teaching style is very eclectic, and my students dig my unfussy, free-wheeling classes. We might listen to gangsta rap during downward-facing dog, for starters. Sadly, my little studio closed due to Covid. I hope to get folks in downward dog sometime soon!
My Manifesto
I believe that nothing is concretely fated, and that every prediction has several escape chutes.
I'm in love with flickering candles, private rituals, public declarations, and the incredible tension between decisions, intentions & action.
I've learned that yoga is better with a gangsta rap soundtrack, and that the best kind of companions are healthy, happy, heart-centered freaks.
I've discovered that when you really know what you want, the universe throws you a celestial high-five, and confirms your choices with positive reinforcement. Again. And again.
I've realized that I have a peculiar tolerance for adult beverages, but I only use my powers for good.
I know that you've suffered (me too) and that sometimes, the future you want to create feels impossibly distant, shrouded & vague.
I've got the skills to serve as a catalyst for your karma, and a whip-cracker for your wisdom.
You want to play with your potential? And make intuitive choices that carry you forward, with courage & confidence?
I can't say I'm surprised.
I knew this was coming.
My promise
When people ask me, "Why Tarot, Theresa?" I've got a pretty blunt answer: I love helping people, and Tarot is the best tool I've found to do just that. Whether it's a private reading, professional Tarot business mentoring, or a live workshop dynamic, I promise to deliver my clearest intuitive hits, my combined lifetime of experience, my tough-lovin' wisdom, and mad respect for you & your journey. 
Wondering what my clients have to say about their experiences with moi? Check out my avalanche of testimonials.
Got a question that isn't covered by this snazzy bio, or my detailed FAQs page? Drop me a line at: hello@thetarotlady.com
 *Your correspondence with me may end up in your "Promotions" or "Spam" folder.  Please be sure to check in there if you do not hear from me.*