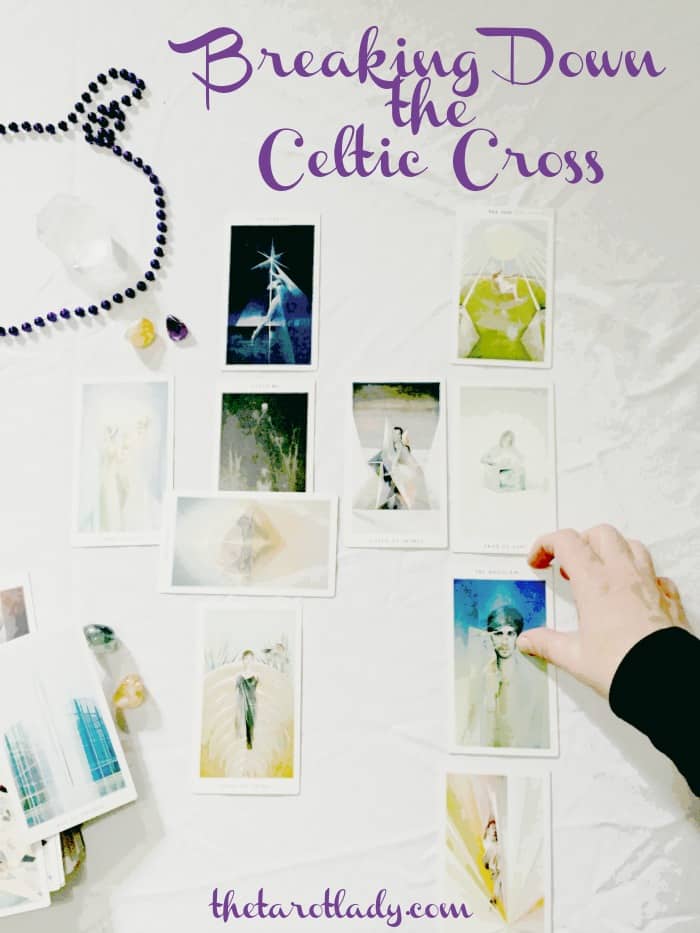 The Celtic Cross is one of the most famous tarot spreads.  Many readers use it…yet many more are intimidated by it.
The Celtic Cross can give a wealth of information about a particular situation but it also lends well to general outlooks or closing spreads, which is why I think it's particularly brilliant.
This series is intended to help take the fear out of it – and help you discover tips 'n tweaks so that you can get the hang of it once and for all.  Stay tuned as I continue to add tutorials to this series once a month.
The Fours
One of the best ways to learn the Celtic Cross – or any large spread for that matter – is by breaking the spread down into digestible chunks. We did that in last month's lesson,  The Threes, where we looked at mini three-card spreads within the Celtic Cross.
This month, we're looking at a few four card spreads, or what I call: The Fours.
These are The Fours that I think are important:
Past, Present, Obstacle, Possible Future: this little spread shows the potential based on where you're coming from.
Recent Past, Present, Obstacle, Near Future: this gives a snapshot of the most recent and soon-to-be events.
Querent, Environment, Hopes and Fears, Likely Outcome: these fours show you how the mindset might be impacting the outcome. Is there something that needs to be changed?
Got it?
Let's use the sample spread we've been working on – and examine those four spread readings!  We've decided that our querent is ready to move on after her divorce – and wants to know what's in store in the romance department.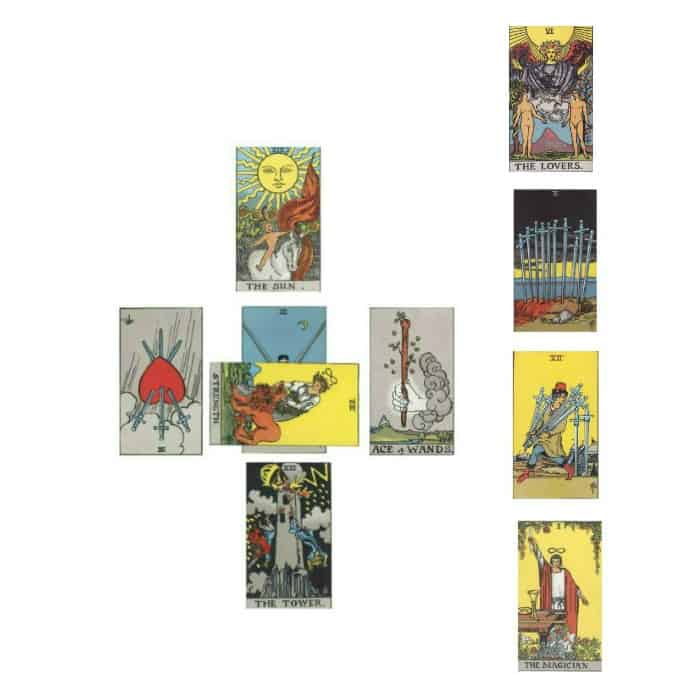 Past, Present, Obstacle, Possible Future: – The Tower, Two of Swords, Strength, The Sun – After a terrible breakup, she's taking some time off from relationships. This is giving her a chance to reclaim her self. Ahead, she's reborn! Joy, independence, and happiness are present once again.
Recent Past, Present, Obstacle, Near Future: Three of Swords, Two of Swords, Strength, Ace of Wands – Once again, we see that this healing has been her main focus. The healing she's experienced has been recent. She's JUST getting on top of her situation and boom – a new situation is on the horizon! This could be a new life that she's creating for herself…or a new love interest.
Querent, Environment, Hopes and Fears, Likely Outcome: The Magician, Seven of Swords, Ten of Swords, The Lovers – Here we see a mixed bag. On one hand, she's stepping into her power and overcoming her past. But the environment suggests caution and theft. Which means she may be encountering some not so great options or she may have other cautioning her about the dating pool. If her loved ones are afraid of her getting hurt, they may be putting their fears on her. The Ten of Swords in the Hopes and Fears position also reinforces this fear of betrayal which could cause her to feel less confident going forward. Both the Seven of Swords and Ten of Swords show a tremendous amount of anxiety. But the presence of the Lovers at the end indicates that she will be able to overcome those feelings and find love again. Perhaps in a way, the trepidation may make her more mindful in her choices. Instead of leaping in to just any old relationship, she might be taking her time to find the right one this time around. That strategy will pay off in the best way. In short: her willpower (The Magician) will help her to overcome the fear.
Awesome!
Homework:
Your turn!
Once again, grab your tarot journal and your favorite deck.
Lay out a Celtic Cross then start looking for The Threes. How do these mini-readings help to illustrate what's going on? Journal your findings.
Next month, we're covering karmic patterns. Until then, keep shuffling!
Blessings,
Theresa
© Theresa Reed | The Tarot Lady 2017
deck featured in the header image is the fabulous Fountain Tarot ; other cards are from the Rider Waite deck.
SaveSave
SaveSave
SaveSave
SaveSave