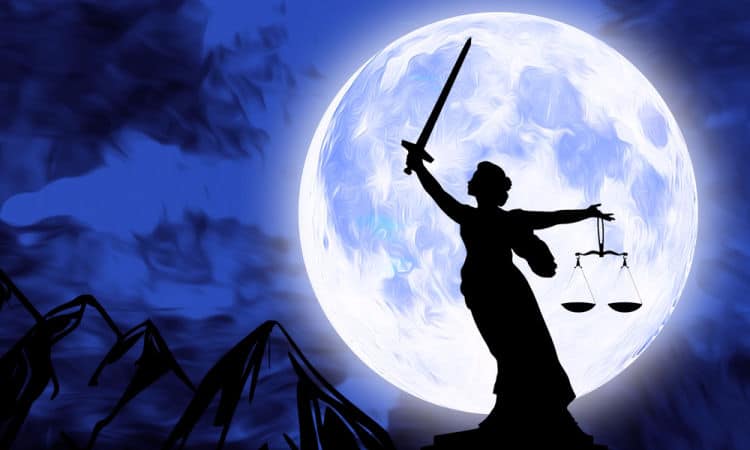 The Full Moon in Libra 2023 lights up the skies on April 6th at 12:34 AM ET. If you're on a different coast, you'll glimpse this beauty on the 5th instead. A Full Moon occurs when the earth moves between the Sun and the Moon. This lunar phase symbolizes the culmination of an event or closure. In relationship-centered Libra, this marks a change in one or more of your important partnerships. Endings are possible, but also new levels.
Before this lunation arrives, the Moon will oppose Chiron, signaling an opportunity to heal or deal. If you are struggling with a loved one, there is a window where a breakthrough is possible. Of course, this could also be the breaking point.  Mercury is also sextile Saturn, opening the possibility for serious discussions. This is supported by a Sun-Chiron conjunction, a transit that helps to express your needs. All of this energy paves the way to clear the air or clear the way for something new.
For some relationships, this day may bring a deeper connection. You might feel ready to commit with a long-time love. Or a new friendship may be moving past the acquaintanceship stage and into something more profound. Pay attention to the bonds that feel significant – and make the effort to grow those connections.
Justice is also a Libra theme. Events around fairness and equity could pop up in your life or on the world's stage. If you feel like you haven't gotten a fair deal in a situation, this is your nudge to negotiate. For some, the negotiations may be over, and instead, they must do the right thing, even if it sucks. If they do, there will be relief and redemption later on. The Universe rewards humility and will be ready to balance the scales if responsibility for past deeds is accepted.
And here are some mini Full Moon in Libra 2023 Tarot Readings with the Tarot Of Tales!
Aries: Knight of Coins – You are acutely aware of what matters. Put your attention there. Forget the rest.
Taurus: Ace of Coins – An opportunity opens up. This could be the fresh start you've been craving.
Gemini: Judgment – You are no longer content to accept mediocrity. Time to rise up to new levels.
Cancer: Knight of Cups – Romance brightens. Put love on the top of your list – and go for it!
Leo: The Emperor – Finally, the pieces are falling into place – and you're back in charge of the realm.
Virgo: The Magician – The power to create change resides with you. Don't assume you're in the weak position.
Libra: Five of Swords – A truth emerges. Now that you see the light, what are you going to do about it?
Scorpio: Page of Cups – New inspiration and romantic possibilities. Make art, flirt hard, and let love blossom.
Sagittarius: Temperance – You're in your element at last. Now you can turn the lead you've been handed into gold.
Capricorn: The Star – Reach for the biggest goals and stay positive. Your dearest wish is on the way.
Aquarius: The Sun – The days are warmer and your future is brighter than ever. Everything prospers you now.
Pisces: Knight of Wands – The actions you take today impact your tomorrow. Be brave and go for your wildest dreams!
Blessings,
Theresa
Got a business? Wanna learn how to rock the cosmos for your best business year ever? Subscribe to the Astro-Biz Digest, my exclusive weekly forecast for entrepreneurs who want to make sure their biz timing is impeccable. Because in business: timing is EVERYTHING. Get your subscription popping here at The Astro-Biz Digest.
Get tarot forecasts + real-time astrological transits directly to your phone with my new SMS service. I've partnered up with a cool subscription service to deliver the goods to you in a convenient way. Yay!
Extended card of the day interpretations, early sneak peeks, political astrology, classes, and more: it's all happening over on my Patreon account! Join now, stay as long as you want, and come 'n go as you please. It's all good!
Learn how to read tarot like the High Priestess with Tarot: No Questions Asked – Mastering the Art of Intuitive Reading. Get your astro-lingo down pat with Astrology For Real Life: A No B.S. Guide for the AstroCurious. Put it all together for your successful life with Twist Your Fate – Manifest Success with Astrology and Tarot.
© Theresa Reed | The Tarot Lady 2023
images from stock photography and personal collection