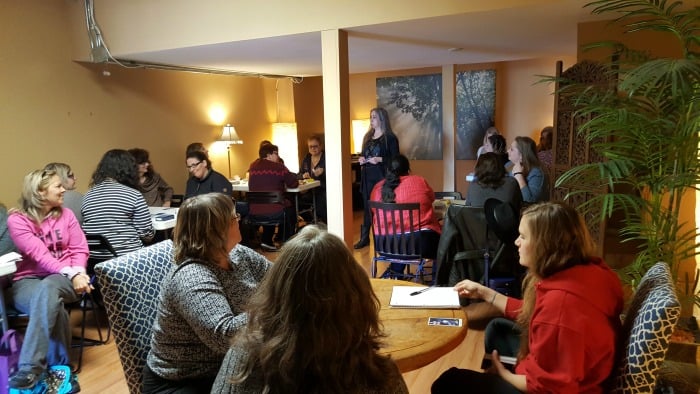 How to Teach Tarot
A free e-book for tarot readers who are ready to teach.
You've been reading tarot for a long time – and you've got people begging you to teach.
But you've held off…because you weren't sure you were ready.
Or maybe you've begun teaching but are still a Nervous Nelly, worrying that you haven't got the chops – even though you know your material inside and out
Look, teaching can feel a bit scary. Even those of us who have been in the tarot trenches for eons get sweaty and tongue-tied when we find ourselves standing in front of a roomful of eager faces who look up to us as experts.
Inside, you're repeating this mantra: "What makes me an authority? How am I qualified?  Am I good enough? Do I know enough? Who am I to teach tarot?"
Sound like you? Let's change that.
I want you help you to be a confident, compassionate tarot teacher.
After all, teaching tarot is rewarding.  It's a wonderful way to help the tarot-curious and also to train the next generation of professional tarot readers. Heck, even old skool readers like myself are always looking to keep our skills sharp with continuous ed.
We need more good tarot teachers.
If you have the experience, skills and passion, you can (and should) teach.
I've created this free little guidebook to help you step into the role of tarot teacher with confidence. (Yes, you read that right: it's free.)
It's a short little PDF with some of my best tips for teaching, based on my 25+ years as a tarot reader and teacher – and my 12+ years as a yoga instructor.  I've worked with students from every level and background – and my classes have been well received and well loved (my yoga studio has loyal students who have been with me since the doors opened).
In this little e-book, you'll get bite-sized tips on:
:: What makes a good teacher (it's not just knowledge…)
:: How to set up for success
:: The art of teaching (yep, it's an art form)
:: A short list of ideas for classes – to get your brain percolatin'
:: How to use my popular book, The Tarot Coloring Book, as a fun teaching tool
:: Some cool 'n creative Tarotcises that you can begin using with your students right away (hopefully these will inspire you!)
Want it?
Groovy.
Click on the Download button at the bottom of this page. You'll be asked for your email address but no worries – you won't be added to any sneaky newsletter lists. I'm not looking to "build a list" or anything like that. This is simply my gift to you because I want to help more tarot readers step into the role of tarot teacher with confidence.
Here's to more great tarot teachers bringing the art of tarot to many more students!
xo
Theresa
Wondering about using The Tarot Coloring Book as a teaching tool? Check out what Melissa Cynova, author of Kitchen Table Tarot: Pull Up a Chair, Shuffle the Cards, and Let's Talk Tarot (Llewellyn, 2017) had to say:
"Listen here. Me and my tarot crew hung out today and colored pictures from Theresa Reed's new Tarot Coloring Book.

We are none of us amateurs, yet, this activity fostered conversations about the cards, how we've seen them, details that some of us didn't know came up – this is an excellent learning tool and I can't recommend it enough for new (or old) tarot readers. I'm thinking about including it in my tarot classes as a learning tool.

So, if you want to learn cards or sharpen your skills, get this book. For real."
Here's Melissa's tarot peeps enjoying a day of coloring and learning: