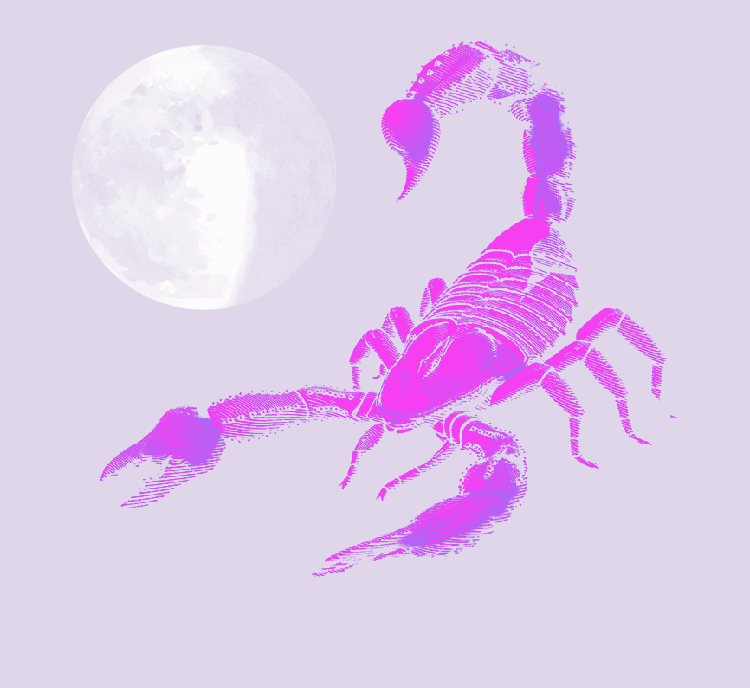 The New Moon in Scorpio 2020 lands on Sunday, November 15th at 12:07 AM EST, which means it's actually dropping on Saturday night for those of us who don't live in the Eastern Time Zone. This New Moon comes close on the heels of a sextile with lucky Jupiter and only a few days after Mars stations direct. What does that mean? It's GO TIME. After a tough year, this moment feels like a complete reset button. Transformation is happening, and the old way can die peacefully. If there is something in your life that needs to evolve, you can be assured that the wheels are being set in motion on this day.
Scorpio is intense and psychic, so everyone has the feels today. Trust your gut, and be ready to act on those hunches. But be mindful that you take a moment to assess the emotional atmosphere before you do. Scorpio Moon can be obsessive and go to extremes. You'll want to make sure that you and anyone involved are ready for this evolution.
If you're unhappy with your current state of financial affairs, there is no better New Moon for getting your fiscal house in order. That could mean organizing your bills, applying for a loan, redoing the budget, or starting a new money-making side hustle. Any change made today could stick – and move you out of the red.
The New Moon in Scorpio is also fantastic for lovers. Cue the Marvin Gaye, light the candles, slip on the satin sheets, and get it on! A bit of heat between the sheets could warm up even the chilliest night (or relationship!).
I'm a huge fan of making magic with New Moons. For this one, you'll want to set intentions around money, sex, passion, intimacy, and intuition. Learn how to do that with New Moon Astrology by Jan Spiller. I swear by this book!
Psst…on the world's stage, the change is coming. The New Moon in Scorpio 2020 touches down on Joe Biden's natal Sun and Venus. No matter how much the other side tries to stall things, the stars are on his side. As I like to say: never underestimate a Scorpio.
And here's some mini New Moon in Scorpio 2020 tarot readings for each zodiac sign with the Moon bb Magick Tarot!
Aries: Page of Blades – What's capturing your imagination? Focus your energy there. See what you discover.
Taurus: Emprexx – Indulge your senses. Pamper yourself. Slow down and make time for pleasure.
Gemini: Three of Lasers – Your vision is about to come to life. Think big. Stay open to opportunities.
Cancer: Four of Waves – You have what you need. Be grateful for every single thing.
Leo: The Lovers – The urge to merge is intensified. You can connect with the other in a deep, powerful way.
Virgo: The Tower – Burn down the structures that no longer support you. This may feel scary, but it's necessary.
Libra: Six of Lasers – The support you need to cross the finish line is here. Expect plenty of applause soon!
Scorpio: Seven of Caves – The things you're trying to grow need more time to ripen. Be patient. You can't rush this.
Sagittarius: Justice – If you see something that is out of line, be ready to speak up. Fight the good fight!
Capricorn: Page of Lasers – A new idea is stalking you. Take that spark and turn it into a bright flame.
Aquarius: King of Caves – You're reaching a new level of emotional maturity. Your heart is smarter now.
Pisces: The Sun – Everything prospers you now. Growth is assured. Celebrate your many victories!
Blessings,
Theresa
Got a business? Wanna learn how to rock the cosmos for your best business year ever? Subscribe to the Astro-Biz Digest, my exclusive weekly forecast for entrepreneurs who want to make sure their biz timing is impeccable. Because in business: timing is EVERYTHING. Get your subscription popping here at The Astro-Biz Digest.
© Theresa Reed | The Tarot Lady 2020
images from stock photography and personal collection