Tarot isn't just for divination – it can also be a wonderful tool for guidance.  In this series, we'll explore the advice options for every card.
With a Tarot deck by your side, you can make clear decisions, deal with challenges confidently, and find alternate routes when necessary.  The result? The best possible guidance for the future you want. 
Join me every Friday for a new installment – and get ready to add some helpful advice + loving support to your Tarot readings.
This week: The Fool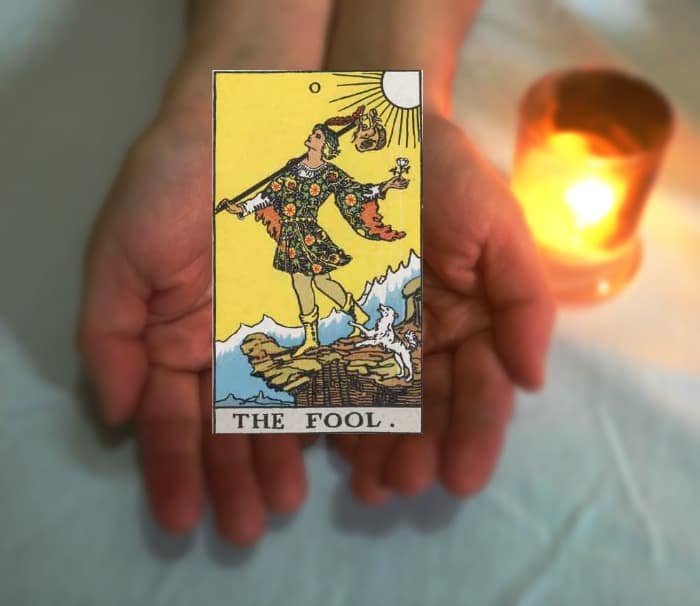 The Fool advises you to take a chance or a risk.  Dive in, even if you cannot see what is before you.  The situation ahead requires a beginner's mind with total trust.  Put past experiences behind you and start fresh, knowing that the journey ahead will open you up in ways you never dreamed possible. Be brave!
If you are considering making a major change or accepting an opportunity, the presence of the Fool says: go for it.  Jump in and don't think twice. Take a new route, even if it feels a bit precarious.
Do not concern yourself with what other people think at this time – this is the time to be unabashedly YOU. Don't be afraid to be seen as "foolish."
Take a carefree and humorous approach. Laugh. Be willing to let go of transgressions.  Travel lightly.
The Fool reversed
The Fool reversed advises a cautious approach.  Instead of going in with trust + innocence, it's better to pull back from the edge and look before you leap.  It's possible that there is danger ahead – or you're just not ready to make this change.  The risks outweigh the benefits.  The timing is off.  Go back to the drawing board, gather more information or experience before you proceed.
Questions to ponder
How do I feel when I take a risk? What holds me back? What does it mean to be fearless?
Blessings,
Theresa
© Theresa Reed | The Tarot Lady 2016
Explore the whole series here: Tarot Advice – Guidance in Every Card.