Tarot isn't just for divination – it can also be a wonderful tool for guidance.  In this series, we'll explore the advice options for every card.
With a Tarot deck by your side, you can make clear decisions, deal with challenges confidently, and find alternate routes when necessary.  The result? The best possible guidance for the future you want. 
Join me every Friday for a new installment – and get ready to add some helpful advice + loving support to your Tarot readings.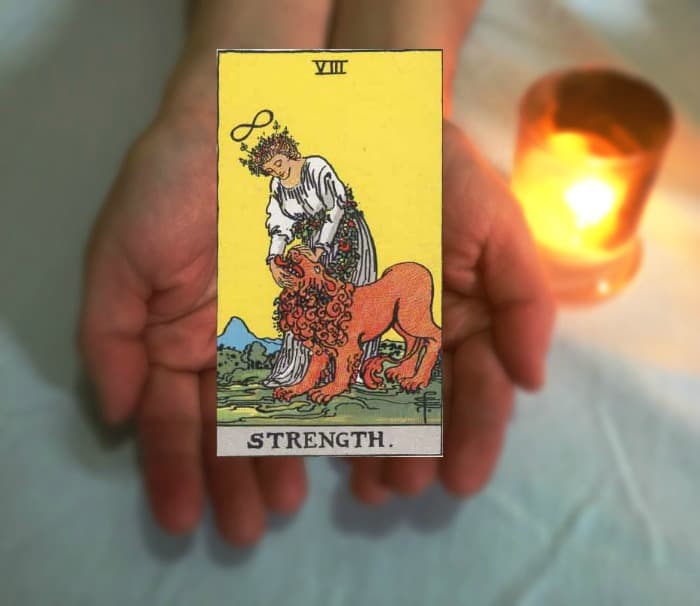 This week: Strength
You have many challenges before you – but you are more than ready to face them. Rely on your inner strength at this time and remain calm.  You'll master the situation.
Be brave!  Your courage will see you through.  You've got this!
If your situation involves another person, this card advises to use a soft but firm approach.  Do your best to bring peace into the situation.  Do not push – instead, listen carefully, then use strong and calm persuasion to make your point.
The Strength card can also be advising to tame the "animal nature."  How might you practice greater self control at this time?
Take matters into your very capable hands.  You've got the power to get this under control.
Strength reversed:
As advice, the reversed Strength card says: let go. Surrender.  That does not always imply a negative. Sometimes we need to look at an impossible situation and be wise enough to walk away.
In some circumstances, this can be the alternate: don't throw in the towel.  Keep on doing your best, even if you are in a weaker position.
This can also be a warning that something is getting out of control.  What needs to happen to rein the situation back in?  What discipline needs to happen before this blows up?
The reversed Strength card can also say: you need more strength at this time. Gather your courage as best as you can. Do not go the route of the cowardly lion.
Lastly, this card can also suggest seeking help. If you are in pain, get the proper help.  Do not suffer in silence.
Questions to ponder:
What does it mean to be strong?  Where do you need more courage?  What challenges have made you stronger?  What are you ready to face today?
Blessings,
Theresa
© Theresa Reed | The Tarot Lady 2016
Explore the whole series here: Tarot Advice – Guidance in Every Card.