Tarot isn't just for divination – it can also be a wonderful tool for guidance.  In this series, we'll explore the advice options for every card.
With a Tarot deck by your side, you can make clear decisions, deal with challenges confidently, and find alternate routes when necessary.  The result? The best possible guidance for the future you want.
Join me every Friday for a new installment – and get ready to add some helpful advice + loving support to your Tarot readings.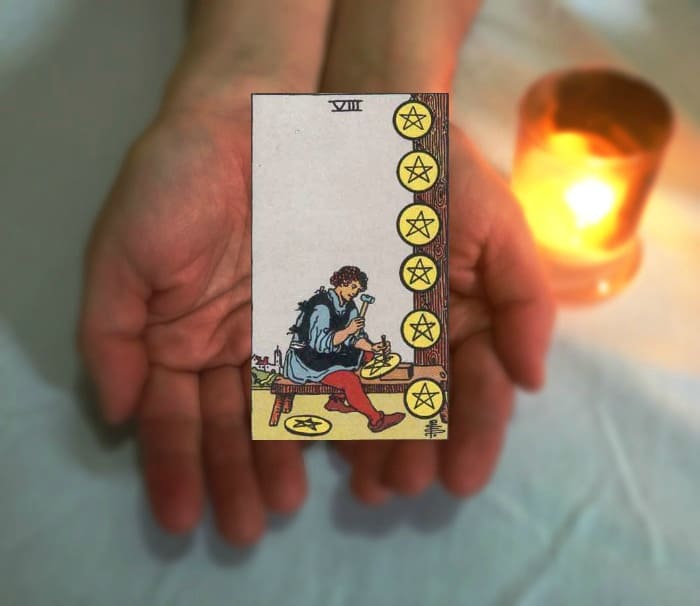 This week: Eight of Pentacles
Stay focused on the work at hand. Stay on your grind until the work is complete.
If you're trying to become better at what you do, the best route is practice, practice, practice. Keep on perfecting your craft through consistent practice.
If you love the work you're doing, you'll never feel like you're working.
The Eight of Pentacles symbolizes a time where it is all work and no play. Put your nose to the grindstone. Play time will come later.
With proper training, your skills and discipline will improve. Good training will make all the difference.
Take pride in your work.
Eight of Pentacles Reversed:
If you don't like your job, it's time to look for a new one. Don't stay in a job you hate.
Is your workmanship sloppy? If so, seek instruction. Don't go it alone if you're struggling to do a good job.
The reversed Eight of Pentacles can also indicate laziness. If you're not willing to put in the effort, don't expect results or rewards.
If you're busting your ass and getting nowhere fast, you may grow resentful of your job. If that is the case, either find a way to be patient or speak up.
Some jobs involve a certain amount of drudgery. In this case, the Eight of Pentacles reversed advises to suck it up, even if you don't like the tasks at hand.
Questions to ponder:
Are you satisfied with your career? If not, what can you do to improve it? What would it take for you to develop your skills to the next level? What does it mean to have meaningful work?
Blessings,
Theresa
Explore the whole series here: https://www.thetarotlady.com/tarot-advice-guidance-every-card/
SaveSave
SaveSave