Tarot isn't just for divination – it can also be a wonderful tool for guidance.  In this series, we'll explore the advice options for every card.
With a Tarot deck by your side, you can make clear decisions, deal with challenges confidently, and find alternate routes when necessary.  The result? The best possible guidance for the future you want. 
Join me every Friday for a new installment – and get ready to add some helpful advice + loving support to your Tarot readings.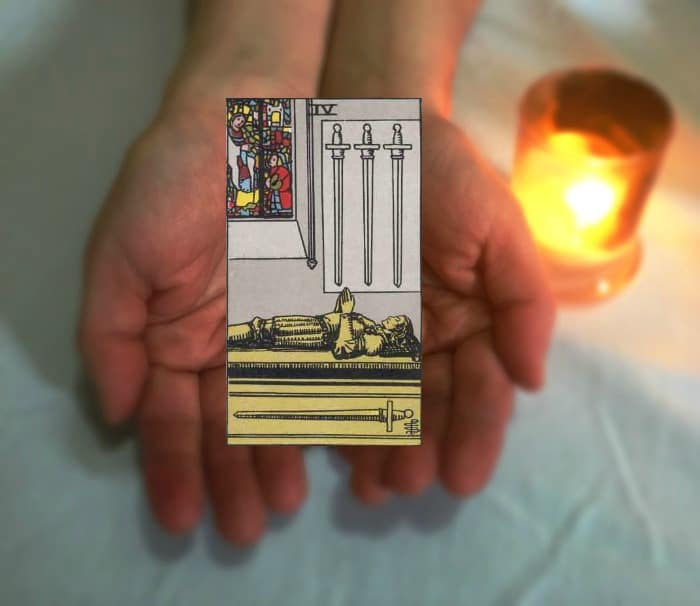 This week: Four of Swords
Rest up. You need time to recuperate. A good rest will help you heal.
If you need to make a decision, sleep on it. Give yourself more time to explore your options.
Take a spiritual approach to your problem. Meditate, pray, seek inner guidance.
Withdraw. A strategic time out may be needed. Sometimes the only way to get a good perspective is by stepping away from the situation.
Bury the hatchet. Put the situation to rest.
The Four of Swords can symbolize planning. As advice, it may say: develop a plan. Think carefully before making your next move.
Four of Swords reversed:
Get back into the action! The time to rest is over. Return to the world.
Put your plan into action. Get started on that big thing you've been dreaming of.
Do not isolate yourself. Be around others.
Questions to ponder:
How do you incorporate rest in your world? What does self care look like in your life? If you could take some time off, what would you do with that time?
Blessings,
Theresa
© Theresa Reed | The Tarot Lady 2017
Explore the whole series here: Tarot Advice – Guidance in Every Card.