Tarot isn't just for divination – it can also be a wonderful tool for guidance.  In this series, we'll explore the advice options for every card.
With a Tarot deck by your side, you can make clear decisions, deal with challenges confidently, and find alternate routes when necessary.  The result? The best possible guidance for the future you want.
Join me every Friday for a new installment – and get ready to add some helpful advice + loving support to your Tarot readings.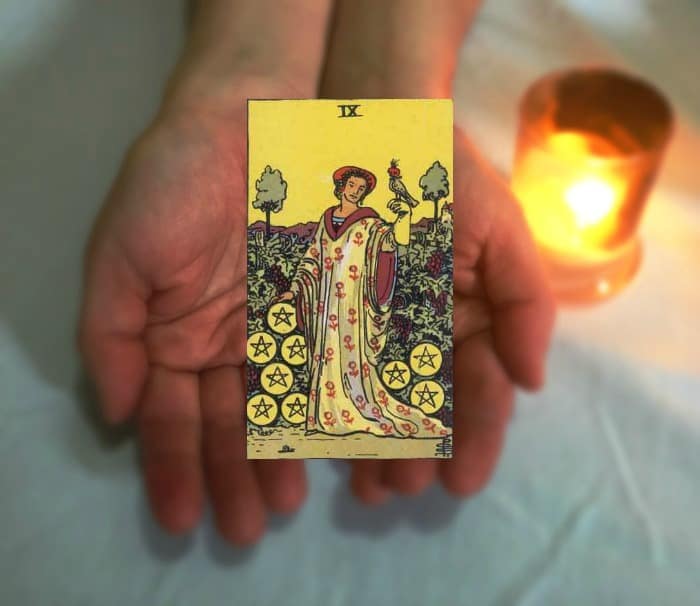 This week: Nine of Pentacles
You've worked hard. Now is the time to step back and enjoy the fruits of your hard labor.
Treat yourself to a bit of luxury. Use your resources to create beauty in your life. Surround yourself with the best you can afford.
If you're worried about your finances, the Nine of Pentacles says that things will work out. You'll find your way.
Focus on building more security for yourself. Look at ways you can put money away for the future.
Count your blessings.
You have what you need to live your life on your terms. Don't settle for less.
Nine of Pentacles Reversed:
Are you unable to see the good around you? Feeling jaded? It may be time to adjust your attitude.
The grass may be greener on the other side.
The reversed Nine of Pentacles can indicate being bored with what we have, feeling lazy – or not knowing what we want. If any of these strike a chord, it may wise to reflect on what you value – and then do something about it. You can always change something if you don't like it. Or change the way you're looking at it.
Get back out into the world. If you've been spending too much time alone, seek the company of others.
Questions to ponder:
Do you appreciate what you have, right now? Are you able to enjoy luxury – or do you feel that you don't deserve it? Do you feel differently about things you earn through hard work versus things that are given to you?
Blessings,
Theresa
Explore the whole series here: https://www.thetarotlady.com/tarot-advice-guidance-every-card/
SaveSave
SaveSave