Tarot isn't just for divination – it can also be a wonderful tool for guidance.  In this series, we'll explore the advice options for every card.
With a Tarot deck by your side, you can make clear decisions, deal with challenges confidently, and find alternate routes when necessary.  The result? The best possible guidance for the future you want.
Join me every Friday for a new installment – and get ready to add some helpful advice + loving support to your Tarot readings.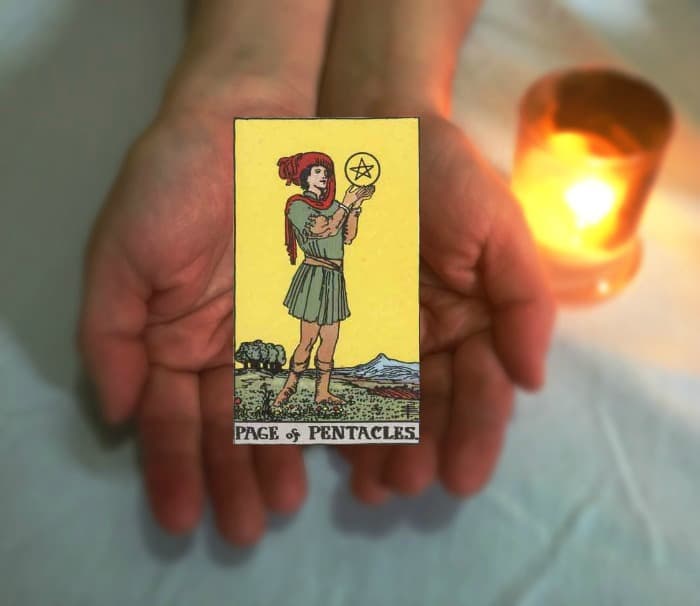 This week: Page of Pentacles
Stay focused on your goal. Commit to it. It's not enough to dream – you must do.
This card favors education. Sign up for that class, take that course, invest your time and energy into learning a new skill. It will prove to be a worthwhile investment. This card can also advise to learn while you work. For example, it can be advising to take an internship or an apprenticeship.
Take the first step. Plant that seed and tend it until it grows.
If you are offered a job or other money venture, the Page of Pentacles advises to go for it. It may be the first foray into a situation with a ton of potential.
Interested in a particular path? Reach out and communicate your interest. Write an email, make that phone call, communicate. It may open the door.
Page of Pentacles Reversed:
Have you lost your focus? If your interest has waned, it may be time to address what's up and see if you can get back on track. Or, depending on the situation, you may want to abandon ship.
Because the reversed Page of Pentacles can indicate trouble with schooling, it may be wise to seek out a tutor. Get help with your studies and you may be able to turn the situation around.
Your need for perfectionism may be causing you to procrastinate. Stop fussing over the details.
If you're feeling ungrounded, this card may be advising you to plant your feet firmly on the earth and come back into your body. Develop practical routines to keep structure in your life.
Questions to ponder:
What have you always wanted to study but didn't have the time for? Are there any new skills you'd like to develop? What is currently piquing your interest? What role does curiosity play in your life?
Blessings,
Theresa
Explore the whole series here: https://www.thetarotlady.com/tarot-advice-guidance-every-card/
SaveSave
SaveSave