Tarot isn't just for divination – it can also be a wonderful tool for guidance.  In this series, we'll explore the advice options for every card.
With a Tarot deck by your side, you can make clear decisions, deal with challenges confidently, and find alternate routes when necessary.  The result? The best possible guidance for the future you want. 
Join me every Friday for a new installment – and get ready to add some helpful advice + loving support to your Tarot readings.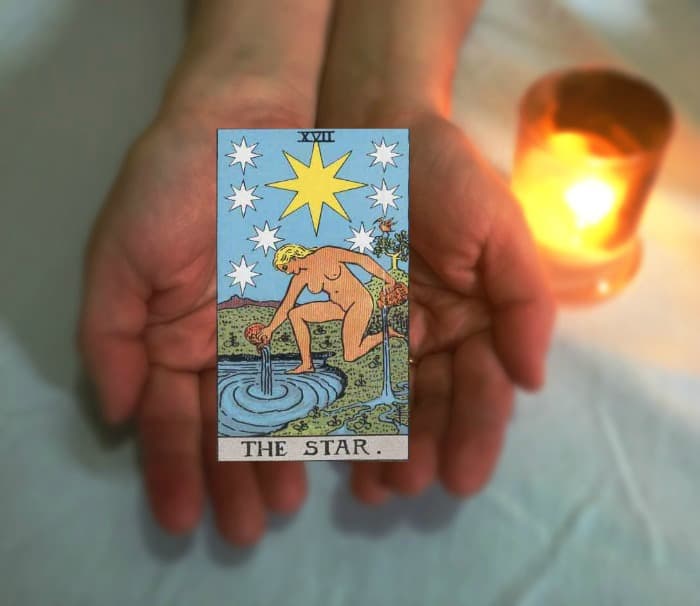 This week: The Star
Keep a positive attitude. Stay focused on what you want – and have faith that it will work out.  The Universe rewards a positive mindset.
Make a wish!
The Star card can also advise to be a source of inspiration for others.  How can you spread hope at this time?  Look at ways that you can encourage others.  Set the example of peace, diplomacy, and hope for others.
This card can also indicate healing. Do what you can to promote healing, whether that be emotional, physical, or spiritual.
The Star reversed:
The Star reversed may indicate that a situation is becoming hopeless. It may be time to let it go.
This can also symbolize a massive leak – financial or energy.  Do your best to plug up the leak.
If you're dealing with emotional issues, the Star reversed may be advising to seek help.
Lastly, if you are being unrealistic about a situation, this card may be advising you to face facts – and stop living in a dream world.
Questions to ponder:
How do you keep hope alive, even when things are difficult?  How can you be a source of light and encouragement for others?  When do you feel the most positive?  What is your secret wish?
Blessings,
Theresa
© Theresa Reed | The Tarot Lady 2016
Explore the whole series here: Tarot Advice – Guidance in Every Card.