Tarot isn't just for divination – it can also be a wonderful tool for guidance.  In this series, we'll explore the advice options for every card.
With a Tarot deck by your side, you can make clear decisions, deal with challenges confidently, and find alternate routes when necessary.  The result? The best possible guidance for the future you want. 
Join me every Friday for a new installment – and get ready to add some helpful advice + loving support to your Tarot readings.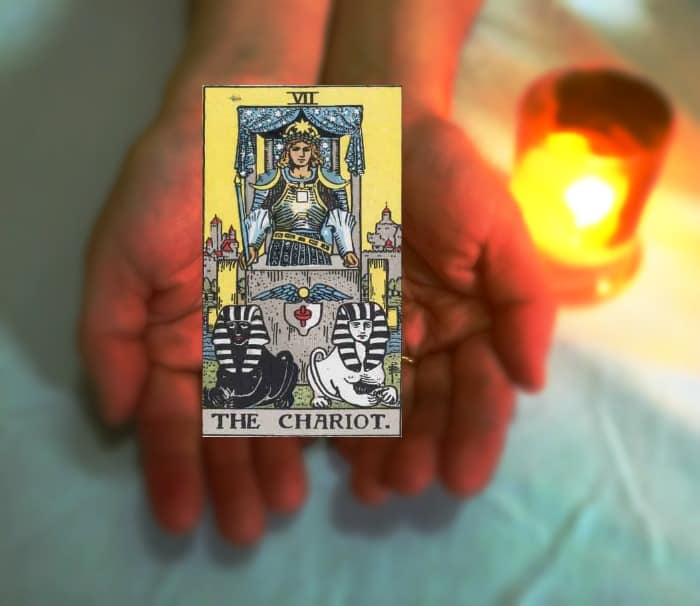 This week: The Chariot
Take the reins in your hands and move forward with confidence, trusting that you will reach your destination.  The key is to remain focused.  Set your intention and direct your will. Let nothing distract you until the goal has been accomplished.
The Chariot says: take charge!  Assume a position of control.  Lead, don't follow.
This card can also be suggesting a need for restraint or self control. If you wish to overcome a problem, you may need to apply greater self control.
The Chariot also can advise leaving a situation.  It may be time to move on and chart a different course. Put the past in your rear view mirror – look forward!
Finally, this can also be a reminder to stay the course.  Do not get pulled in too many different directions.  Move on.  Victory is ahead!
The Chariot reversed:
It may be time to admit defeat and hand the controls to someone else. Rather than drive something into the ground, let a better person lead the team to victory.
The Chariot reversed can also say: loosen up your grip. If you are in control-freak mode, chillax.  You don't have to force things (or people) to bend to your will.  Instead. release the reins and see what happens.
This could also symbolize a need to take a new direction.  If your current path seems blocked, it may not be the right one.  Look at alternate routes.  Seek a detour.  Perhaps the current vehicle is not the right one to take you to where you wish to go.
Feeling stuck? Examine how you've gotten to this point.  Reconnect with your willpower and get back on track.  Motion can happen if you are willing to take responsibility for your current predicament.
On a very mundane note, this reversal can also be a reminder to do some maintenance on your vehicle.
Questions to ponder:
Where do you need to take control? Where do you need to let go? What steps will get you to your goal?  When do you get in your own way?
Blessings,
Theresa
© Theresa Reed | The Tarot Lady 2016
Explore the whole series here: Tarot Advice – Guidance in Every Card.