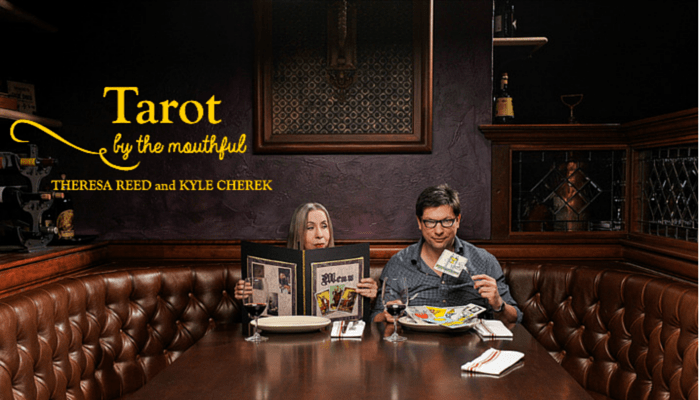 Kyle is a foodie who loves Tarot. Theresa is a Tarot reader who loves food. 
Together, we host Tarot by the Mouthful: a mouthwatering, multi-media culinary tour through the world of Tarot. 
Sublime recipes. Soulful stories. Essays, videos, interviews and delicious surprises. 
Join us every Sunday for a new installment — and get ready to sip, slurp, crunch and savor your way through the entire Tarot deck! 
This week: Strength
Strength – The Strength card symbolizes inner and outer power.  This is the strength needed to deal with the trials and tribulations that life throws our way, the courage to stand up and take control – or to take a risk.  In this card we find the strength we need to face and tackle our issues, to tame the beasts within and without, and to rise above. We all have the capability to overcome much. If we choose to access that inner strength, we find our way to accomplish our goals, face our fears, and master our problems.  The force is within – look there and you'll find it.
Theresa: The Kneading and the Waiting
For me, the one thing that always stood out on the Strength card was the way the woman was gently but firmly closing the lion's jaws.  She has a smile on her face and is in complete control.  It's almost as if she is in a meditative space.  As I began to contemplate what this card might have to do with food, I started looking at her hands and thinking about how powerful they are – and about the physical strength needed to bake bread.
I grew up in a household with a tiny mother who was just under five feet tall.  She was frail due to her health problems but that did not stop her from baking fresh bread every single week.  I loved sitting and watching her knead the dough.  She would pound that bread into submission and after letting it rise, she'd shape the dough into beautiful loaves, biscuits, and for me, a special mini loaf (I was the one always in the kitchen with so I benefitted with little extras like this).
She didn't stop there: we also had fresh coffeecakes and other baked goods as well.  She was a prolific baker and her arms were powerful. I doubt she ever thought about the history of bread or the spiritual nature of it – she simply did the work.
As I became an adult, I was intimidated with baking bread.  It seemed hard.
And the first few times I attempted it, my bread was nothing to write home about.  I never got the same rise that she did and although my crusts were decent, the texture inside was often heavy instead of the wonderful chewy, light stuff she produced.  Did she have a knack?  Perhaps.  Was she physically stronger than me?  Maybe.  I do have puny arms.
But my mother also possessed something I didn't have: patience.  The patience needed to knead the bread long enough or to give the bread time to rise.  I would get tired kneading that dough and want to "hurry up and get it done" and then I'd be busy constantly checking to see if it was rising.  I didn't give it the attention when I needed to – and gave it too much when the dough simply needed the time and space to do it's thing.
I had to tame my own bread-baking demons if I was ever able to produce a mom-worthy loaf of bread.  But once again, I didn't even have the patience for that.
After a year of playing around with bread making, I just stopped bothering with it.  We had decent boulangeries popping up in our neighborhood so I didn't have to develop this skill.  Problem solved.
And then…this blog post.
If I'm going to write about bread, then I need to get down with some kneading and get the job done.  So I did.
I took some time to research the kind of bread I'd like to make.  Focaccia is one of my favorites so I investigated a few recipes and then settled on a simple one from Martha Stewart's Baking Handbook
.
I began by mixing the ingredients and then letting it sit until the bubbles began to form.
I added in the salt and extra flour and then turned the sticky dough out onto a floured surface.  This was a hot mess.  It required me to use a pastry scraper and my hands to knead this dough properly.  I couldn't pound it – the focaccia recipe required a more sensitive touch.  Like the woman in the Strength card, I had to apply some power but also some gentleness for this particular bread.  I didn't want to screw this up – so you can bet your sweet bippy that I was being prudent in my good efforts.
After I managed to get the dough properly kneaded, I set it aside for the first rise. And then I left it alone and went about some tarot business.  When I came back about two hours later, it had risen!  I was in the bread business and starting to feel that I could do mom proud.
Another kneading, another rise and then it was time to stretch the dough into the oiled-up focaccia pan.   The dough was springy to the touch and easy to manipulate into the square shape.  After one more short rest, it was time to put that bad boy into the oven and wait.
When the timer went off, I pulled the focaccia out of the oven, drizzled olive oil on top and sprinkled it liberally with coarse sea salt.  BAM!  It was perfect.
My husband said it was the best focaccia bread he had ever eaten.  I think mom would have agreed.
I also proved to myself one thing: with a little intention, a bit of strength and a whole lotta patience, I can accomplish a lot.
Kyle: The Staff of Life
I have been thinking about Strength a lot lately.  Not the crude physical kind, though that sort is important, but rather the true levels of strength.  The kind that permeates the four levels from the literal up to the mystical, and how it works it's way through us, if you let it, like a current, taking us, not where we intended to go, but where things flow most naturally and end up most certain, most well, strong.   When Theresa told me her contribution to this card would be centered on bread, I thought perfect, the staff of life!
Bread, is literally strength, through what it has given humanity. As we moved forward as a species across the globe, it was bread and grains that gave us the caloric boost, fifty times in fact, plus the opportunity for food storage, and with that we where able to grown larger, and live longer, and better, more imaginative lives. Our brains grew bigger, and our stomachs smaller. Approximately 11,000 BC we began growing crops of grain. The oldest bakery in the world as of yet discovered is in Giza. It was an ancient production facility really. It churned out huge amounts of bread loaves for the Egyptians and their slaves who built the pyramids. Bread, has literally been our strength through history.
When reknowned baker Peter Reinhart talks about bread in his Ted Talk, it is more than just about baking knowledge, but about something more profound as well. He parses out the eleven stages of bread making, which, no matter if one is baking BCE or AD, must be adhered to.  Reinhart calls bread a" transformational food".  The wheat seeds suffer a death in their crushing to flour, then, in concert with yeast and through fermentation have new life in the dough. The bread baker's term "proofing" which Reinhart identifies as stage nine, is proof the dough is alive. What goes into the oven is a living thing. What comes forth, the staff of life, the thing that fortifies, strengthens us, has been part of our DNA and bore us forth to sustain, build, create, everything from Doric pillars to microchips, is bread. No longer alive, but transformative to through the ages none the less.
That's strength incarnate. Strength that does not occupy one act, one transformation, one situation, one single assertion of strength.  Is as the tarot card shows, the woman holding the lion's mouth wide. The Leo/King energy holds its jaws open and tongue out, as to say, I yield to you, but let's play. Let's build together. I will go, where your power takes me.
"May your crust be crisp and your bread always rise." ~ Peter Reinhart
Some bread books worth considering:
The Bread Baker's Apprentice: Mastering the Art of Extraordinary Bread
 by Peter Reinhart
Peter Reinhart's Artisan Breads Every Day
 by Peter Reinhart
The Joy of Gluten-Free, Sugar-Free Baking: 80 Low-Carb Recipes that Offer Solutions for Celiac Disease, Diabetes, and Weight Loss
by Peter Reinhart and Denene Wallace
The Tassajara Bread Book
 by Edward Espe Brown
Martha Stewart's Baking Handbook
 by Martha Stewart
Bon appetit!
Theresa and Kyle
© Theresa Reed | The Tarot Lady 2015
photos from personal collection and Jessica Kaminski
Hungry for more? Click here to explore the entire Tarot by the Mouthful series, from the very first card… right up to our latest installment. Bon appetit!