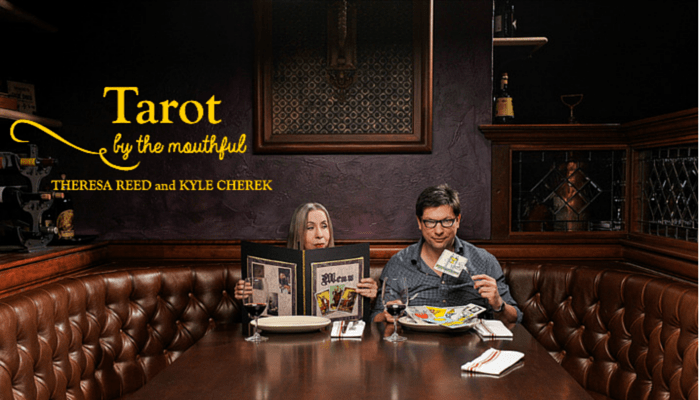 Kyle is a foodie who loves Tarot. Theresa is a Tarot reader who loves food. 
Together, we host Tarot by the Mouthful: a mouthwatering, multi-media culinary tour through the world of Tarot. 
Sublime recipes. Soulful stories. Essays, videos, interviews and delicious surprises. 
Join us every Sunday for a new installment — and get ready to sip, slurp, crunch and savor your way through the entire Tarot deck! 
This week: Two of Wands
Two of Wands: The Two of Wands symbolizes accomplishment but a desire for more. Big ambitions.  Making plans for the future.  Twos also indicate a decision needs to be made.  You've reached an important goal…where next?  What is the next big move?  Conquest. This card can also represent travel.
Kyle: A star is born
Since 1900 the Michelin star has been the highest honor, exemplary designation, most secure accolade that can be bestowed on a chef and the restaurant she or he helms.  Originally created as a marketing exercise by brothers Andre and Edouard Michelin for their eponymous French tire company, the guide is now the high water mark of any chef's career. Though at its initial publishing, there were few cars in France, or anywhere really, it was conceived as travel guide for the motorist seeking the highest of cuisine across the county.  The star rating sets up like this:
: "A very good restaurant in its category" ("Une très bonne table dans sa catégorie")

: "Excellent cooking, worth a detour" ("Table excellente, mérite un détour")

: "Exceptional cuisine, worth a special journey" ("Une des meilleures tables, vaut le voyage")
The inspectors are anonymous, and through the years the guide has taken some hits and backlashes, most notably in 1969 from Le Nouveau Guide and from Le Fooding in 2000.
Despite that, it has expanded globally, and is accountably still the measure of greatness that sits atop the heap of every other culinary measure. There are great films about the pressure of getting stars, increasing them, and keeping them like Three Stars  or Michelen Stars the Madness of Perfection.  At times, the pressure of keeping the stars, has even pushed chefs toward suicide, as in the case of Bernard Loiseau.
In 2005, chef Alain Senderens, one of the talents who was a cornerstone of the evolution in cooking called nouvelle cuisine in the 1960's and 70's , and a 3 Michelin star chef for nearly three decades,  gave his stars back.  "I don't want to feed my ego anymore. I am too old for that. I can do beautiful cuisine without all the tra-la-la and chichi, and put the money into what's on the plate." he told the New York Times in regards to his decision.
His inclination was to serve superlative food without all the price point barriers and stiffness that a Michelin level restaurant is beholden to, and began was part of trend by chefs who felt the system was out of date.   One could see it as an accomplished chef at 65 years of age hanging back, staying relevant, and  no longer needing to prove anything.  So many of us who dwell on these sorts things indeed, saw it just that way.  Yet eight years later, at the age of 73, when many chefs are rightfully slowing down, or even hanging up their aprons, he partnered with Cyril Aouizerate, a vegan Paris hotelier known for a set of proletariat priced, high design Mama Shelter hotels favored by the European hip-hop crowd,  and opened Maimonide of Brooklyn in America.
Long on bad-assedness, this is the substance of The Two of Wands. Daring to do what you want, gambling things will go your way, being present in the creation of your own style, looking forward with confidence.  These are all hallmarks of The Two of Wands.  It is the card of personal power and an indication of being self-possessed. The world will catch up to you. After all, as the card depicts in the Rider-Waite deck, it is in your hands.
Theresa: Best laid meal plans
Every cook needs a plan.
For the pro, that is usually easier because you've had the training to sort these concerns out.  But for the home chef, it's not always that simple.  You may find yourself exhausted at the end of the work day.  Or you may have a household of finicky eaters.  Or you may not be sure what a balanced meal looks like.
And, if you're like me, you want good food and don't want to resort to "taco night" every Tuesday.
So what's a foodie who doesn't have a lot of time going to do when dinner time rolls around and everyone is asking "what's for dinner?"
I've gotten quite good at planning out meals over the years and, like most cooks, there are strategies.  One strategy involves having a few "staple" dishes that I can cook quickly and change around to make it something different (no, tacos are NOT on that list).  A simple pasta with veggies and egg, a chopped salad with homemade vinaigrette (bottled dressing is sacrilege around here), a roasted chicken with potatoes.  Easy.  Fast.  I can throw this stuff together without even thinking…in a pinch.
My other strategy is to pore over my cookbooks and cooking magazines to search for new recipes.  I try to get something new on the table at least once or twice a week.  I'll plot out the timing, make my list and then hit the market.
Because I cook fresh every day, daily planning is a must.  I don't do "one big shop" nor do I use the freezer like most home cooks and busy moms (my freezer holds ice cubes and one pizza for my husband…I don't like pizza).   I'll create a list of desired menus for the week and then do my shopping every day.
Sound like a bit much?  It may be for some.  But it works for me and we eat damn well around here.
If you're struggling to get a good meal on the table for your family, planning is your kitchen BFF.
Whether you do a weekly jaunt or daily marketing like me, start by reflecting on what you might want to eat.  What excites you? What does your body need?  What recipes sound interesting?  Begin there.  Then, gather your recipes and write your list.  Hit the market.
Set aside enough time every night to make your dinner.  If you don't have a lot of time at night, cook simple meals or use your slow cooker (I'm a slow cooker fanatic).  Before shutting down for bedtime, organize your breakfast and lunch ingredients so that you can get up and get your day started.
This wee bit of prep will help you conquer your world just like the fellow in the Two of Wands.
If you're really stuck, check out my friend Rosy Blu's Meal Planning Kit.  This smart e-book has a 4-step process for meal planning and helpful tips.  And she's just created a snazzy new Meal Plan/Shopping list to go with it.  Making dinner plans has never been easier (even easier than ordering takeout)!
Create your plan and victory is yours!
Bon Appetit!
Theresa and Kyle
© Theresa Reed | The Tarot Lady 2015
photos from personal collection and Jessica Kaminski
Hungry for more? Click here to explore the entire Tarot by the Mouthful series, from the very first card… right up to our latest installment. Bon appetit!