Learn the Tarot card meanings with Tarot Card by Card. Fresh, modern tarot interpretations. A sucka-free approach with affirmations, journaling prompts, theme songs, and reversals. Explore the Tarot card meanings in a hip, irreverent, fun way!
Eight of Wands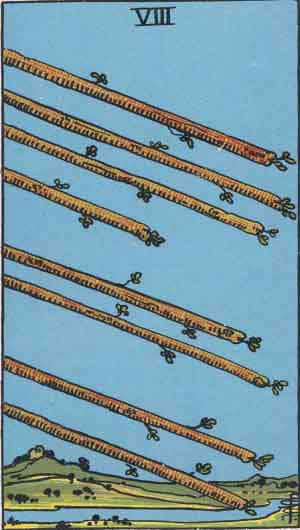 Keywords: movement, travel, news, speed, swiftness
General meaning:  Things are moving at warp speed.  If you have experienced a lull, it's now full on, baby.  Quick movement.  A whirlwind romance.  Progress at last.  A project is moving forward towards completion.  Important news arrives.  The Eight of Wands is one of the best cards for travel.  If this shows up in your reading, get ready to pack those bags.
Reversed:  And progress stalls.  Things begin to move at a crawl. Traffic jams.  Pulling back after some initial progress.  Going on strike.  Filibuster.  Backing out of a situation.  Travel plans cancel.  (Personal note: I once pulled this right before I was supposed to go on a trip.  I sat for three days in the airport.)
Affirmation: I am moving forward with quickness and precision.
Theme song: "The Distance" by Cake
Journaling prompt:  How are you moving forward in your life?  Where are you stalled?  Where are you rushing without thinking of the consequences?
© Theresa Reed | The Tarot Lady 2013
See the whole series here.