Learn the Tarot card meanings with Tarot Card by Card. Fresh, modern tarot interpretations. A sucka-free approach with affirmations, journaling prompts, theme songs, and reversals. Explore the Tarot card meanings in a hip, irreverent, fun way!
Four of Wands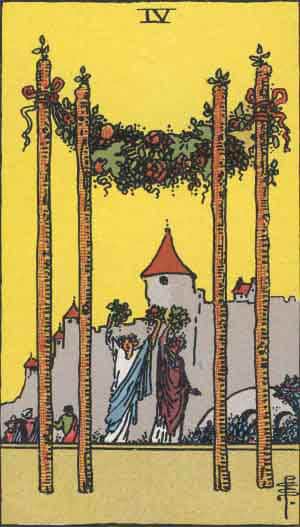 Keywords: victory, harmony, happiness, celebration, homecoming, home, ceremony, party
General meaning: I always see this card as a happy omen when it shows up. This is the victory dance at the end of the touchdown, the joy of returning home for the holidays, the sign of a fruitful union, the celebration for a job well done.  Harmony and happiness in all endeavors.  Life is sweet and there are more reasons to celebrate than commiserate.  A triumphant return to the old hood.  A kickback with your closest peeps.
Reversed: Still positive but it can indicate leaving home or moving out.  This can also be the surprise party or an event that has a twist to it.  Again, still positive and a sign that stuff is moving ahead, even if a delay to the outcome.  Keep on truckin' and you'll be tossing some confetti and throwing back with your crew soon enough.
Affirmation: I have so many reasons to celebrate.
Theme song: "Celebration" by Kool and the Gang
Journaling prompt: When is the last time you celebrated your good fortune?  Write about what you did, what goal or event you were commemorating, and who was present.
Blessings,
Theresa
© Theresa Reed | The Tarot Lady 2013
See the whole series here.