Learn the Tarot card meanings with Tarot Card by Card. Fresh, modern tarot interpretations. A sucka-free approach with affirmations, journaling prompts, theme songs, and reversals. Explore the Tarot card meanings in a hip, irreverent, fun way!
Queen of Wands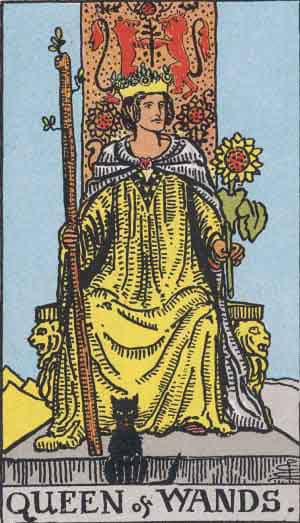 Keywords: creative, passion, power, courage, fire, feminine power
General meaning:  The Queen of Wands is the keeper of the flame.  She's confident, strong, courageous and intense.  When this card shows up in a tarot reading, you may be called to embody those qualities.  Are you ready to nurture that creative fire that burns in your belly?  Put your energy into manifesting your dreams.  You have the power to make big things happen, and all it takes is a commitment to your passion.  This card can also represent a feisty and hot woman who's about to add some heat to a situation.
Reversed:  A passion that is waning or dying out.  Lack of care or enthusiasm leads to a big fat nothing.  The energy turns angry and tempestuous.   Or the opposite: no real fire.  Coldness.  A dud.  A hard woman with a bitchy personality.  The Devil wears Prada.  A cocktease.
Affirmation:  I am powerfully creative.  I trust and stoke my inner creative fire.
Theme song: "Firework" by Katy Perry
Journaling prompt:  How will you nurture your creative fire today?  Journal about the fire the burns in your belly.
Blessings,
Theresa
© Theresa Reed | The Tarot Lady 2014
See the whole series here.