Learn the Tarot card meanings with Tarot Card by Card. Fresh, modern tarot interpretations. A sucka-free approach with affirmations, journaling prompts, theme songs, and reversals. Explore the Tarot card meanings in a hip, irreverent, fun way!
The Chariot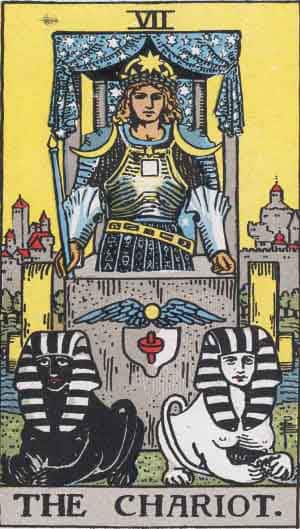 Keywords: triumph, directed willpower, control, direction, movement, progress, vehicle
Attributes: Cancer (Water)
General meaning: Things are progressing.  The reigns are firmly in your hands and you can move ahead with confidence.  It's time to put the past in your rear view mirror and stay focused on the road ahead.  Not sure where you are going?  Investigate more than one path if you please.  In time, it will become clear as ice.  You got this, dawg.  In the market for some new wheels?  Whatcha waiting for – go on and get 'em.
Reversed:  Your overconfident nature is about to bite you in the arse.  Moving ahead without a plan or clue.  Things are getting out of control and you need to pull it together or face complete chaos.  This reversal can also indicate getting stuck – whether that be stagnancy or simply being a stick in the mud, it's not cool.  Control freaks. Car problems and travel issues.
Affirmation: "I can steer my life any way that I wish."
Theme song: "Wood Grain Wheel" by Slim Thug
Journaling prompt:  Think of a time in your life when you felt crystal clear about your path.  What events prompted this feeling?  What were the circumstances that preceded this situation?  Get dat journal out and write that shizz down.
Rap:
Get dat wheel and drive, dawg
It's fo real and live, dawg
Who you tryin' to jive, dawg
Life is a thrill ride, dawg
It's not just survive, dawg
How you gonna arrive, dawg?
Don't  be all contrived, dawg
No need to connive, dawg
You know what I implied, dawg
It's about to get worldwide, dawg.
Blessings,
Theresa
© Theresa Reed | The Tarot Lady 2013
See the whole series here.