Learn the Tarot card meanings with Tarot Card by Card. Fresh, modern tarot interpretations. A sucka-free approach with affirmations, journaling prompts, theme songs, and reversals. Explore the Tarot card meanings in a hip, irreverent, fun way!
The Empress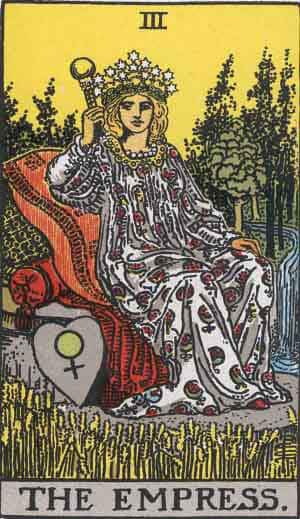 Keywords: feminine power, abundance, fertility, pregnancy, marriage, creativity, receptivity, pleasure, mothering, nurturing, giving birth (literally or figuratively)
Attributes: Venus
General meaning:  This beautiful card indicates that a period of great creativity is ahead.  Whether that be creating art, a new life, a new venture, or a child, this is a marker that all signs are a go.  The energy of the Empress is abundant – the wheat field at her feet suggests a good harvest in the future.  When discussing relationships, this card can indicate marriage.  This is one of the best indicators of pregnancy – in a reading asking about motherhood not only can this indicate conception but also the ability and readiness to be a good parent.
Reversed:  A lack of abundance or fertility issues.  Unexpected or problem pregnancy.  Whoops.  In a reading about marriage, this can indicate problems ahead.  Creative blocks.  Issues with mom (aka Mommie Dearest!).  Turning into mom (not necessarily a bad thing – unless your mom is Joan Crawford). Baby momma drama.  Helicopter parenting.  Let your kid breathe and just be a kid, eh?
Affirmation:  "My creativity and abundance are unlimited."
Theme song: "Mother" by Danzig
Journaling prompt:  When do you feel the most creative?  Grab your journal and unload your thoughts on creativity.
Blessings,
Theresa
© Theresa Reed | The Tarot Lady 2013
See the whole series here.