Learn the Tarot card meanings with Tarot Card by Card. Fresh, modern tarot interpretations. A sucka-free approach with affirmations, journaling prompts, theme songs, and reversals. Explore the Tarot card meanings in a hip, irreverent, fun way!
King of Pentacles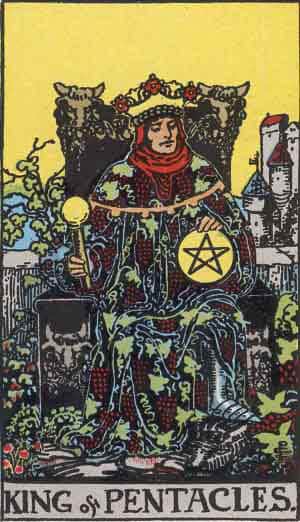 Keywords: boss, authority, father, practical, secure, King Midas
General meaning:  The King of Pentacles is the master of finances.  This is the boss man, the Chief Financial Officer of any organization.  He's hard-working, ambitious, practical, and a good provider.  Security is important to him.  This King likes to take very good care of his family.  He protects his assets and is concerned with accumulating wealth.  When this card shows up in your reading, you may need to embody his serious,  dependable energy.  The King of Pentacles is a strong, traditional father figure and he brings a paternal vibe to all of his dealings.  He has the "Midas touch" and is able to turn everything he touches into gold.  The king of bling.  Livin' extra large.  Big ballin'.
Reversed:  The energy turns stingy and miserly.  Instead of being generous, he has strings attached to his money.  More concerned with himself instead of the good of all.  Extreme greed and materialism.  Willing to sell his soul for the almighty dollar.  A stubborn, difficult man.  Headstrong to the point of obstinance.  Control freak.  Jealous and overbearing.  The boss from hell.  Abuse of power.  A deadbeat.  Getting money the sleazy way.  Financial mismanagement.  Liberace or MC Hammer.
Affirmation:  I treat my resources and loved ones with respect.
Theme song: "Big Bank" by YG ft. 2 Chainz, Big Sean, Nicki Minaj
Journaling prompt:  What kind of financial security have you created in your life?  Do you have enough resources to feel safe?  How much do you need in order to be secure?  What would be your biggest money goal?  Journal about that material stuff.
Blessings,
Theresa
© Theresa Reed | The Tarot Lady 2014