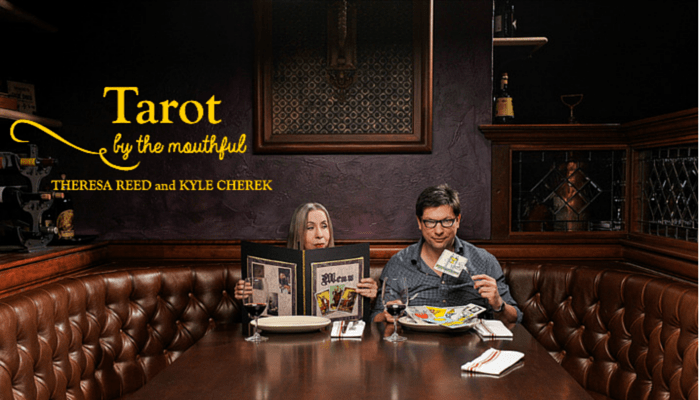 Kyle is a foodie who loves Tarot. Theresa is a Tarot reader who loves food. 
Together, we host Tarot by the Mouthful: a mouthwatering, multi-media culinary tour through the world of Tarot. 
Sublime recipes. Soulful stories. Essays, videos, interviews and delicious surprises. 
Join us every Sunday for a new installment — and get ready to sip, slurp, crunch and savor your way through the entire Tarot deck! 
This week: Page of Swords
Page of Swords: An intelligent young person who is nimble, quick witted, and vigilant. They think on their feet and are curious about the world around them. Notice also the figure is raising his sword in a posture of defense – a sign to be on guard for a change may be in the air. News of a legal or professional matter. Gather the facts before making a move. A new professional beginning.  An intellectual challenge. The breath of fresh air.
Kyle: Joey Dunscombe of the Weary Traveler Freehouse
For my contribution to this weeks post of Tarot by the Mouthful and the Page of Swords card, it is a look back at my Chef Talk with Kyle Cherek episode with chef Joey Dunscombe of Weary Traveler Freehouse in Madison, Wisconsin.
He is full of humility, delight, and youthful energy. It comes through in his food and his entire being.  He loves the grind and hubbub of a kitchen in full swing.  The beauty what comes out of the seemingly chaotic scene is food which nourishes, comforts, and brings a bit of light to peoples day.
My favorite part of interview hits at 4:16. Joey's true chef spirit comes through right there. Is the reason I interviewed him for Chef Talk with Kyle Cherek. That energy is the Page of Swords.
Theresa: Chop chop
Pages often symbolize students.  Of course, it's only right that I take some sort of class to represent this card.
The class to take was obvious: knife skills!
While I think I wield my knife pretty well like the figure in this card, the truth is, I don't.  I'm clumsy.
I'm more like Joan Crawford in Straight Jacket than I am like Jacques Pepin (see the image below).  I've even been known to get that maniacal look on my face when I begin to chop.
One time I almost cut my finger off when I used a sharp knife in a not-so-smart effort to get the hardened caramel out of the bottom of a pan of caramel popcorn that my grandmother had made for dessert. I ran into the room screaming like a scene out of a slasher flick, knife in my hand and the top part of my finger sliced wide open to the bone.  I still have a faint scar to remind me of my sugar-fueled greed and klutziness.
It was time for this not-so-sharp 50 year old to finally learn how to handle a knife properly.
I signed up for a knife skills class with my son at Sur La Table, a local cookware store (that I need to stay out of because cooking gear is like crack for me!).  I was looking forward to learning how to do a proper chop while getting in some rare mother-son time.
We put on our aprons, grabbed our weapons and listened intently as the chef began instructing us on the correct way to hold a knife.  I realized that I had been holding my knife unsafely all this time!  No wonder I ended up with so many knicks on my fingers – and got tired when I chopped veggies.
Yes, people, there is an art form (well more like a "smart" form) for holding your knife. You wrap your hands around the handle but use your thumb and index finger to steady the blade.  This gives you more control over your cutting. The other hand is held in a "claw" position to protect the fingers.  (Looks like I can safely chip the caramel out of the pan in the future!)  Safe + in control.  BAM!
Once we got the safety part down, we got to work on dicing, chopping, and making some julienne carrots.  We also learned how to cut veggies in a way that assured the least amount of waste (I was doing that part all wrong too). The class finished with a group effort to make some yummy salsa out of all those veggies we chopped.
At the end of the class, we walked out with a killer new Wüsthof knife and some mad choppin' skills.  Since that time, I've been working my knife like a pro – and chopping has never been such a breeze.
Proof that you can teach an old dog new knife tricks.
Bon Appetit!
Theresa and Kyle
© Theresa Reed | The Tarot Lady 2016
photos from personal collection and Jessica Kaminski
Hungry for more? Click here to explore the entire Tarot by the Mouthful series, from the very first card… right up to our latest installment. Bon appetit!