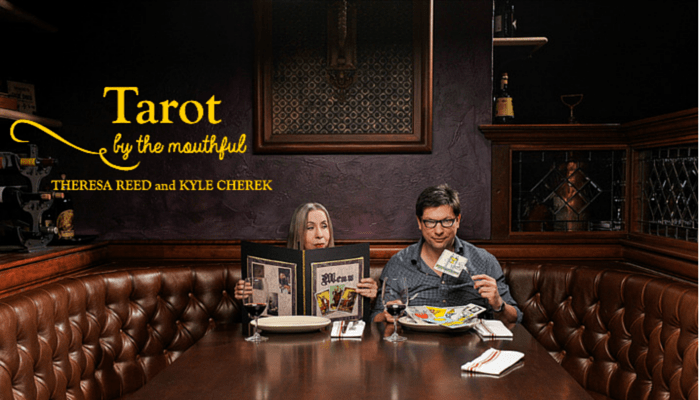 Kyle is a foodie who loves Tarot. Theresa is a Tarot reader who loves food. 
Together, we host Tarot by the Mouthful: a mouthwatering, multi-media culinary tour through the world of Tarot. 
Sublime recipes. Soulful stories. Essays, videos, interviews and delicious surprises. 
Join us every Sunday for a new installment — and get ready to sip, slurp, crunch and savor your way through the entire Tarot deck! 
This week: Three of Swords
Three of Swords: as soon as you see the heart pierced by swords, surrounded by storm clouds, you know something bad is up. This is the card of heartbreak, sorrow, and unhappy endings. A break up or divorce. Loss and grief.  The agony of defeat.  The pain is out in the open and there is no denying that what's done is done. But do know this: a storm can also bring clarity. On later reflection, you may see that this ending, as hard as it may be, is necessary.
Kyle: Chef Rosy Rodriguez
This week, I'd like to turn the attention to the amazing chef Rosy Rodriguez of Company Brewing. She talked with me on a recent episode of Chef Talk about a really hard decision she had to make to leave a chef positon at Lake Park Bistro.  It is a raw and real interview. She had go go through the pain, loss, and divorce herself from the world she knew to grow into the role she has now. That is total Three of Swords in the chef's kitchen.
Watch the interview here: Chef Talk with Company Brewing's Rosy Rodriguez.
Theresa: The cure for a broken foodie heart
There is nothing more heartbreaking to an avid always-hungry foodie than when a favorite restaurant shutters their doors.  It's a total Three of Swords moment.
Pain, sorrow, anger : all of it gets felt in equal measure.
I found myself in this situation when the local ramen joint decided to pack up and leave.
When this place opened, it was love-at-first-slurp.  With Godzilla prints on the wall, steaming bowls of ramen and spicy little pork buns, what's not to like?  Instantly hooked, I started coming in about once a week.
But then something started happening. As in many great love affairs, sometimes the relationship starts out strong with passion and all that burning-yearning obsession stuff only to begin to cool down like a dish that has been set out and forgotten about. Some times, one partner becomes complacent and just stops giving a shit.  I began to see those signs showing up.  A couple of bad bowls of ramen convinced me that something was up.
Are they losing their touch? New cooks that can't figure out how to properly salt their grub? Did they not care any longer? I became that type of client that I hated – the stern-faced one who sent food back to the kitchen.  Too-salty broth with uncooked noodles? Not acceptable.  Two more that were saltier than the ocean? Houston, we have a ramen problem.
I began to feel like I was being a bad partner in this ramen affair. So I started to come around less.
I even "cheated" with my original ramen lover, Momofuku, whom I met with friends many years before.  As I sat at the bar and picked through the yummy bits, I was reminded of what good ramen should taste like: a hint of salt, luxe noodles, a perfectly shiny poached egg, the brine of the nori.  I came back from that trip and hoped upon hope that things would be different.
Nope.  Something was definitely up.
Then the news came.  Like a lover that doesn't want to face the mess or the tears of the one they are about to jilt, they up and left.  Abandoned the location to move far away to a place I'd never go to in a million years.
Far enough away so we never had to see each other again.
I was crushed. Even though I saw the omens, one always hopes that a loved one is going to up their game, to show up fully again, to engage and fight for the relationship.
Instead, I felt ditched.
So I grieved.  I got angry.  I looked around at what else might be in my hood and wasn't impressed.  I even hopped over to Momofuku again and reminded myself that I can always get good ramen on my yearly trip.
But a once a year love affair? I'm not that great at long distance stuff. I like my lover in my face.
It was time to do something about it.
It was time for ramen revenge.
Namely, if I can't get in bed with Momofuku on a regular basis and if there are no local loves to feed my soul, I would have to do it myself. Yes, when your love leaves, sometimes you just have to pleasure yourself.
I hit the kitchen with the Lucky Peach cookbook (same people behind Momofuku) and began tackling the Rotisserie Ramen because it seemed less foreboding than the recipes in the Momofuku cookbook.  Face it, when we get back into the game after being ditched, sometimes we're a bit scared.  Best to go easy.
As the broth simmered on the stove, the aroma filled the room.  It was ramen-y and heavenly.  And the first batch – great. It wasn't as scary as I thought.
By the third batch – it was "aw hell yeah!"  I got bold and added some flair with red pepper threads and sauteed shitakes.  My ramen game was on fleek.  And me? I was passionate, driven – hot-to-trot for my ramen all over again.
Which meant: it was time to dive in all the way, to take the risk and go for the hard stuff, the ultimate food porn: the Momofuku Ramen and Pork Buns.
I carved out a full day to get it right.  Simmering a broth rich with shitake, chicken, pork bones and vegetables, slow cooking a pork shoulder, roasting seasoned pork belly, rolling soft-boiled eggs in a spicy soy sauce, noodles boiling.  And oh – my pork buns?  From scratch, suckas!  (PS that ramen place that dumped me used frozen buns. Most ramen joints do.)  Look at my dough rising:
My kitchen got that gorgeous scent that only a high-quality ramen restaurant has.  By the time I sat down to eat, my mouth was drooling with anticipation.
I was not disappointed.
As my husband and I tucked into that magic elixir and swirled noodles over chopsticks, he looked at me and said "this is the best ramen I've ever had."
SWOON.
Loss healed.  We've moved on.  Because sometimes the best cure for a broken heart is a new, better love.  Or, in this case, a big bowl of homemade ramen.
Bon Appetit!
Theresa and Kyle
© Theresa Reed | The Tarot Lady 2016
photos from personal collection and Jessica Kaminski
Hungry for more? Click here to explore the entire Tarot by the Mouthful series, from the very first card… right up to our latest installment. Bon appetit!