I began doing phone readings years ago when a beloved client broke her hip and couldn't get up my stairs any longer.  We decided to try a phone reading and it worked so well, we never looked back. Since that time, my business has evolved to mostly phone readings.
Even most of my local clients have moved over to the phone rather than trudge to my office.  Why? It's convenient. No more driving in rush hour or inclement weather. No more lugging giant boomboxes to record (I record the session for them).
They can be in the comfort of their own home. And that's pretty sweet.  (Spoken from an introvert who would never leave her home if she had decent delivery services around here.)
Want to know how I run my business over the phone?  Here's your inside tour!
Before I start my readings for the day, I set my mood.  That means a luscious scented candle or some incense.  I like earthy smells like sandalwood.  (I despise vanilla or musk.  If I am around someone who wears perfume with those undertones, I gag and get an instant migraine.)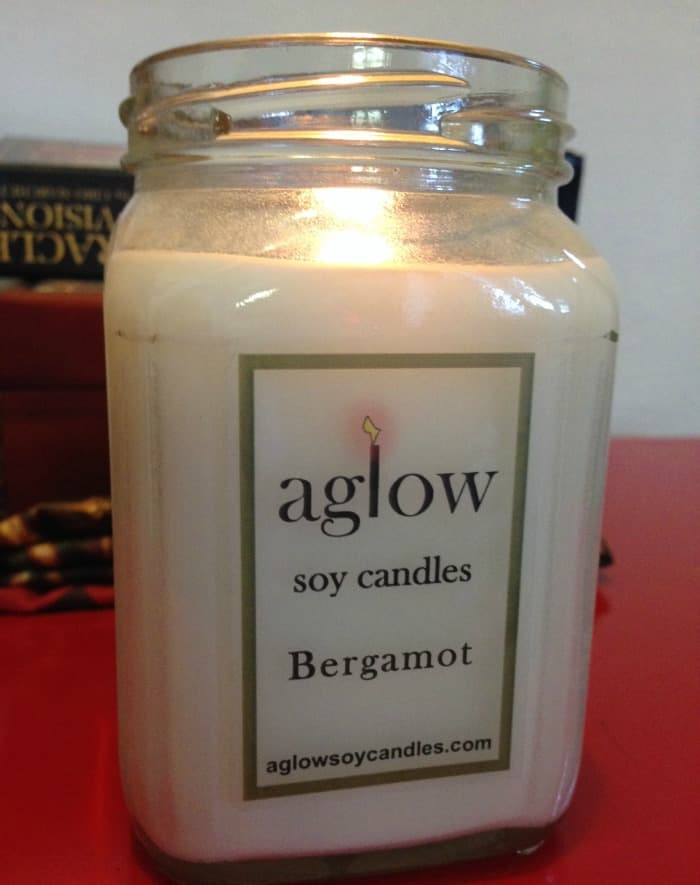 Next, I get my supplies ready: hand lotion, my tarot deck, the Power Cards, and apparently, a cat.  A large mug of tea is always present because I get sore throats from all that talking.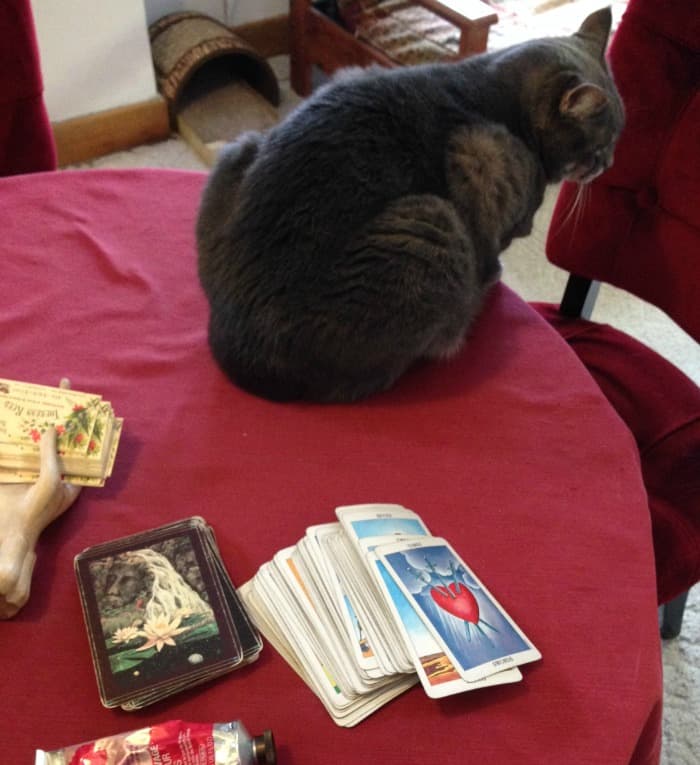 I use a landline and a headset.  Landlines are stable and the reception is usually better. I do not use Skype but clients are welcome to use it to call my number.
When the call comes in, I greet the client and ask if they would like a recording. If they do (some don't), I click over to my other line and dial Audio Acrobat.  Audio Acrobat costs about $20.00 a month and is easy to use.  (If you prefer, you can use a free conference line or Skype to record your sessions.)
Once I've dialed in, I wait the prompts, enter my pin number, and hit the pound sign.  Then, I enter "3" for conference calls and click back to the caller.  Once we hear the two beeps, we are recording!
I always begin by pulling a card from The Power Deck: The Cards of Wisdom.  This gives my clients a lovely spiritual thought for the day and a moment to center their selves.  Because they are not here in my office, this is critical.  It allows us to both be in the same groove: focused and grounded in the present moment.
I begin shuffling the cards.  The client will always use our key word, stop, when they want me to stop shuffling. I then lay out the cards and get down to some serious tarot business. In a full reading, we begin with a general outlook, which allows me to look at the year ahead. I then move on to a brief glimpse of the planets, questions, and I close the reading with a wrap-up spread.
In some cases, we'll do only questions.  It's always up to the clients to let me know what they need.
I use a variety of spreads that can cover any type of question.
Once we hang up, it's time to create my mp3. Thankfully, Audio Acrobat makes it easy. I then go to their site, log in, find the recording, label it, and then create an MP3.  I copy the link and send it to my clients in an email marked "audio."  They can click on the downloadable link and put the mp3 right on their computer.
That's it! Simple, efficient, and works like a charm.
How about you? Do you do phone readings and if so, what method works best for you?  Hit me up on Twitter and tell me your process.
Blessings,
Theresa
© Theresa Reed | The Tarot Lady 2014
images from stock photography and personal collection
Links to Audio Acrobat are affiliate links, which means I get a wee payment if you sign up through that link. If you prefer not to click those, you can click here.