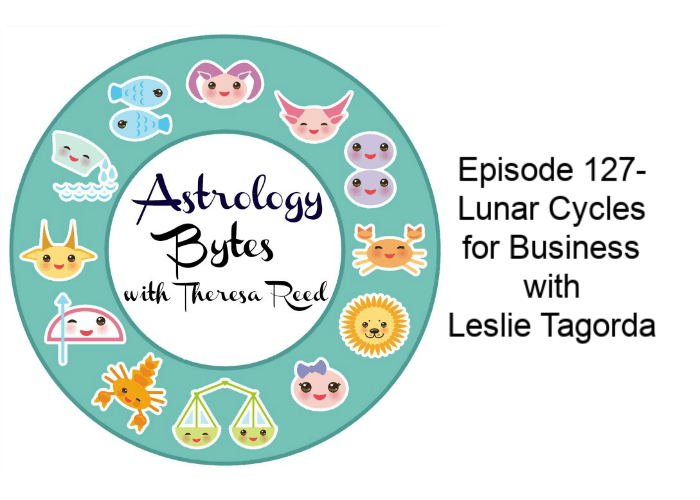 ASTROLOGY BYTES: THE PODCAST
Bite-sized astrology lessons for total astrology newbies.
Created by Theresa Reed, The Tarot Lady (psst…I am known for tarot but I'm also an astrology geek!).
Welcome to Astrology Bytes, the astrology podcast for people who want to learn astrology… but don't have all day! Short, bite-sized astrology lessons.
Episode 127 – Lunar Cycles for Business with Leslie Tagorda
I follow the Moon closely for everything. I'm serious about that. It's especially useful for business. Brand astrologer and host of The Savvy Luminary podcast Leslie Tagorda knows this – and guides her clients to success using lunar cycles for business. In this episode of Astrology Bytes, she shares her wisdom so you too can make your biz swoon with the moon!
Leslie is the author of Star Powered Brand and New Moon Rituals for Entrepreneurs (I HIGHLY recommend both). 
*Note: I mistakenly say this is episode 203 but it's actually 127.*
About Leslie Tagorda (in her own words):
I'm Leslie Tagorda (she/her), a multiracial, brand astrologer, designer, podcast host, and author. An Aquarius boss woman and Human Design Projector, I call myself a Brand Navigator as I guide spiritual entrepreneurs, social impact makers, and visionaries to become the luminary leaders they are born to be using an innovative system of empowered brand and biz astrology called The AstroBrand™ Framework.
Since 2004 I've helped hundreds of entrepreneurs and social impact organizations clarify their brand so they can stop hiding and contribute their expertise in the world through their websites, social media, and brands.
I host a podcast and Facebook community The Savvy Luminary – Astrology for Entrepreneurs. And when not star gazing and advising, I'm a professional classical clarinetist touring with my nationally-recognized chamber ensemble or playing in the pits of groups like the San Francisco Ballet and the San Francisco Opera. Alas, with our global pivot – all gigs canceled.
I reside in the occupied land of the Ohlone Ramaytush currently called San Francisco with my husband and son.
Connect with Leslie:
Podcast: TheSavvyLuminary.com
Instagram: @newmooncreativeco
Facebook Group: facebook.com/groups/TheSavvyLuminary
Youtube: youtube.com/c/NewMoonCreativeCo
Star Powered Brand Book – Available on Website + Amazon
New Moon Rituals for Entrepreneurs – Available on Website + Amazon
Grab your astrology chart, put in your earbuds, and dive in!
xo
Theresa
Subscribe in iTunes, Google Play or Stitcher – or use the mighty fine podcast player below to listen 'n learn:
© Theresa Reed | The Tarot Lady 2021
Check out all previous Astrology Bytes episodes here.