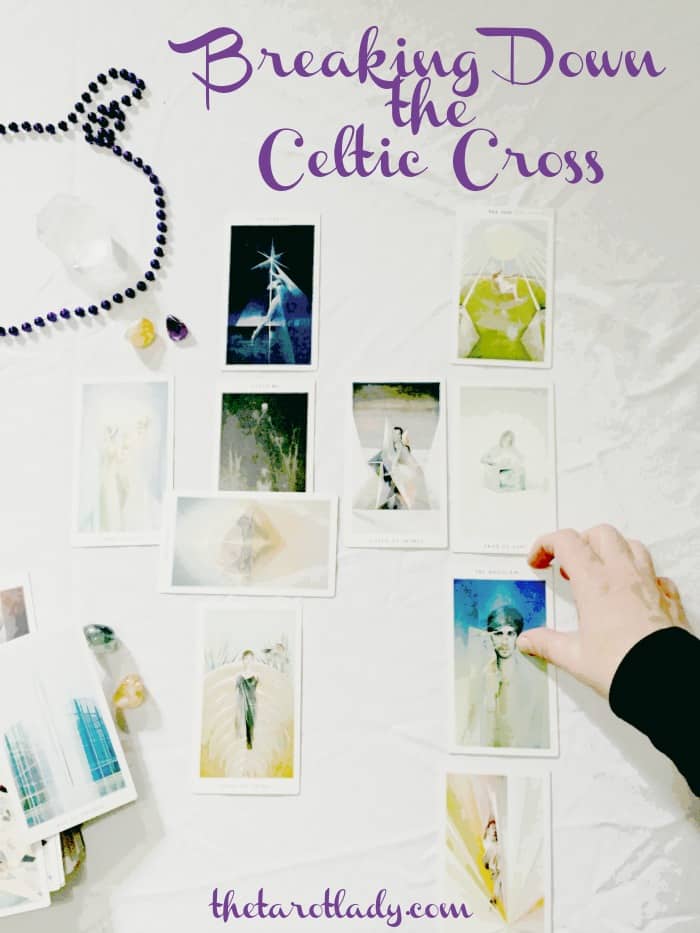 The Celtic Cross is one of the most famous tarot spreads.  Many readers use it…yet many more are intimidated by it.
The Celtic Cross can give a wealth of information about a particular situation but it also lends well to general outlooks or closing spreads, which is why I think it's particularly brilliant.
This series is intended to help take the fear out of it – and help you discover tips 'n tweaks so that you can get the hang of it once and for all.  
So we've come to the end of this series. I hope that Breaking Down the Celtic Cross has given you some excellent help for rocking out this spread!
Here are some additional resources for nailing this spread:
Joan Bunning has a fantastic section on Learning Tarot on The Celtic Cross.
I heartily recommend this excellent series from Catherine Chapman of Tarot Elements: Celtic Cross Spread Tutorial Series.
Catherine Chapman has series on Card Counting and Elemental Dignities that may add some depth to your Celtic Cross (or any reading for that matter). Tarot Elements is one of my go-to sites for all things tarot – it's brilliant!
Check out this Celtic Cross Spread lesson from Daily Tarot Girl.
This Celtic Cross lesson from Truly Teach Me Tarot has some good tips too.
Lisa Boswell has a clear tutorial too.
One more from Learn Tarot With Me.
A couple of books you might want to explore:
Beyond the Celtic Cross: Secret Techniques for Taking Tarot to an Exciting New Level by Paul Hughes-Barlow and Catherine Chapman.
Secrets of the Celtic Cross: The Secret History of the Worlds Most Popular Tarot Spread Featuring New Tarot Reading Methods by Markus Katz and Tali Goodwin.
I was going to continue this series by going through each card in every position but I discovered that there are a few books that do just that:
The Celtic Cross Tarot Spread: Cutting to the Chase by Shannon MacCleod.
Instant Tarot: Your Complete Guide to Reading the Cards by Monte Farber and Amy Zerner.
Allrighty then – that's it!
I hope you found this series to be useful.
Keep shuffling and stay curious, tarotcitas!
Blessings,
Theresa
© Theresa Reed | The Tarot Lady 2017
deck featured in the header image is the fabulous Fountain Tarot