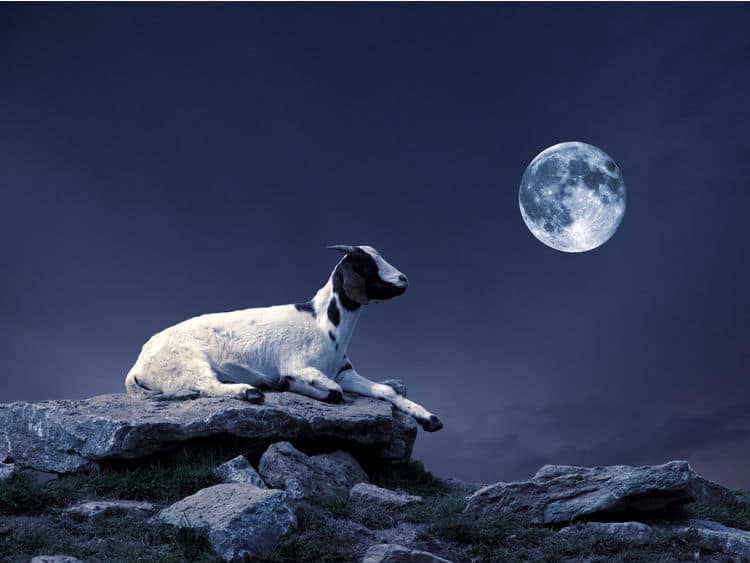 The Full Moon in Capricorn 2021 will be here on June 24th at 2:40 PM EDT. This is also a "Supermoon," which means it's close to the earth and appears larger than usual. Because the Full Moon is associated with manifestation and completion, you can be sure this one will pack a delightful punch. Plans set earlier in the year are now coming to a beautiful finish. This is the harvest for all the hard work you've done.
Think back to the New Moon in Capricorn, which occurred on January 12th. What seeds did you plant at that time? Which structures did you create to support your dreams? What were your biggest, boldest intentions? All those good efforts can be seen now.
Be ready to celebrate your wins, no matter how small they may seem. You did it!
Full Moons can bring endings. If anything comes to an end at this time, you must trust the foundation wasn't solid to begin with – and this will clear the way to build something better. Let go and start looking at what needs to be constructed to give you the life you want. Above all, don't give up. Capricorn is the persistent goat. Tap into that energy, make new plans, and get to work. Dreams don't happen unless you do your part – you must keep going through every setback. Let those inspire determination.
This Full Moon in Capricorn is aided by a lovely sextile to Jupiter, a fortunate aspect that delivers all the inspiration you need to create your big vision. Don't settle for the small stuff – think about your LEGACY. What mark do you want to leave on the world? This is your day to ponder that.
Keep in mind Saturn, which rules Capricorn, is in progressive Aquarius. For every one of us, we've had a lot of time to rethink our relationship with work during this pandemic. Have you been working your fingers down to the marrow? Are you receiving fair compensation for your hard work – or is it time to bid your current job goodbye and start searching for something that rewards your talent? Will we hold politician's feet to the fire to ensure living wages for all – or are we willing to accept a minimum wage that holds people back from having a piece of the American pie? Use this day to consider the role of work in your life as well as the lives of your fellow humans. Instead of accepting the bare minimum, it's time for a change. This Full Moon in Capricorn is ideal for closing the door on low wages, as well as other unfair labor practices (ex: no family leave, unaffordable child care, etc) that harm us all.
And here's some mini Full Moon in Capricorn 2021 Tarot Readings with The Elemental Tarot!
Aries: Father of Fire – You have the power to create whatever you want. Will you burn brightly – or burn it all down?
Taurus: The Emperor – Strengthen the foundation of your empire so everyone will be safe going forward.
Gemini: Lake (Nine of Water) – You are surrounded by people who love and support you. Everything is possible.
Cancer: Son of Earth – You can see the next step to take. So what's holding you back?
Leo: Victory – You can achieve the impossible dream. Be your own hero in the story of your life.
Virgo: Son of Air – Every idea has the possibility of success – if you take action. Get out of your head.
Libra: Daughter of Earth – An important message arrives. Be ready to hug the messenger.
Scorpio: Death – A perfect ending to an old chapter. Shed your skin and be reborn!
Sagittarius: Moon reversed – The fog has lifted. You have perfect clarity. Trust your vision.
Capricorn: Aeon – The decisions you make today will define your tomorrow. Close one door, step into another.
Aquarius: Storm (Five of Air) – An unwelcome but necessary change. Don't point fingers – this is your own doing.
Pisces: Fate – At long last, the Universe is ready to turn in your favor. Your luck is changing for the better.
Blessings,
Theresa
Got a business? Wanna learn how to rock the cosmos for your best business year ever? Subscribe to the Astro-Biz Digest, my exclusive weekly forecast for entrepreneurs who want to make sure their biz timing is impeccable. Because in business: timing is EVERYTHING. Get your subscription popping here at The Astro-Biz Digest.
Learn how to read tarot like the High Priestess with Tarot: No Questions Asked – Mastering the Art of Intuitive Reading. Get your astro-lingo down pat with Astrology For Real Life: A No B.S. Guide for the AstroCurious.
© Theresa Reed | The Tarot Lady 2021
images from stock photography and personal collection