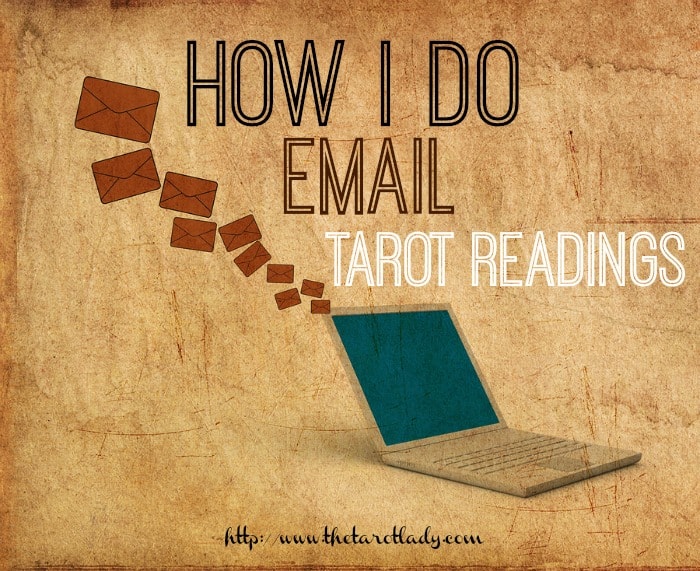 I do a lot of email readings. Clients like them because they are affordable – and I'm fast to respond (you'll get your answer within 48 hours – no waiting here).
I thought I'd draw back the Tarot Lady curtain so you can get an idea of how I work.
Here's my method of tarot operation in the online world:
As soon as I receive payment, I send an email confirming that I've gotten it and ask the client to send the question as soon as possible.  When the question arrives, it goes into a queue to be answered in the order in which it came in. (On rare occasion, my correspondence goes into spam/junk/promotion file.  If you don't hear from me, it's probably there because I'm diligent about communicating.)
Prep time
Before I begin an email reading, I need to be ready.  My little ritual is easy:
Get a mug of tea
Light a candle
Make sure the room is dead quiet (that means my hip-hop is on pause – I cannot have Rich Homie Quan blaring in the background because it upsets my flow)
Doing the reading
After I open the email, I sit with the question for a minute or two.  I need to make sure I understand the question fully and feel the energy of the client.  In case you are curious, yes, even email readings carry energy!  Energy is energy and what a person is feeling at the time they type their question comes through loud and clear. If you are energy sensitive (I am), you'll know exactly what I mean.
Next, I shuffle the deck while re-reading the question a few times.  I place it face down and pause. While looking at the question, I cut the deck into three piles and then put it back together again.
For email readings, I stick to three or four card readings. Why? It allows me to be fast and concise answers tend to be more effective.  Long, labored readings may seem impressive but a clear, to-the-point answer seems to hit the point home without glazing anyone's eyes over. (For the record, I always prefer that method when I purchase an email reading from someone else. Long readings seem to have a lot more fluff and I don't like weeding through that to get to the meat of the reading.)
I lay out the cards in front of me and take a minute to assess the cards. I look for patterns and anything that stands out.
Then, I begin typing. I type like I read tarot – in a stream of consciousness. I am in an altered state when I hit that keyboard.  This is why the room needs to be silent. Any disturbance from a handsome husband or a needy cat disrupts my mojo.  This place is like a monastery when I'm hitting that keyboard.
After I've typed out my answer, I go back and edit. I make a ton of typos when I'm working like that (plus my lingo needs to be cleaned up as well).  I never use an editor when I am doing any type of tarot reading because my work is between me and the client and I do not allow any other eyes on it.  Client confidentiality is sacred to me.
If it feels right and looks tight, I hit send and it's gone. I delete the email and move on. I don't hang on to email readings because I prefer to start with a fresh slate, every single time.  It keeps me objective.
My whole process takes about 20 minutes to complete. (On days when my arthritis kicks in, it can take longer.)  I like to do my readings in batches.  Why?  It's because when I'm in the groove, I'm way in and I don't like to stop that flow.
So that's it. If you're a reader, what is your method for email tarot readings? I'd love to hear how you do email readings so hit me up on Twitter @thetarotlady and dish!
Blessings,
Theresa
© Theresa Reed | The Tarot Lady 2014
pictures from my personal collection and stock photography
More good stuff:
Reading Through The Wire: How To Get A Great Tarot Reading Via Email – my best tips, yo! The key: ask your question right.
When Your Reading is Done – what happens after you get your reading