The first New Moon of the summer arrives on Friday, July 9th at 9:17 PM EDT in sensitive Cancer. This lunation touches down on different aspects with the outer planets, which means it could be truly transformative. If the year has felt like a drag, consider this a fresh start.
Cancer is associated with family, security, nurturing, and home. In the past year, we've all been cooped up and isolated from the ones we love due to the pandemic. While this is far from over, a new normal has emerged. We're all rethinking the way we live, work, and care for others…and ourselves.
This New Moon is for creating a new home life, one that better suits the changing world we inhabit. This may be the right time to move to a place with better opportunities. Or perhaps it's time to purchase a house or update current living quarters. For those now working permanently from home, a spruced-up home office (or shed!) might be necessary. Think about what you need to feel comfy – and begin making the change.
This may also be the perfect lunar cycle to start a family, reconnect with loved ones – or welcome new people into your community. We're all in this together, a big extended family of sorts. Might we discover new ways to coexist and look out for one another? Think about how kindness and inclusivity could change the current divisive vibe that's been amplified in the past year. The New Moon on Cancer 2021 is a green light to try a little tenderness and take care of each other.
Emotions are elevated around this day, folks are touchy, and it's too easy to get triggered. Be sensitive to other people's feelings and intensify self-care. Set a few new boundaries. Time spent in spiritual practices or near bodies of water could restore your sense of balance if it's been lost.
Good questions to ask now: "what makes me feel secure?" or "what does family mean to me?" or "how can I protect my community?"
A sextile with Uranus before the New Moon occurs nudges us out of our comfort zones. And the opposition with Pluto the following day gives just the right push to transform our feelings, homes, families, and communities. Change is never easy but now…it's possible. 
Set intentions today around home, security, safety, family, community, sensitivity, and emotions. Learn how to do that with New Moon Astrology by Jan Spiller, my favorite resource.
And here's some mini New Moon in Cancer 2021 Tarot Readings for each sign of the zodiac using the Tarot of Life!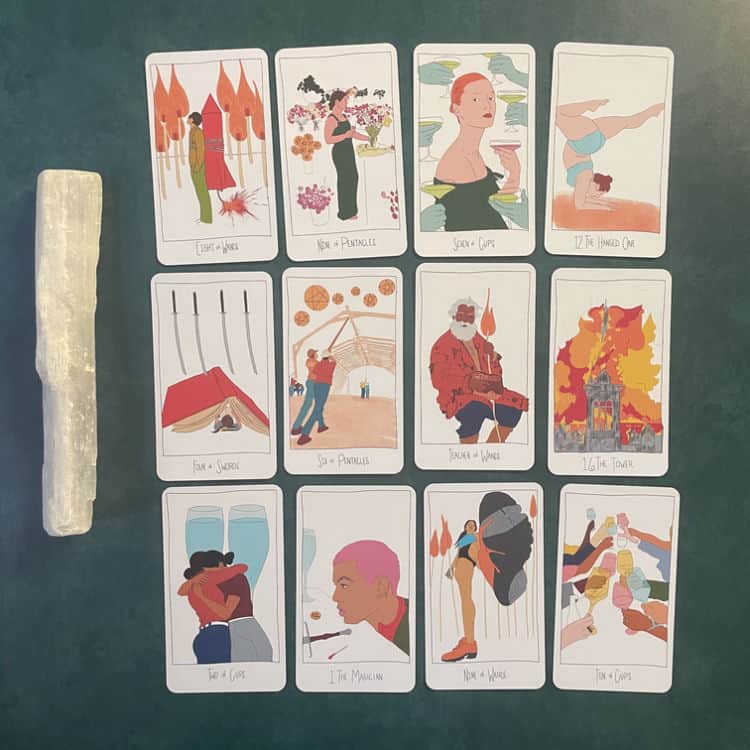 Aries: Eight of Wands – The obstacles are out of the way. Get ready for blast off!
Taurus: Nine of Pentacles – All of your hard work pays off. Enjoy the fruits of your labor.
Gemini: Seven of Cups – You have many options – too many. Give yourself time before making a move.
Cancer: The Hanged One – You're in a strange position right now. But it will make you stronger.
Leo: Four of Swords – It's okay to opt out. You don't have to get involved if you don't want to.
Virgo: Six of Pentacles – Shared labor allows the job to get done faster. Ask for help.
Libra: Teacher of Wands – You have the opportunity to inspire. Step right up – and LEAD.
Scorpio: The Tower – It may be time to tear something down to the roots. Break it all down.
Sagittarius: Two of Cups – Love is the answer. A genuine effort to connect heals all.
Capricorn: The Magician – You have the power to create something amazing. Use this wisely.
Aquarius: Nine of Wands – Protect your turf. If someone's intruding, give them the boot.
Pisces: Ten of Cups – Your community has your back. Give thanks for your friends and family.
Blessings,
Theresa
Got a business? Wanna learn how to rock the cosmos for your best business year ever? Subscribe to the Astro-Biz Digest, my exclusive weekly forecast for entrepreneurs who want to make sure their biz timing is impeccable. Because in business: timing is EVERYTHING. Get your subscription popping here at The Astro-Biz Digest.
Learn how to read tarot like the High Priestess with Tarot: No Questions Asked – Mastering the Art of Intuitive Reading. Get your astro-lingo down pat with Astrology For Real Life: A No B.S. Guide for the AstroCurious.
© Theresa Reed | The Tarot Lady 2021
images from stock photography and personal collection