If you are a tarot fanatic like myself, conferences are a great way to amp up your skills and connect with like minded ilk.  Although there are a lot of conferences churning out tarot goodness, no one does it quite like Ruth Ann and Wald Amberstone of The Tarot School with their yearly Reader's Studio. 
I've been attending for a few years now and I'm always amazed at how much I learn and how many people I get to meet.  This year was off the chain in quality, attendance (sold out!), and fun!
Because I used to live in New York many moons ago, I always come to Reader's Studio a few days early to visit old chums and regular haunts.   I arrived on Tuesday and immediately headed down to Times Square to hook up with some dear friends for lunch at the Jekyll and Hyde Club.  If you have not been there, this is a must-see!  The interior will blow you away!  (I cannot imagine how much it costs to run this joint – it's that intense!)  The vibe is Steampunk meets Frankenstein and ghouls and kitsch.  I had so much fun catching up and watching the spectacle.  
After hugging goodbye, I headed down to the Lower East Side to meet another long time buddy for dinner at Momofuku later in the evening.  I'm a big time foodie and this place is always one of my "have to" excursions whenever I head to NY.  A big bowl of Momofuku ramen slid under my nose and I was in instant heaven.  There is something magical about sitting at the counter, slurping noodles and watching the chefs work.  They almost function like a ballet – smooth and graceful, moving to a chaotic rhythm.
The next day, I was back in Times Square for lunch with one of my favorite people in the world.  No one makes me laugh as hard as Simone and we spent the afternoon giggling like school girls over some Pad Thai.  Later, I was on a bus with a posse of tarot friends back to Times Square for more Thai.  We broke off into groups and I was lucky to pair off with Andy Matzner and Roger Hyttinen for some serious walking and eating (I like people who can keep up with me and they both did admirably).  At dinner, Andy revealed to us that he would be one of the speakers at next years "Tarot And Psychology" portion of the conference.  I was delighted to hear this because I respect his work so much.  If you don't know him, this is a reader to keep your eyes on because he's doing innovative stuff plus he's a compassionate and kind man.
Thursday was going to be what I called "The Miseducation of Miss Donnaleigh de la Rose".  Donnaleigh is one of my closest friends and I was taking her into the city for a day of adventures.  She had never been on a subway and she was also fearful of New York (the picture below is Donnaleigh right after she entered the train for the very first time.  Thankfully, we ran into Barbara Moore and Lisa Novak on the way so she had lots of hand holding for this big event!).  We had the best time ever just walking around, shopping and laughing.   I took her to all my favorite neighborhoods and gave her some good inside tips on how to navigate.  Donnaleigh loved the architecture and all the little shops, as well as the yummy restaurants (I took her to Momofuku.  Twice in one week?  YES.)  By the time we arrived back at the hotel, we were refreshed from a tea ceremony and Donnaleigh was an old pro at swiping Metro cards.  We headed to bed early because we knew the next few days were about to get full on crazy.  (PS I took Donnaleigh to a tea house that had a cool electronic Japanese toilet complete with heated seats.  Be sure to ask her about it!)
Friday arrived and the conference was on.  Ruth Ann and Wald Amberstone welcomed the attendees, laid out the agenda for the weekend, and interviewed the main presenters.  This year, they had Mary Greer, Caitlin Matthews, and Sheilaa Hite.
The Reader's Studio begins with picking a partner for a "foundation reading".  The way it works is this: you and your partner each do a reading on each other and then write down your results and the cards, positions, etc.  At the end of the conference, you revisit those readings with the new techniques that were taught in the Master Classes and see how it impacts your readings.I was partnered with Judith Nash (all the way from England!).  Judith was a bit nervous working with me (I assured her that I was boring and that I'd be an easy read).  Her reading was excellent and I thought to myself: well, gee, how could we improve on this?  (Memo to self: expect pleasant surprises.)
The first class was with tarot legend Mary Greer.  I always love what Mary brings to these conferences (she's the one person who got me to even look at a Lenormand deck). This year, she broached a controversial subject – the fallibility of intuition.  I'll admit, I was a bit squeamish about this topic. It needed to be approached with a deft and sensitive hand, which was not an easy feat in a room full of intuitives! Mary managed to be frank, scientific, and compassionate all at once.  We learned about the science behind intuition and also tried out some exercises to show how we can sometimes be lead to conclusions that aren't really intuitive at all.  This lecture got everyone talking and no doubt we will all be rethinking our sixth sense processes.  I hope that Mary writes and talks more about this subject in the future because it is information that can be helpful for both readers and clients.
After a late dinner chatting about Mary's class with a few tarot buds, it was time for me to teach my class "Hi Tech Tarot: How To Start a Virtual Tarot Business".  I was excited to teach this workshop and I had a much bigger turnout than I expected!   I reached the exact people I wanted to: complete newbies or readers who had sites but weren't getting any real business from them.  In our two hour session, we covered all the basics of what a site needs, how to market, and how to expand into ecourses and other digital products.  The participants asked great questions and even shared some of their ideas.  I did a drawing and one person received a copy of my "Tarot Business in a Box" and another got my entire "Professional Mystic's Guides" series.  (I love giving prizes to my crew!)  It was time to say goodnight because tomorrow was going to be a full day. 
Saturday started out bright 'n early at the Breakfast Roundtable with Heatherleigh Navarre of The Boston Tea Room.   I have a fan girl crush on Heatherleigh – she is absolutely hilarious and so frigging savvy.  Her roundtable was focused on the space between intuitive readings and academic ones.  The group shared thoughts and stories about their experiences – and Heatherleigh kept the conversations flowing and the humor cracking wise.  (Note to self: get to Detroit and see her again.  Soon.)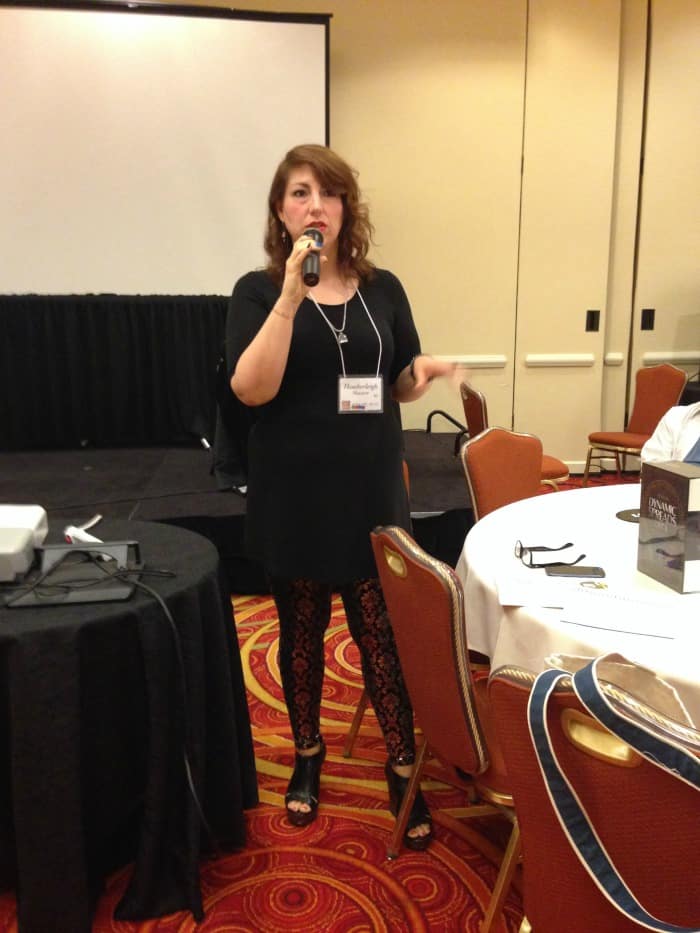 After the roundtable came to a close, it was time to hit the ground running.  Our first class Saturday was with Caitlin Matthews.  Caitlin's class was called "Which Way Are Your Cards Facing?" and focused on how the directions each card faces each other affects the reading.  She gave us techniques such as the "line of sight" and "rectification", and then we began practicing different spreads with these new methods.  Once I got the hang of it, I was having a blast doing readings with my table mates.  A-ha moments were coming in fast and furious.  This stuff was getting deep!  I know that these new skills are definitely going to be taking my readings to a deeper level.  I will most definitely be using them!  
We took a lunch break and I was joined by Jenna Matlin, Courtney Weber, Julie Theroux, Hilary Parry, and Angelo Nasios at the Buccaneer.  The table talk was fast and furious with this crew!  We chatted about everything from the conference to business to silly things as well (memo to self: this combo is funny as hell).  Soon, we had to finish up and head back for another class!
Next up was Sheilaa Hite.  Her class focused on looking at relationships from all sides.  I ended up doing readings on my relationships with my kids and one thing came through loud and clear: they were ready to cut the apron strings!  (I have adult children and I'm very close with them but one is heading to Spain and the other is a busy musician).  Memo received, Universe!   
After classes, it was time to get ready for the banquet.  This is one of the best parts of the conference and the Amberstones always do it up right.  I was seated between Angelo and Hillary and oh my God – I have not laughed that hard in ages.  I had tears streaming down my face!  My time spent with these two was one of the best parts of this conference.  They are two young readers I admire very much and it's a treat to hang with them.    
Nancy Antenucci and Rhonda Lund had the crowd roaring with laughter with their comedy skit. And of course, Angelo, Leo that he is, jumped up for some crazy impromptu belly dancing!  (Memo to Nancy and Rhonda: include him in next year's festivities.)
The final day of the conference started out with another Breakfast Roundtable.  This time, we had Doug Reuschel at the helm and his subject was "Hot Tarot Topics".  The group talked about a range of things we'd like to see in tarot (more young people, more diversity) as well as other fun things such as what we might ask Waite.  This was the perfect wake up and by the time we were finished, I was raring to revisit my Foundation Reading with my partner. 
Judith and I got down to some serious tarot business and started applying the skills we learned.  The funny thing is, you never expect that new techniques will affect your readings all that much.  This year, I was blown away.  Our readings got way deeper and we had some powerful revelations.  We also had some magical moments that created more than one a-ha jaw dropping moment.  Judith and I were convinced that this conference really had an impact on us and our skills.  I'm still reeling from the epiphanies we received.  No doubt I'll be using those new methods from this point forward!
We then broke for the "Tarot Incubators" sessions.  There were many good topics to choose from but I decided to go with Valentina Burton's "Your Prosperous Tarot Business" because I love talking business but I also admire Valentina very much (she's a smart cookie!).  This was a wise choice – a big group gathered around to hear her speak, ask questions, and share ideas.  I learned a few things and really enjoyed the energy of this mini class. 
After lunch, it was time for the closing ceremony, handing out certificates, and announcements for next year's Reader's Studio.  2015's stage will be graced with the wise Ellen Lorenzi Prince, the mystical Carrie Paris, and yours truly.  I was beyond honored that the Amberstones asked me to be a main stage presenter and I hope I do them proud next year.  
This year finished on a sweet note and I'm looking forward to the next.  If you are going to attend a tarot conference, Reader's Studio knows how to do it right.  I hope to see you there next year, my friends!
Thank you, Ruth Ann and Wald, for another amazing year!  
Blessings!
Theresa
© Theresa Reed | The Tarot Lady 2014
 photos from my collection
Reader's Studio poster designed by Robert Place