Tarot isn't just for divination – it can also be a wonderful tool for guidance.  In this series, we'll explore the advice options for every card.
With a Tarot deck by your side, you can make clear decisions, deal with challenges confidently, and find alternate routes when necessary.  The result? The best possible guidance for the future you want. 
Join me every Friday for a new installment – and get ready to add some helpful advice + loving support to your Tarot readings.
This week: The Empress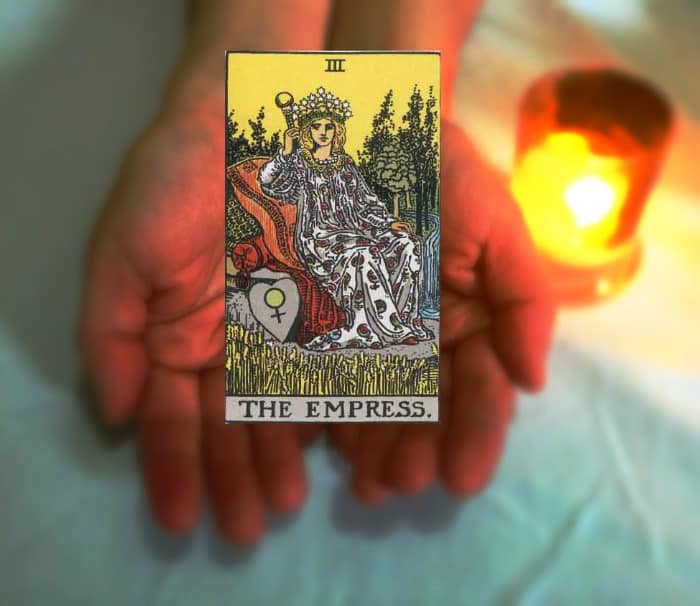 The Empress favors a nurturing approach to the situation.  Whether you are being called to tend to a person or child, a project, or even yourself,  this is the time for a little TLC (tender loving care).  Be gentle and loving – assume the role of the caretaker. Take care of everyone's needs as best as you can. Focus on building security for all. Be motherly.
This card also symbolizes motherhood – if you are asking a question about parenting, you'll want to adapt the Empress' loving and protective nature.
If you are asking about conceiving a child, this is a sign that the timing is ripe – go ahead with your plans.
The Empress is also associated with creativity – how can you best express yourself?  Seek to express your creativity, ideas or thoughts without reservations.  Don't hold back – be open. If you are asking about starting a creative project, this is a green light.
This is also the card of feminine leadership, which means a situation may need a softer approach to reach the goal.  We don't always have to go warlord – sometimes matriarch is a better route to achieving a goal.
The Empress reversed:
Are you giving to the point of exhaustion?  Are you caring for everyone else but yourself? If so, you're on the path to burnout…stat.  Pull back and nurture yourself. Take a time out from tending to everyone else's needs.  Make YOU a priority.
This can also be a sign that you have given your power away.  It's time to get that power back.  Which could mean you need to set a boundary or take a stand.
Because the Empress is often associated with relationships, this reversal could be advising you to that a relationship is at a critical point – get help or get out.
Questions to ponder:
What are you trying to solve – or create?  How can you best nurture the situation or person?  How are you meeting other people's needs – and your own?  What steps do you need to take to reclaim your power?
Blessings,
Theresa
© Theresa Reed | The Tarot Lady 2016
Explore the whole series here: Tarot Advice – Guidance in Every Card.