Tarot isn't just for divination – it can also be a wonderful tool for guidance.  In this series, we'll explore the advice options for every card.
With a Tarot deck by your side, you can make clear decisions, deal with challenges confidently, and find alternate routes when necessary.  The result? The best possible guidance for the future you want. 
Join me every Friday for a new installment – and get ready to add some helpful advice + loving support to your Tarot readings.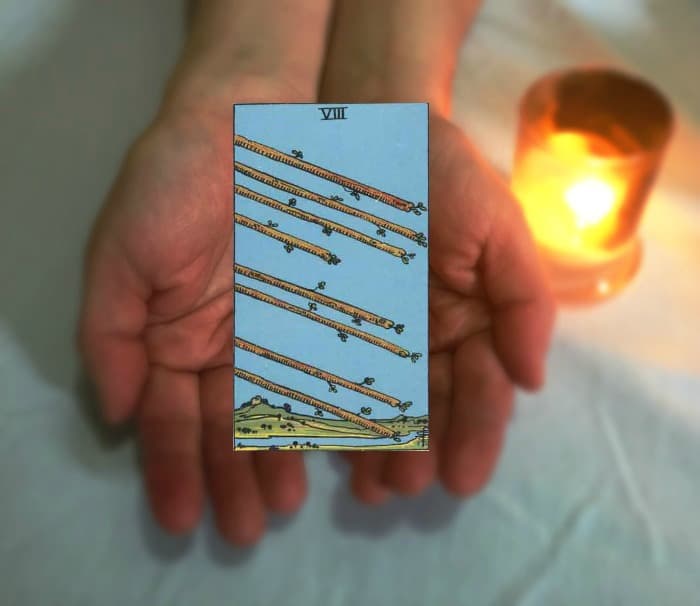 This week: Eight of Wands
Full speed ahead! There is nothing in your way at this time. Proceed with quickness.
Focus on the goal you wish to reach. Project your energy on the outcome you want.
Traditionally, the Eight of Wands is one of the travel cards. If you are thinking of taking a trip, this card advises you to "go for it!"
Move on. It's time for a change of pace.
Take a big step forward – now is the time to make your move.
The Eight of Wands can signal good news – as advice, it will say: anticipate positive news soon.
Eight of Wands reversed:
Slow down! There is no need to rush at this time.
If you are encountering problems, this card may advise you to take a time out to examine your plans.
You're heading in the wrong direction. Change course if you wish to avoid an unfavorable outcome.
There is still work that left to be done before you can proceed. Go back to the drawing board and get that finished first.
If you're trying to move things along too quickly, you may make critical mistakes. Watch your step and don't be impulsive at this time.
Questions to ponder:
What might progress look like at this time? What do you need to focus on now to achieve the results you desire? Where do you need to move quickly…or not?
Blessings,
Theresa
© Theresa Reed | The Tarot Lady 2017
Explore the whole series here: Tarot Advice – Guidance in Every Card.