Tarot isn't just for divination – it can also be a wonderful tool for guidance.  In this series, we'll explore the advice options for every card.
With a Tarot deck by your side, you can make clear decisions, deal with challenges confidently, and find alternate routes when necessary.  The result? The best possible guidance for the future you want.
Join me every Friday for a new installment – and get ready to add some helpful advice + loving support to your Tarot readings.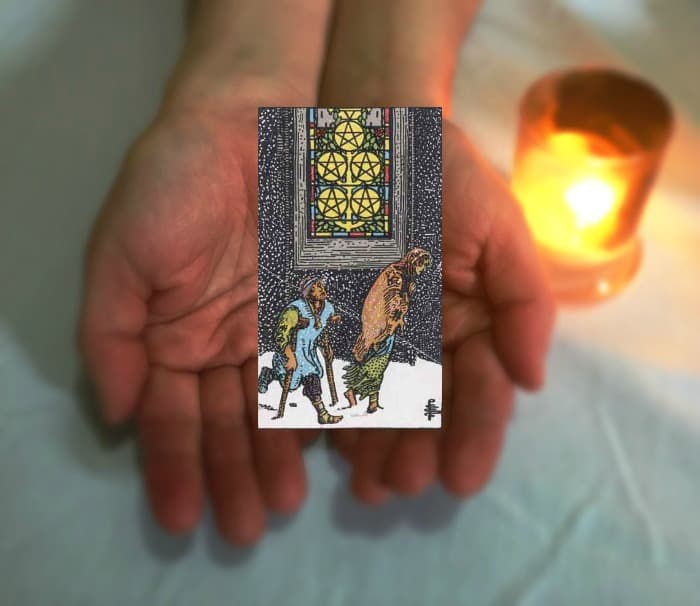 This week: Five of Pentacles
If you are suffering, don't go it alone. Help is available.
This card can also be a warning about financial stress. In that case, the Five of Pentacles may be advising you to conserve your resources. Be prepared for a rainy day. If you're unsure about how to prepare for the future, seek the advice of a financial expert.
Sometimes this card can indicate a need to address your poverty consciousness. Do you have the starving artist mentality? If so, it may be time to change that.
This card can also advise frugality. This may not be the time to take risks.
The Five of Pentacles may also advise you to help out those in need. If you see someone suffering, offer your help.
Because this card is often connected to that feeling of being an "outsider" this card can be advising  you to be inclusive. Who are you shutting out?
In relationships, this card can warn of codependency.
Five of Pentacles Reversed:
This reversal may indicate that relief is at hand. As advice it says: you're almost to the end of this hard period. Trudge on. There is a light at the end of the tunnel.
This card may be a warning not to repeat your past financial mistakes. Don't go down that same path that got you into trouble before.
The worst has happened. There is no other way to go but up.
In some questions, this reversal may indicate that it's time to move away from an unhealthy relationship. If someone is dragging you down, let them go. Don't be their crutch any longer.
Questions to ponder:
What role does money play in your life? How do you feel about your relationship with money? Can you recall a time when you experienced hardship? How do you view others who seem to be unable to get out of their financial ruts? Do you feel empathy, pity, or scorn?
Blessings,
Theresa
Explore the whole series here: https://www.thetarotlady.com/tarot-advice-guidance-every-card/