Tarot isn't just for divination – it can also be a wonderful tool for guidance.  In this series, we'll explore the advice options for every card.
With a Tarot deck by your side, you can make clear decisions, deal with challenges confidently, and find alternate routes when necessary.  The result? The best possible guidance for the future you want. 
Join me every Friday for a new installment – and get ready to add some helpful advice + loving support to your Tarot readings.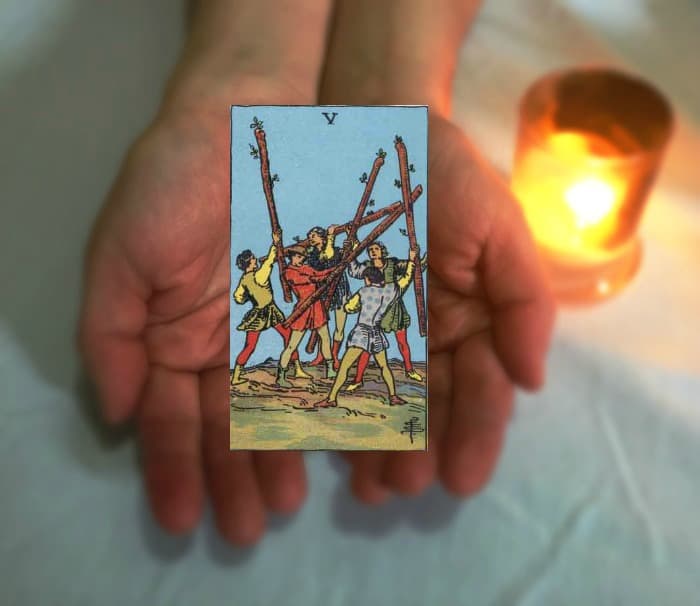 This week: Five of Wands
If you want to see change, you must initiate it. Don't wait for someone else to do it – jump in!
Stir the pot! Sometimes you need to start a conflict in order to get something done.
If find yourself in the middle of a conflict, this card advises to stand strong and defend your turf. Don't fear the conflict for it may bring a resolution.
If you are experiencing competition, don't look at this as a negative. Look at it as an opportunity to up your game.
Too many cooks in the kitchen? Too many people vying to be top dog? Sometimes, depending on the context of the question, this card may advise to step back. Nothing can get done if the energy is chaotic and uncooperative. Bear in mind that a battle can't happen if only one side is fighting.
Five of Wands reversed:
Give up. It's not worth the aggravation.
Or, depending on the context of the question, this card may say: don't give up without a battle. You may be tempted to walk away from the battle but you need to press on until a resolution is found.
Are you stirring things up for no reason? If so, what's your agenda?
This card can symbolize difficulty accepting change. If that sounds like you, this card advises not running from inevitable change – instead lean into it.
Group activities may not be your jam. Take a pass on the big gatherings and seek something more intimate.
Watch out for the competition. Don't turn your back on them.
Sick of the rat race? It's perfectly fine to opt out.
Sometimes this card may warn of a half-assed effort. Either go full-on or forget it.
Questions to ponder:
Are you giving it your all? How do you feel about conflict? In what ways has competition scared you – or fueled you? What battles are you ready and willing to fight?
Blessings,
Theresa
© Theresa Reed | The Tarot Lady 2017
Explore the whole series here: Tarot Advice – Guidance in Every Card.