Tarot isn't just for divination – it can also be a wonderful tool for guidance.  In this series, we'll explore the advice options for every card.
With a Tarot deck by your side, you can make clear decisions, deal with challenges confidently, and find alternate routes when necessary.  The result? The best possible guidance for the future you want. 
Join me every Friday for a new installment – and get ready to add some helpful advice + loving support to your Tarot readings.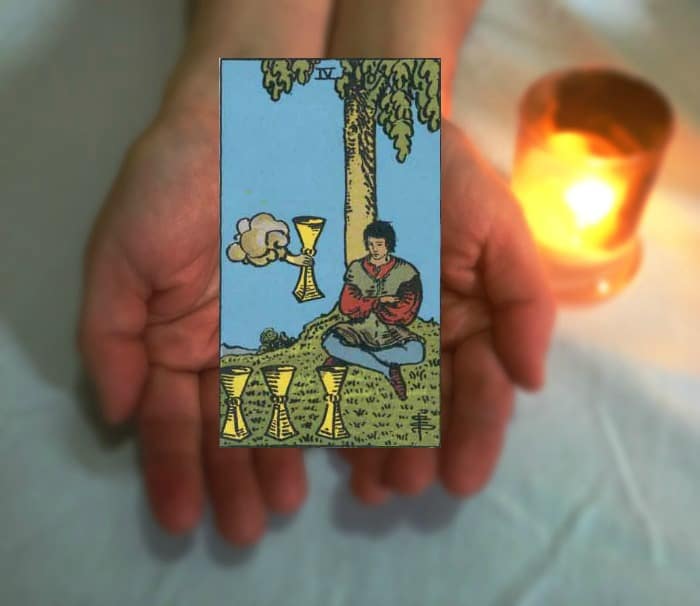 This week: Four of Cups
If it doesn't interest you, you don't have to accept it. Say no until the right opportunity comes along.
The Four of Cups could also advise you to open your mind.  Don't automatically negate what is being offered. Give it another look.
Take more time before making your move. Contemplate your options and course of action carefully.
Take a retreat.  Meditate.  Time alone may do you good.
Bored with your life? Perhaps it is time to seek new inspiration.
If you're asking about a particular person, this card could symbolize someone who is stubborn or emotionally unavailable. This could advise you to keep trying – or to recognize that they are not going to budge, depending on the nature of the question and what other cards may be involved.
Four of Cups reversed:
You're ready to open yourself up. Let love in.  Be receptive.
A period of procrastination comes to an end.  It's time to take action.
Go for it!  The opportunity is there!
This card can also advise to get back out into the world after a period of withdrawal.
Questions to ponder:
What options are you not seeings? What choices are you refusing to explore? Have you become complacent? Where could you find new inspiration?
Blessings,
Theresa
© Theresa Reed | The Tarot Lady 2016
Explore the whole series here: Tarot Advice – Guidance in Every Card.