Tarot isn't just for divination – it can also be a wonderful tool for guidance.  In this series, we'll explore the advice options for every card.
With a Tarot deck by your side, you can make clear decisions, deal with challenges confidently, and find alternate routes when necessary.  The result? The best possible guidance for the future you want. 
Join me every Friday for a new installment – and get ready to add some helpful advice + loving support to your Tarot readings.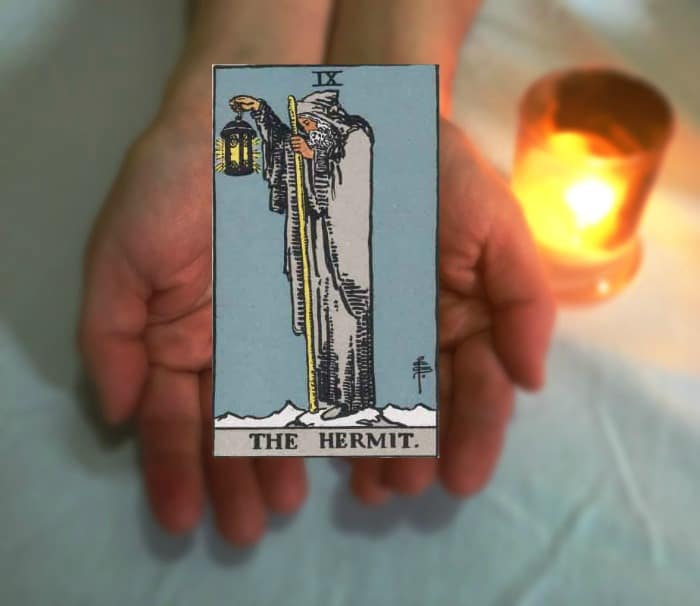 This week: The Hermit
Take a time out. Pull back from the situation so that you can get a better perspective. A strategic withdrawal at this time is necessary.
The Hermit could also be telling you to consult with your own inner guidance. Rather than seeking some sort of outside wisdom or validation, look within.  The answers lie with you alone.
This could also be advising to step into the role of the teacher. Share the wisdom you've gathered with others.  Shine your light!
It's also the card of the seeker, a reminder that you may need to research.  Gather knowledge.  Go back to school, explore the facts, find a teacher.  The more you know, the more power you'll have.
The Hermit reversed:
Do you enjoy learning the hard way? Because when the Hermit comes up reversed, it can symbolize an opportunity to repeat a past mistake.
As advice, this reversal serves as a warning to look back on previous lessons and use them as a guidepost if you want avoid getting right back into the same old situation.
This card can also be suggesting that you get out of your shell.  Instead of pulling back, it may be time to reenter the world and seek companionship.  If you've been sequestered away for whatever reason, come out, come out, wherever you are.
The Hermit reversed can also symbolize not going it alone or trusting your inner guidance at this time. Instead, seek help.  It will make all the difference.
Questions to ponder:
Do you trust your own wisdom?  Or are you always looking outside yourself for answers? What can you do to connect to your inner guidance?  When do you trust yourself the most? When do you not?
Blessings,
Theresa
© Theresa Reed | The Tarot Lady 2016
Explore the whole series here: Tarot Advice – Guidance in Every Card.