Tarot isn't just for divination – it can also be a wonderful tool for guidance.  In this series, we'll explore the advice options for every card.
With a Tarot deck by your side, you can make clear decisions, deal with challenges confidently, and find alternate routes when necessary.  The result? The best possible guidance for the future you want. 
Join me every Friday for a new installment – and get ready to add some helpful advice + loving support to your Tarot readings.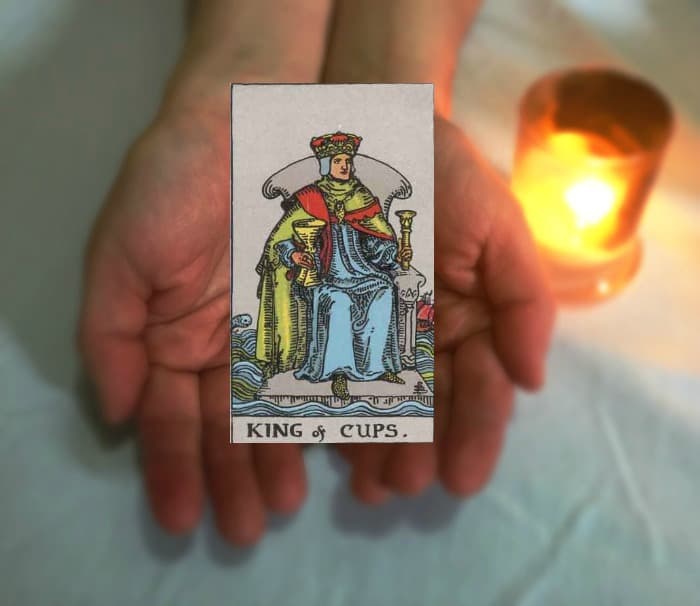 This week: King of Cups
The situation calls for kindly, heartfelt leadership. Lead with your compassion.
Take care of others. Give your support to those in need. The energy needed: benevolent, charitable.
Express your sensitivity. Share your heart with complete openness.
If you're thinking of taking a relationship to a deeper level, this card says: yes.
The King of Cups may also advise to go with the flow. A relaxed attitude can help navigate even the most treacherous water with ease and calm.
Explore your creative interests.  If you are called to pursue a creative project or line of work, this card says: follow that calling and be open to where it may lead.
King of Cups reversed:
Like the other Courts in the Cups suit, a reversed King is a sign that the emotions may be moving in an unhealthy direction. Take greater control of your emotional life, or, if necessary, seek help.
Feeling moody? Take a time out until you are cooled off.
A reversed King of Cups can also speak of escapism – if you are using drink or drug to escape life's problems, this may become a bigger issue. Face the problems in front of you.
Watch out for dependence, not only on drugs or alcohol but also relationships. Codependency could also be a problem – find the strength to break free.
If you are asking about a particular relationship, this card may favor taking a break and putting some distance between you.
Questions to ponder:
In what ways are you charitable? How do you make sure others are cared for? What does it mean to lead with your heart?  When was a time where you allowed your feelings to dictate your decision?
Blessings,
Theresa
© Theresa Reed | The Tarot Lady 2017
Explore the whole series here: Tarot Advice – Guidance in Every Card.