Tarot isn't just for divination – it can also be a wonderful tool for guidance.  In this series, we'll explore the advice options for every card.
With a Tarot deck by your side, you can make clear decisions, deal with challenges confidently, and find alternate routes when necessary.  The result? The best possible guidance for the future you want. 
Join me every Friday for a new installment – and get ready to add some helpful advice + loving support to your Tarot readings.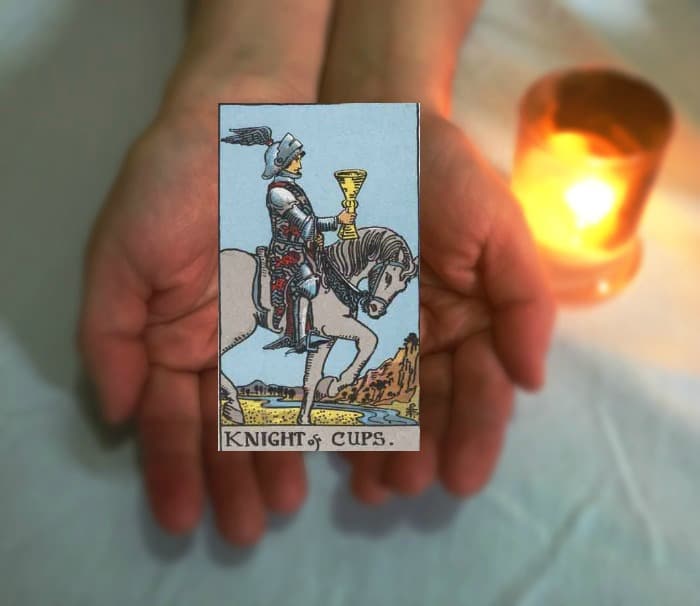 This week: Knight of Cups
Lead with your heart in all matters! Don't hold back. Express yourself with total openness.
In a question about love, the Knight of Cups favors bold romantic action. Wear your heart on your sleeve. Lay all of your cards on the table. Make your move, playa.  Go for it!
Follow your feelings. What are they telling you?
Seek experiences that make you happy. What have you always wanted to pursue? This might be the time to put that plan into action.
Stay focused on your vision. You're moving in the right direction.
Knight of Cups reversed:
Your emotions are unstable. Find a way to rein them in.
Before rushing into a romantic situation, look carefully. Use your head. Your heart might be putting some rose colored lens on your glasses.
This card can also symbolize a need to face reality. If you've been running from your problems, it might be time to come back and face the music.
The reversed Knight of Cups can also indicate a need for counseling for emotional issues or addiction.  If you are struggling, seek help.
Questions to ponder:
Have you ever followed your heart even though it felt like a risk? What kind of romantic adventures have you experienced – or want to experience? When have you ever laid your heart on the line for love?
Blessings,
Theresa
© Theresa Reed | The Tarot Lady 2017
Explore the whole series here: Tarot Advice – Guidance in Every Card.