Tarot isn't just for divination – it can also be a wonderful tool for guidance.  In this series, we'll explore the advice options for every card.
With a Tarot deck by your side, you can make clear decisions, deal with challenges confidently, and find alternate routes when necessary.  The result? The best possible guidance for the future you want. 
Join me every Friday for a new installment – and get ready to add some helpful advice + loving support to your Tarot readings.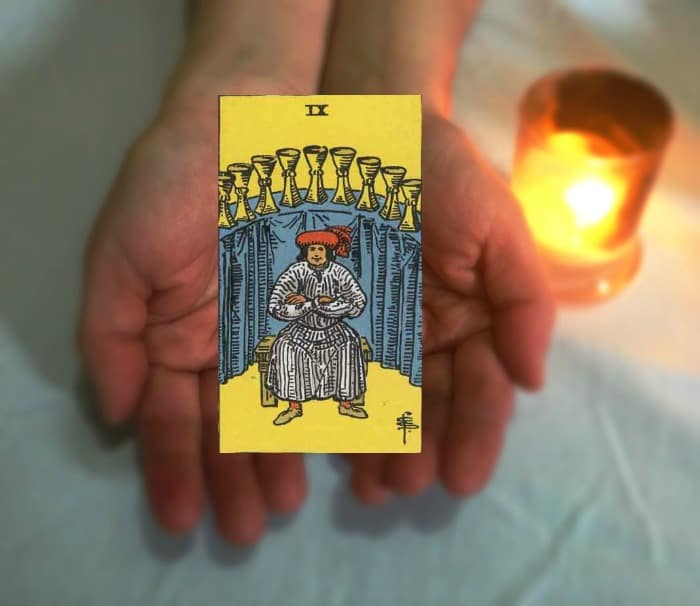 This week: Nine of Cups
Make a wish! The Universe is ready to work with you!
You have everything you need to be happy. Be content with what you have.  Give thanks for your many blessings.
Go ahead and indulge a bit. Treat yo' self. Live well. You deserve it!
The Nine of Cups says: you're in a position to do what you want. Enjoy your life!
If you need support on any thing, do know that it's available to you.  You can lean on your support system now. They've got your back!
Nine of Cups reversed:
Be careful what you wish for – you just may get it.
The Nine of Cups reversed may advise you to tone it down a bit. Don't overindulge or live beyond your means. Practice restraint.
This reversal may also warn against hoarding one's goods. Share your wealth with others. There is more than enough to go around.
In a health reading, this can be a warning of weight gain. Time to cut back a bit!
If you're feeling alone or unsupported, this card may advise to seek that support.
Questions to ponder:
Can you be content with what you have? What blessings do you have trouble acknowledging? When you think of indulging, what comes to mind? What is your deepest wish?
Blessings,
Theresa
© Theresa Reed | The Tarot Lady 2017
Explore the whole series here: Tarot Advice – Guidance in Every Card.