Tarot isn't just for divination – it can also be a wonderful tool for guidance.  In this series, we'll explore the advice options for every card.
With a Tarot deck by your side, you can make clear decisions, deal with challenges confidently, and find alternate routes when necessary.  The result? The best possible guidance for the future you want. 
Join me every Friday for a new installment – and get ready to add some helpful advice + loving support to your Tarot readings.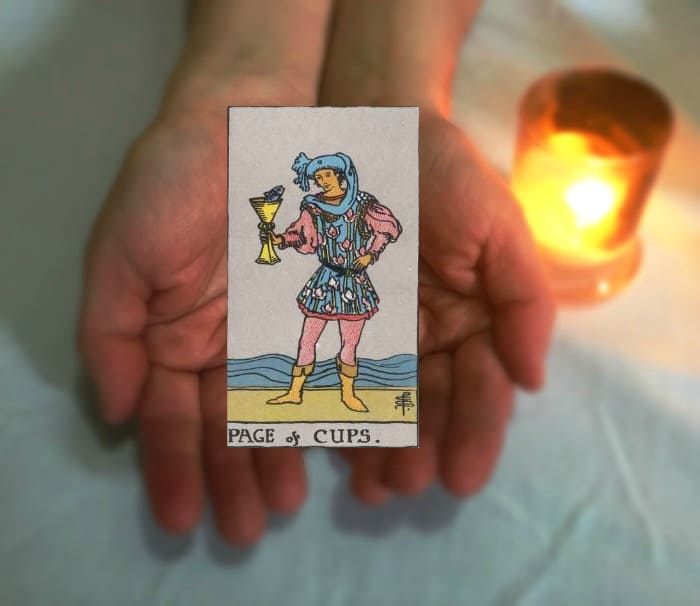 This week: Page of Cups
Nurture your inner child.
Open your heart. Express yourself freely. Take an emotional risk and put it all on the line.
If you are asking about romance, this card could advise you to "go for it." Make your move. A sweet romantic gesture could go far.
Let your imagination lead the way!  Tap into the realm of ideas and dreams for inspiration.
The Page of Cups may also advise to be empathic. Tune into other people's feelings. Put the shoe on the other foot and try to understand where the other person might be coming from.
Page of Cups reversed:
Reversed, this card could be advising to "get real." Get your head out of the clouds and plant your feet firmly on the ground.
Emotions may be all over the place. Do your best to practice emotional restraint.
The Page of Cups reversed can also symbolize emotional immaturity – as advice, this card may be saying: time to grow up.
You may need to practice emotional detachment from a situation.  You're too involved and unable to see clearly. Pull back and you'll be more objective.
In matters of the heart, this card may either advise to be more open about your feelings – or it may be warning of emotional unavailability.  It will depend on the context of the question.
Questions to ponder:
What would it look like if you expressed your emotions without holding back? How might you be more sympathetic to other people's feelings? What does your inner child need right now?  Have you ever taken an emotional risk?
Blessings,
Theresa
© Theresa Reed | The Tarot Lady 2017
Explore the whole series here: Tarot Advice – Guidance in Every Card.