Tarot isn't just for divination – it can also be a wonderful tool for guidance.  In this series, we'll explore the advice options for every card.
With a Tarot deck by your side, you can make clear decisions, deal with challenges confidently, and find alternate routes when necessary.  The result? The best possible guidance for the future you want.
Join me every Friday for a new installment – and get ready to add some helpful advice + loving support to your Tarot readings.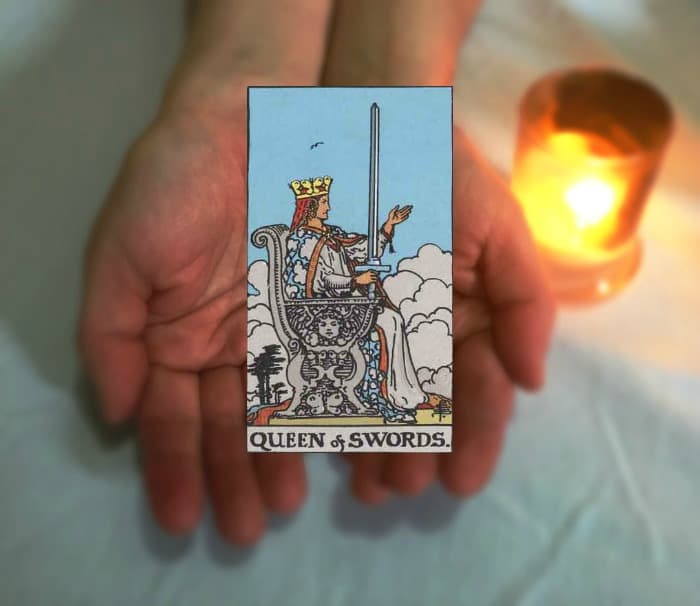 This week: Queen of Swords
Use your head. Let logic rule. Keep your cool.
Speak your mind. Don't mince words. This is time for the clear, unvarnished truth.
Cut the head off the hydra. Deal with problems swiftly – and don't be afraid to cut a bitch!
The Queen of Swords can also advise to express your ideas. If you have a vision, bring it forward with confidence.
Reversed: Queen of Swords
Think before you speak. Are your words meant to harm or heal? Consider what impact your words may have before you open your mouth.
Let down your guard and soften your stance. Love is needed at this time, not criticism.
Your vision may not be clear or reliable at this time. Seek wise counsel from another source before moving ahead with your plans.
The reversed Queen of Swords may advise you to become more involved with others. Don't be aloof – be approachable.
Questions to ponder:
How does truth show up in your world? When do you express it – and when do you hold back? Is there a way to be honest but remain kind?
Blessings,
Theresa
Explore the whole series here: https://www.thetarotlady.com/tarot-advice-guidance-every-card/