Tarot isn't just for divination – it can also be a wonderful tool for guidance.  In this series, we'll explore the advice options for every card.
With a Tarot deck by your side, you can make clear decisions, deal with challenges confidently, and find alternate routes when necessary.  The result? The best possible guidance for the future you want. 
Join me every Friday for a new installment – and get ready to add some helpful advice + loving support to your Tarot readings.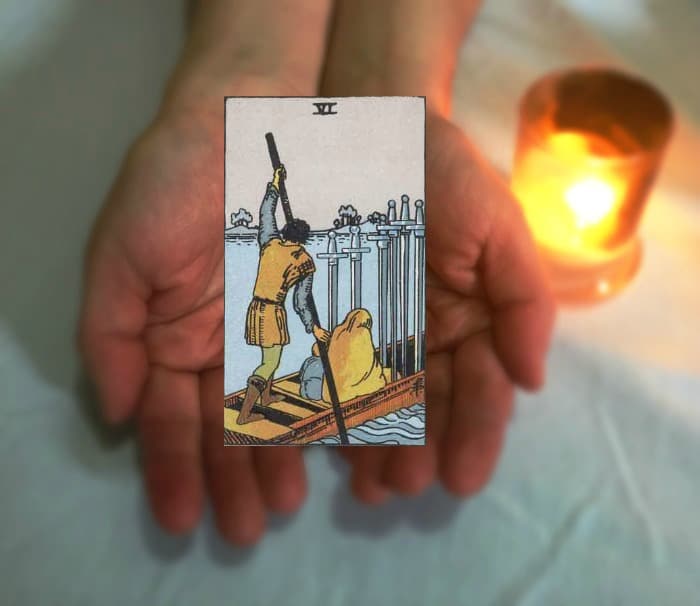 This week: Six of Swords
Move on. Don't look back. Look to the future.
If you are having trouble moving on, seek help. You don't have to go it alone. Or it can advise you to lend a hand to someone else who may be experiencing a difficult patch.
The Six of Swords is a card of transition – sometimes it can be advising to make a change.
This card can also advise to make a physical move – or take a trip.
In some cases, this card is a reminder that "we're all in the same boat." Practice compassion for others.
Six of Swords reversed:
It may not be time to leave…yet.
Do not run from your problems. Go back and deal with them.
The reversed Six of Swords may indicate a situation where you cannot leave. Perhaps you're needed at this time. Or maybe there just isn't an easy way out. In this case, you may have to take a deep breath and hang in there.
If you're feeling stuck, be patient. Soon enough, things will get moving again.
Questions to ponder:
What was the last big transition you experienced? If you could move right now, where would you go? Can you remember a time when you helped someone else move through a difficult time?
Blessings,
Theresa
© Theresa Reed | The Tarot Lady 2017
Explore the whole series here: Tarot Advice – Guidance in Every Card.
SaveSave
SaveSave
SaveSave
SaveSave