Tarot isn't just for divination – it can also be a wonderful tool for guidance.  In this series, we'll explore the advice options for every card.
With a Tarot deck by your side, you can make clear decisions, deal with challenges confidently, and find alternate routes when necessary.  The result? The best possible guidance for the future you want. 
Join me every Friday for a new installment – and get ready to add some helpful advice + loving support to your Tarot readings.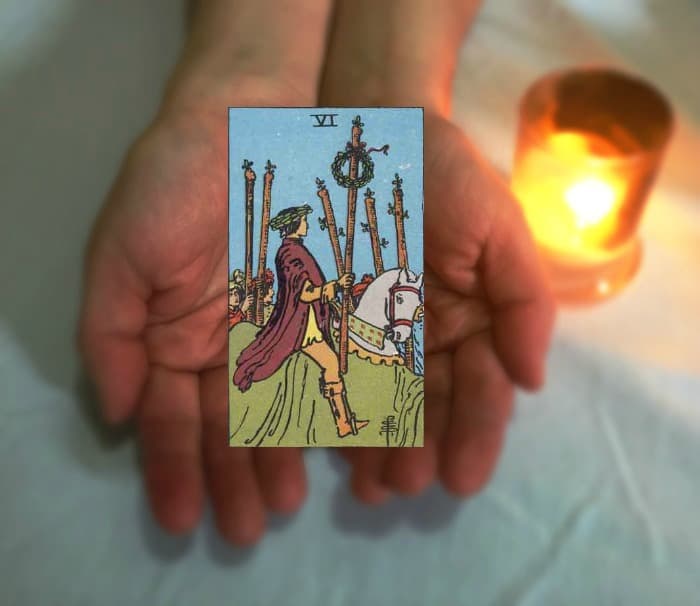 This week: Six of Wands
Move ahead with your plans. You're heading in the right direction!
Gather your troops. With support, you can achieve your goals.
Remain focused on the outcome you want. Set your intention and then continue on until the finish line is crossed.
Take command of the situation. Get in the saddle and lead your team to victory. Be an inspirational leader.
Celebrate your win!
Keep a positive, forward-thinking mindset. This is not the time to give up – you're almost there!
If you're called to carry the day for your team, don't be shy. Be brave!
Six of Wands reversed:
You don't have the support you need at this time. You need to seek more if you wish to cross that finish line.
Progress is stalled. Go back to the drawing board before advancing with your agenda.
You might not be ready to be in the leadership role right now. Hand the reins over to someone with more experience.
The emperor wears no clothes. Seek a different leader. The one you're following isn't fit for the  job.
The Six of Wands reversed can indicate self-doubt. Are you worried you won't live up to others – or your own – expectations? Work on developing more confidence.
Questions to ponder:
What will it take for you to reach your goal? Can you do it alone – or do you need help?  What does it mean to be a leader? In what ways might you step into more of a leadership role?
Blessings,
Theresa
© Theresa Reed | The Tarot Lady 2017
Explore the whole series here: Tarot Advice – Guidance in Every Card.