Tarot isn't just for divination – it can also be a wonderful tool for guidance.  In this series, we'll explore the advice options for every card.
With a Tarot deck by your side, you can make clear decisions, deal with challenges confidently, and find alternate routes when necessary.  The result? The best possible guidance for the future you want.
Join me every Friday for a new installment – and get ready to add some helpful advice + loving support to your Tarot readings.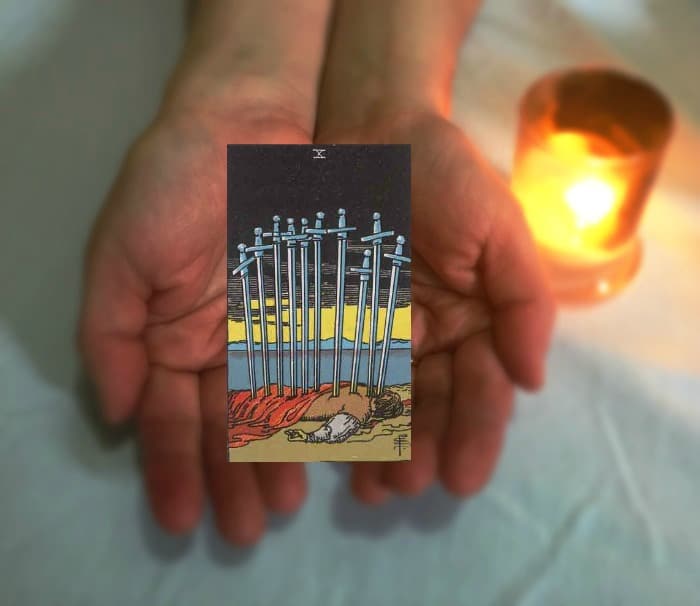 This week: Ten of Swords
An ending has happened. Accept that things are over. Pick yourself up and move on. Ahead, the future is bright again.
Someone may be ready to betray you. Watch your back!
Don't take on more than you can handle or you risk running yourself into the ground. In some cases, this card may advise you to take on more strain. You may need to take one for the team in order to reach a goal.
The worst has already happened. Let go.
Face your fears. Things may be bad but they are not hear to stay.
Accept defeat. You've lost. It's done. Wave the white flag.
Reversed: Ten of Swords
Do you have self-defeating beliefs? If so, it's time to make a change. Start over with a new set of values.
The pain is easing up. Start fresh. Put the past behind you now. Release yourself from whatever has been pinning you down. You're free to go.
Forgive others for their transgressions.
Stop being a martyr. There is no need for any more suffering.
You may not be able to make a decision at this time. It's okay. Give yourself the gift of time before making your move.
Questions to ponder:
Have you ever had a fear that turned out to be true? Or not? Either way, what did those experiences teach you? When have you been betrayed? When have you been the betrayer?
Blessings,
Theresa
Explore the whole series here: https://www.thetarotlady.com/tarot-advice-guidance-every-card/