Tarot isn't just for divination – it can also be a wonderful tool for guidance.  In this series, we'll explore the advice options for every card.
With a Tarot deck by your side, you can make clear decisions, deal with challenges confidently, and find alternate routes when necessary.  The result? The best possible guidance for the future you want. 
Join me every Friday for a new installment – and get ready to add some helpful advice + loving support to your Tarot readings.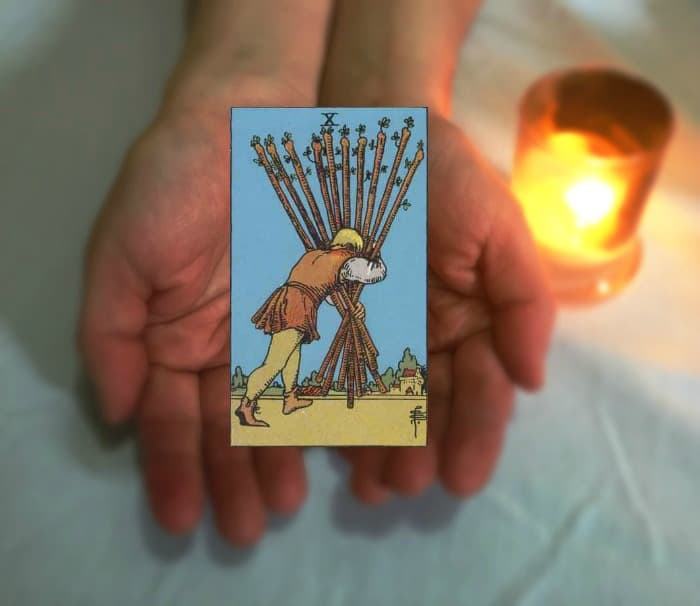 This week: Ten of Wands
You're almost to the finish line! Stay on your grind and you'll reach your destination soon.
If you want to achieve big things, you must be willing to put in the blood, sweat and tears. Put your back into it!
This card may be advising you to persevere, even though the burdens feel heavy.
The Ten of Wands may also be advising to take on extra responsibilities. These responsibilities could be anything from new duties at work to taking care of a family member.
Things may feel rough at this time, but you've got this. You're strong. You can do this!
If you're feeling overloaded, this card can also advise to seek help rather than going it alone.
Ten of Wands reversed:
You don't have to take on the weight of the world. Unplug and say no.
Set boundaries. You don't have to say yes to every request.
If you're experiencing a setback, this card may indicate that the work is not yet done. You may need to go back and finish the job.
Working too hard? Take some time off.
You can care without carrying it. If others want you to assume responsibility for their issues, it may be time to encourage them to take personal responsibility for their own problems.
Questions to ponder:
Do you diligently work towards your goals, even when they seem far away? Or do you give up too quickly? What does responsibility mean to you? Where can you let go a little more?
Blessings,
Theresa
© Theresa Reed | The Tarot Lady 2017
Explore the whole series here: Tarot Advice – Guidance in Every Card.