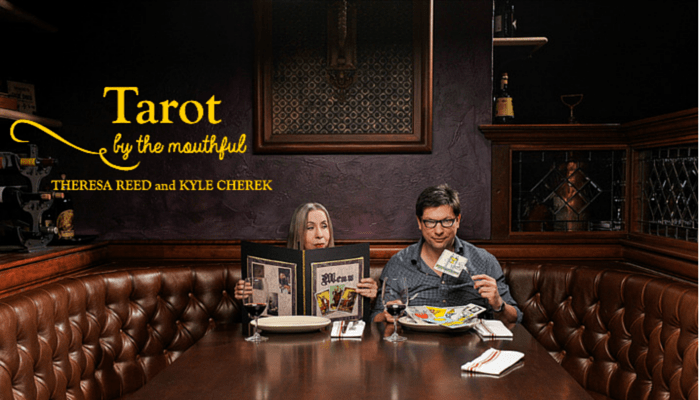 Kyle is a foodie who loves Tarot. Theresa is a Tarot reader who loves food. 
Together, we host Tarot by the Mouthful: a mouthwatering, multi-media culinary tour through the world of Tarot. 
Sublime recipes. Soulful stories. Essays, videos, interviews and delicious surprises. 
Join us every Sunday for a new installment — and get ready to sip, slurp, crunch and savor your way through the entire Tarot deck! 
This week: Four of Cups
Four of Cups:  Boredom. What is being offered isn't thrilling. You have many choices before you but nothing seems to resonate.  A lack of contentment with the current situation.  Meh. Apathy.  A refusal to budge.  Emotionally unavailable. Rejection.  No motivation.
Kyle: No bad parts
There isn't a creative person ever, who at one time or another, did not become apathetic,  bored or stagnant with their medium.  Often this bent is just focus in the wrong direction. It is tough to see at the time, the real lessons and richness that may surround us. A sort of "forest for the trees" situation, or as my high school drama instructor would quote to me, and my father often repeated, "there are no bad parts, only bad actors".
Chefs are inherently a creative bunch, and through the years I have watched dozens become dissatisfied with where they were or what they were cooking, when really, it wasn't so much the environment of cuisine, it was their perspectives that fell short of all that could be learned and invigorated around them.
I heard it put best by a chef that answered my inquiry as to how he found a colleague's new establishment, one of  a slew that another chef we both knew had just opened.  "It's fine" he said "but he's chasing, trying to reclaim that energy of his first big success with new concepts, instead of just making the food at ________ better and better."  There ARE no bad parts, I thought, only bad actors.
To all of this I am not saying dissatisfaction with where we are in life is not a good thing.  Far from it. The 4 of cups is useful should it arrive in our spread, it urges a change of perspective.  Often when the card comes up, it is the internal world we need to go to, to sink into it fertile quietness, rather than so deeply craving external change.  When we look inside, we see the tools, the privilege, and the power to reform the outer world is all right there, patiently waiting.  Our cups over runneth, but we have see them for what they are first.
Theresa: I'm sooooo bored….not!
The Four of Cups symbolizes boredom. The figure is rejecting what is being offered, even though it looks perfectly reasonable.
As a Gemini, I tend to embody this card..a lot.  My mind, tastes, and whims can change on a dime.  Especially when it comes to food.  I like variety and will try almost anything (well, almost…I won't eat brains or bugs).  I also enjoy cooking a diverse range of foods whenever possible.
Because here's the deal: most of us get into food and cooking ruts.  We make the same old thing again and again and again.  There are even magazine articles and blog posts that encourage having a "dinner routine" (ex: Meatless Monday, Tuesday Taco Night, Wednesday Pizza, Thursday meatloaf, etc.).  While this may seem like a great way to not have to think about "what to cook", it sets us up for eating the same old stuff constantly.
Why do we do this? Why do we rely on the same meals?
Sometimes it's due to time shortage.  We're busy people and researching recipes is another activity to an already overloaded life. Other times, we simply like something so much that we'll cook it until it becomes dull to the palate.  I do that.  There are some "staple" meals that I rely on a lot: turkey meatloaf, salads, roasted chicken, and pasta with egg and asparagus.  I'll even eat at the same restaurants again and again…because I know what I like and I like what I know.
So….boring.
To shake things up, I'll buy a cookbook and then try to work my way through it.  Which means…cooking a similar cuisine again and again until I nail it.  For awhile, I went nuts on Vietnamese food and that was all I cooked for a month.  Finally, my husband had enough and demanded that I make other things (mind you, he loves Vietnamese cooking but when it became our everyday fare, he found it monotonous).
Even trying a new cuisine can get stale if that's all you make.
So how to stay excited at the dinner table when you're busy? What about when the family is finicky?  What then?
My ideas to beat dinner boredom:
Cookbooks – as I mentioned above, a new cookbook can be enough to get the wheels turning.  I have over 200 cookbooks which is a bit nuts but it guarantees that there is always something new to discover.
Cooking magazines – cooking magazines are a great resource for new recipes and cuisines.  Saveur is my favorite but I'm also a fan of Bon Appetit. Both of these magazines have great ideas, cooking instruction plus stories about eating in exotic places.  My mouth salivates as soon as I pull these goodies out of my mailbox.
Cooking classes – recently, I took a class in croissant making.  It was fun and I finally learned the secrets to making great croissants and morning buns (note: these are not easy!).  Cooking classes are a fantastic way to get your chef skills ramped up and inspire you!  Our local Sur la Table store has a ton of good classes.  Check out cooking stores in your neighborhood or even classes through your local rec center.
Try a new cuisine – this is an easy way to add some kick to your palate.  Expand your culinary horizon and palates by investigating different fare.  I am fairly adept at cooking Cuban, Vietnamese (see above..ha ha!), French, and Mediterranean dishes.
Add a new spice – I love a well stocked spice pantry and sometimes just adding a new spice is all it takes to jazz up a dish.  For example, Indian spices add a kick to turkey burgers, while red chili peppers make spaghetti zesty and bold.  Our local spice shops have amazing blends that will inspire even the most timid home cook!
Create a new version of an old favorite – this is one of my favorite things to do!  For example, instead of lasagna, make a roasted veggie lasagna.  Switch ground beef for turkey or lamb.  Taco night doesn't need to be limited to "regular" tacos – try veggie tacos one week and salmon with chipotle crema the next.  Food rut – begone!
Watch cooking shows – The Food Network and The Cooking Channel have a ton of interesting cooking shows to choose from.  They cover EVERY type of food under the sun so you're sure to find something.  Don't have cable?  No problem as PBS also offers some great cooking shows.  And if you're lucky like us Wisconsinites, you'll have a great local show like Wisconsin Foodie!
Take a minute to source out new restaurants – here in Milwaukee, there are new restaurants popping up all the time.  Keep abreast of what's happening in your community and check out the new hot spots when you can instead of always heading to the same old joint.  (I recently discovered Vanguard and went out of my mind!  SO good!) Sites like Eater and Thrillist will keep you in the know.
Get the family involved – have the kids help pick out things that they'd like to try but make sure that they are picking new things instead of the usual chicken nuggets.  I have found that when you get kids participating in picking meals and making them, they are usually more adventurous eaters.  Make meal time a family event and you'll be less stressed about what to make – and you might just find that your kids have bolder tastes than you thought.
These are only a few ideas to keep the dinner boredom at bay.  It's all too easy to slip into humdrum menus and cooking habits but if you're more willing to get out there and take a shot at trying something new (unlike that petulant guy in the Four of Cups), you'll keep your food (and you) a whole lot more interesting.
Bon appetit!
Theresa and Kyle
© Theresa Reed | The Tarot Lady 2015
photos from personal collection and Jessica Kaminski
Hungry for more? Click here to explore the entire Tarot by the Mouthful series, from the very first card… right up to our latest installment. Bon appetit!